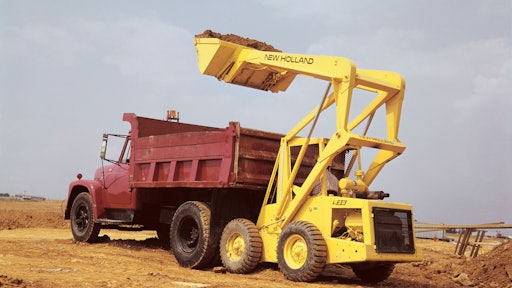 New Holland Construction
OEM Industry News Briefs provides a weekly round up of the latest news and company announcements you may have missed in the heavy equipment engineering and manufacturing industries.
Detroit adds new safety features
Detroit has introduced several new features to its Detroit Assurance product line as a means of improving commercial vehicle safety. In addition, these new capabilities are designed to improve operator comfort which also plays into safer driving habits.
The new features are available for the Freightliner Cascadia and the Western Star 49X spec'd with a Detroit powertrain. Per Detroit's press release, these new features include: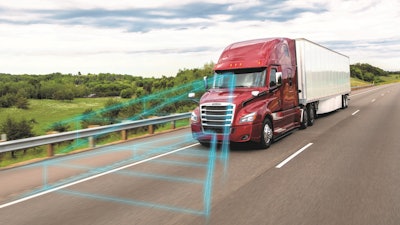 Active Speed Intervention (ASI): If the truck exceeds the posted speed limit,

ASI

issues visual and auditory warnings to actively alert the driver. Once the warning is issued and depending on how far above the truck is over the speed limit,

ASI

will go into effect and de-throttle the engine for two seconds, adjust Adaptive Cruise Control (ACC) to the posted speed limit, or cancel ACC. In addition to helping remind drivers of posted speed limits,

ASI

can be a valuable training aid for fleet managers to help drivers reduce the risk of speed-related accidents.

ASI

is useful on trucks that routinely travel in and out of various speed zones throughout the day.
Active Lane Assist (ALA) with Auto Stop: Exclusively available with the Freightliner Cascadia, ALA with Auto Stop actively brakes the truck to a safe stop rather than letting the truck roll to a stop in case of an incapacitated driver or if the driver's hands are off the steering wheel for more than 60 seconds, which can help protect the driver as well as other vehicles on the road. When ALA's Auto Stop function activates, Lane Keep Assist (LKA) keeps the truck centered in its lane while the truck safely and gradually brakes, all the way down to 0 mph, further contributing to ALA's effectiveness and safety. After coming to a stop, the vehicle doors automatically un-lock and the interior lights flash in an S.O.S sequence, alerting other motorists that assistance is required.
Brake Hold Mode: After coming to a stop, the driver further presses the brake pedal to activate the Brake Hold Mode function, reducing the need for the driver to continually press the brake pedal down in prolonged periods of standstill. The brake will not get deactivated if the driver's foot is removed from the brake pedal due to fatigue or slippage. Tapping the brake pedal or pressing the accelerator starts moving the truck again. This is particularly driver friendly in work environments that involve waiting periods in the truck while at a standstill, such as at weigh scales and in heavy traffic.
"By providing drivers with tools such as Detroit Assurance, we help mitigate potential accidents, as well alleviate driver fatigue and strain, which will help drivers stay more aware and make their jobs a little bit easier," said David Carson, Senior Vice President of Sales and Marketing, Daimler Trucks North America.
Movin'On Challenge Design awards
As part of the annual Movin'On summit, a sustainable mobility conference organized by Michelin, three winners were chosen for the Movin'On Challenge Design award which honors pioneering mobility projects. The theme for the 2021 award was RESPECT: ending isolation and conquering the mobility divide.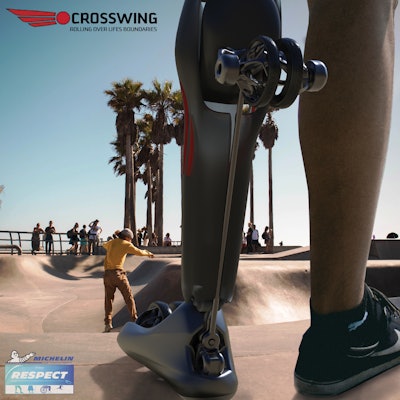 Per a press release from Movin'On, all 170 entries for this year's award sought to create inclusive mobility for those who are often overlooked when mobility solutions are being designed. The solutions proposed demonstrated a strong enthusiasm and commitment to this theme, which inspired some very innovative and varied concepts.
Winners for the 2021 award were:
First Place: "Crosswing" concept by design student Drew Spahn. Crosswing enables people with amputations to move around cities more efficiently by giving them the ability to skate for transport or leisure. The crosswing provides the same walking assistance as a prosthetic leg but offers a riding experience that compares to a skateboard or pair of skates.
Second Place: Tramo car-free city concept by design student Stefan Perriard. Tramo is an autonomous mobility solution that moves at walking speed, allowing people to "hop on hop off" at any time for trips that are too long to walk but too short to use other means of transportation.
Third Place: Reimagined urban center by architect and designer Elkin Alejandro Cruz Castro. The concept reimagines urban inclusivity through a system that brings urban activities to peri-urban areas, thus avoiding the daily commuting of inhabitants towards study, work, and culture areas. The project is designed as small buildings that are mobile, modular, and flexible.
Read more about the Movin'On summit and its focus on sustainable mobility in our editor's most recent blog.
Epiroc acquires Canadian mine connectivity provider
Epiroc announces it has acquired Canadian company 3D-P which provides wireless connectivity solutions for surface mining applications. The company is active in North America, Chile, Peru and Australia. Its technology is particularly beneficial for those operations looking to utilize automated systems including teleremote and fully autonomous.
"Having reliable, high-quality wireless connectivity is key for mining companies that invest in automation and digitalization to strengthen safety and productivity," says Helena Hedblom, Epiroc's President and CEO, in the company's press release announcing the acquisition. "We are happy to welcome the excellent team at 3D-P to Epiroc. Together we will ensure that our customers succeed on their automation and digitalization journey."
This is just one of the acquisitions Epiroc has made in recent months in an effort to continue expanding its mining portfolio to include advanced technology solutions as well as equipment.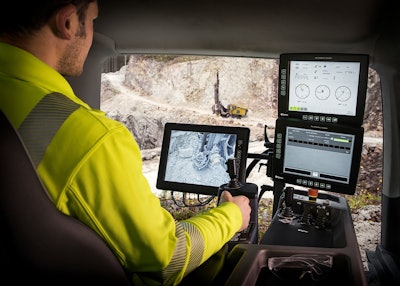 Volvo Group's climate targets approved by SBTi
The Science Based Targets initiative (SBTi) has validated Volvo Group's climate targets which the company has set out to help achieve the goals of the Paris Climate Agreement. Volvo established interim targets and a pathway to net-zero value chain greenhouse gas emissions (GHG) by 2050 in November 2020.
SBTi offers two ways organizations can pursue their GHG targets – The Standard Commitment to limit global warming to well below 2 C above pre-industrial levels and the Business Ambition for 1.5 C to align emissions reduction targets to the 1.5-degree target in the Paris agreement.
Volvo says in its press release announcing the SBTi approval that it has chosen the latter option and will also:
Develop its own pathway towards the 1.5 C target for trucks and buses, with a targeted emissions reduction of 40% per vehicle kilometer by 2030.
Target for indirect emissions approximately 95% of the products sold. This is industry-leading and well above SBTi's minimum requirement of 67%.
Reach net-zero value chain emissions by 2040 at the latest, 10 years earlier than the SBTi commitment. Volvo's products have an average lifetime of 10 years in the customer use-phase. For the entire rolling fleet to have net-zero emissions by 2050, it is necessary that all products delivered after 2040 have net-zero emissions.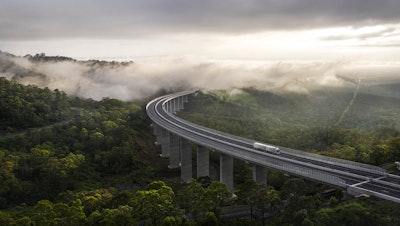 Manufacturers celebrate business milestones
Thomson Industries Inc. is celebrating its 75th anniversary in 2021; it plans to host activities and celebrations throughout the year to commemorate the milestone.
"Most, if not all, of the credit to the company's success can be attributed to a long history of dedicated, persevering employees that work together toward a common goal of fulfilling the Thomson brand promise, which is helping design engineers find the optimal linear motion solution for their applications," said Thomson President, Scott Benigni, in the company's press release announcing the business anniversary. "Thanks to their efforts, we're in a good position to continue serving our global customers and distribution partners with the greatest breadth of the highest-quality motion components for many years to come. Our mission is to help our customers build better machines to improve lives. I am extremely proud of the collaborative approach our team takes towards helping our customers innovate in their respective fields. From medical diagnostics and treatment and precision farming to aircraft safety and alternative energy, Thomson is partnering with our customers to find the right balance of cost, life and performance in linear motion."
In 2021, New Holland will also celebrate a business anniversary – 50 years of designing and manufacturing skid steers. Its first production skid steer, the L35, brought many new features to the industry including a vertical lift design for improved reach and clearance for loading and a longer wheelbase for a smooth, steady ride. Per the company's press release announcing the milestone, it was also the first to introduce roll-over and falling-object protection on its skid steers.
Since then, the company has continued to improve upon its design while also adding compact track loaders to its offering. New Holland's skid steers now range in power ratings of 60-114 hp (44.7-85 kW) and have operating capacities of 1,600-6,200 lbs. (725.7-2,812.3 kg).
New Holland will celebrate the anniversary by including a "50 Years Edition" decal on skid steers built June 1-Dec. 31, 20201. The company has also launched a website where customers can share photos of their New Holland skid steers; images can be submitted through the end of the year.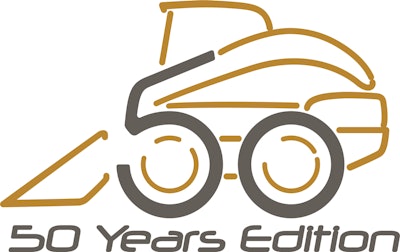 Companies in this article