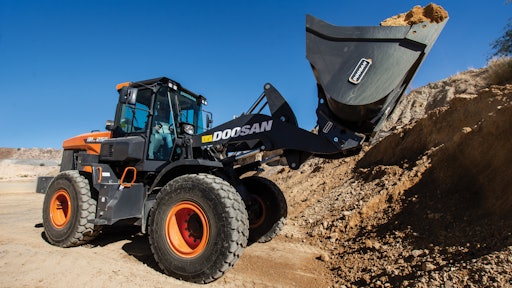 Doosan Infracore North America
During World of Concrete 2022, Doosan Infracore North America introduced three new pieces of construction equipment designed to help improve productivity and efficiency for customers. The new machines include:
14-metric-ton, reduced-tail-swing

Doosan

DX140LCR-7 crawler excavator
48.8-hp

Doosan

DX50Z-7 mini excavator

Doosan

DL250-7 wheel loader
READ MORE: News and Technology Highlights from World of Concrete 2022
Both excavators are part of next-generation product introductions the company plans to make for the North American market. The new -7 Series crawler excavators Doosan intends to bring to market will be designed to offer enhancements in power, performance and serviceability to help improve customers' operations. There will also be upgrades to visibility and safety for further productivity gains.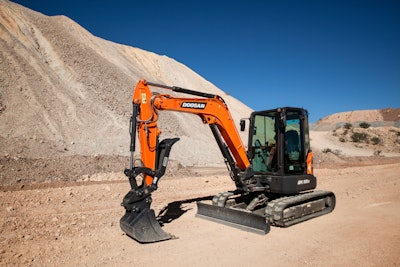 Doosan also intends to introduce a brand new line of mini excavators which will include models not previously available in North America. The company says this will allow it to provide more options for its customers to meet their various application needs. Conventional tail swing, reduced tail swing and Zero Tail Swing configurations will be part of the new mini excavator lineup. Doosan's telematics system DoosanCONNECT will also be available as standard for the first time, the company says.
Following are details on the new excavators and wheel loader as provided by Doosan.
Doosan

DX140LCR-7 Crawler Excavator

A variety of changes were included on the newly designed DX140LCR-7 crawler excavator such as upgraded technologies and enhanced controls and comfort. The new 14-metric-ton, reduced-tail-swing Doosan DX140LCR-7 crawler excavator comes with enhanced swing performance, increased fuel efficiency and more operator comfort features than the previous iteration. With an optional 360-degree camera, the excavator offers an all-around view of a worksite for increased safety.

Updated maintenance features include an electric transfer pump, centralized filters and a new fuel filler pump hose. For operator comfort, there is a Doosan Smart Key and remote door lock/unlock, improved airflow for more robust heating and air conditioning, and newly designed pedals for easier operation. The Smart Power Control feature optimizes fuel efficiency and provides the proper engine rpm and torque to match the application.

Key specs for the DX140LCR-7 include:
Horsepower: 115 hp (86 kW)
Operating weight: 35,424 lbs. (16,068 kg)
Maximum digging depth: 19 ft. 8 in. (6 m)
Maximum digging reach (ground): 28 ft. (8.5 m)
Maximum loading height: 23 ft. 3 in. (7.1 m)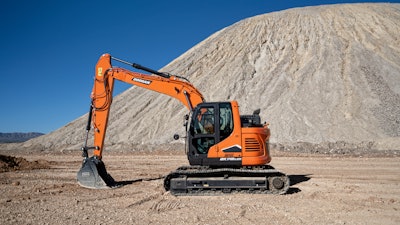 Doosan

DX50Z-7 Mini Excavator

The new 48.8-hp Doosan DX50Z-7 mini excavator is part of the 5-metric-ton size class. Its Zero-Tail Swing design makes it a popular choice for customers working in confined spaces on construction jobsites or landscaping projects. A standard enclosed cab with heat and air conditioning will keep operators working comfortably throughout the day. A heated adjustable seat is available as an option for additional operator comfort. Customers can upgrade to a steel track option for use in jobsite conditions that may otherwise damage rubber tracks. Standard attachments for the DX50Z-7 mini excavator include a bucket, quick coupler and a thumb.

Specs of the DX50Z-7 mini excavator include:
Horsepower: 48.8 hp (36.4 kW)
Operating weight: 12,121 lbs. (5,498 kg)
Maximum digging depth: 11 ft. 5 in. (3.5 m)
Maximum digging reach (ground): 19 ft. (5.8 m)
Maximum loading height: 12 ft. 6 in. (3.8 m)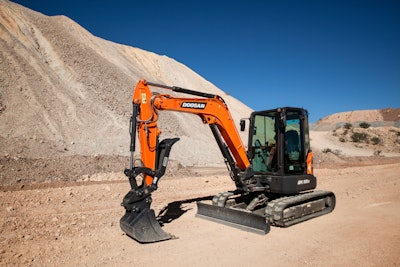 Doosan

DL250-7 Wheel Loader

The Doosan DL250-7 wheel loader has smart technologies to amplify operators' ability to scoop, carry and load more material — while maximizing power and efficiency. Exceptional lift heights and generous bucket capacities help operators power through the heaviest loads. The standard Z-bar lift arm delivers excellent breakout force for digging in tough materials.

There's also a high-lift option for maximum dumping height. Both are ideal for heavy lifting in loading applications, with rapid bucket movement and proper angle positioning for precision performance. Customers can add a larger, optional counterweight for even more lifting flexibility.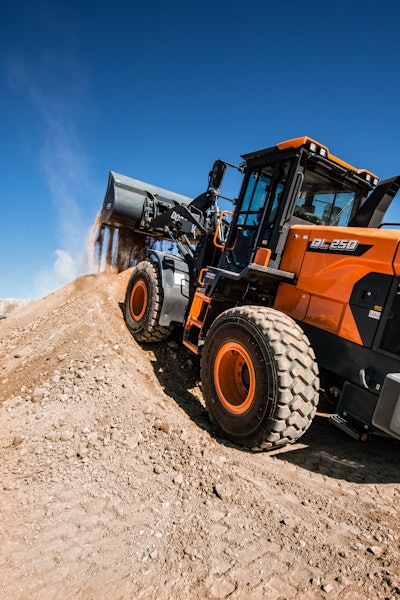 Specs for the DL250-7 wheel loader include:
Horsepower: 172 hp (128 kW)
Operating weight: 30,528 lbs. (13,847 kg)
Bucket capacity, heaped: 3.3 cu. yd. (2.5 m3)
Static tipping load, full turn: 21,134 lbs. (9,586 kg)
Dump height, 45 degrees: 9 ft. 2 in. (2.8 m)
Dump reach, 45 degrees: 3 ft. 6 in. (1.1 m)
Companies in this article