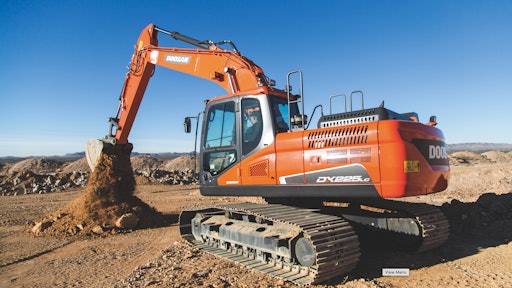 Doosan Infracore North America
*Editor's Note: This news item was originally published on August 2, 2021 and updated August 19, 2021 with new information.
The sale of Doosan Infracore to Hyundai Heavy Industries Holdings Co. (HHIH) has officially closed.
Doosan Infracore now becomes a subsidiary of the newly created Hyundai Genuine (HG) group alongside Hyundai Construction Equipment (HCE) as two independent construction equipment companies under HHIH. HG will act as the intermediary company of HHIH Group's construction equipment businesses and will be leading both DI and HCE to maximize the company's efforts and focus on the construction equipment industry. Together the two brands will combine as a global top 5 player.
The plan is to manage overlapping investments and invest heavily in areas like future technologies and innovation. Doosan Infracore will be working diligently to commercialize Concept-X and develop cutting edge products such as electric excavators, battery packs, hybrid fuel cells and other next generation products.
On November 20, 2019 Doosan unveiled its autonomous construction site solution, Concept-X, with several prototype machines including a drone, wheel loader, excavator and articulated dump truck working together autonomously at the company's proving grounds.
Concept-X is a comprehensive control solution that can be used to survey work site topography via 3D drone scanning, establish operational plans based on the topographical data and operate construction equipment such as excavators and wheel loaders without human intervention.
The Korea Herald reported on August 2 that regulators have approved the acquisition of Doosan Infracore by Hyundai Heavy Industries. The Korea Fair Trade Commission gave its approval as it does not believe the merger will hinder market competition in the region.
It was first announced in 2020 that Doosan Group was looking to sell its shares of the company to help improve its finances and repay debts held by Doosan Heavy Industries & Construction, and that Hyundai was a top contender early on. In December 2020, it was announced that Hyundai was the preferred bidder.
Hyundai signed a deal in February 2021 to acquire a 35% stake in Doosan Infracore; its subsidiary Hyundai Genuine Co. took over that stake in April.
Per The Korea Herald, regulators' approval of the deal with also aid Doosan Heavy with its corporate restructuring. The deal will also help Hyundai Genuine to increase its market presence in Korea as well as the global construction market.
Read more about the acquisition timeline from our sister site ForConstructionPros.com, and from which part of this piece was taken.
Companies in this article