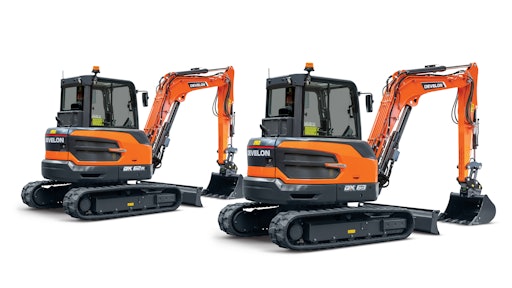 DEVELON
DEVELON has introduced two all-new six-metric-ton mini excavators — the DX62R-7 and DX63-7 — for use in the United States and Canada.
The two DEVELON excavators replace the previous iterations and join the line of next-generation -7 Series mini excavators. The DX62R-7 and DX63-7 have an updated design and impressive horsepower and weight. These machines offer standard telematics, powerful digging and lifting, attachment versatility, exceptional operator comfort and durability features.
The DX62R-7 has a reduced tail swing design. The tail swing extends just a few inches beyond the width of the excavator tracks, minimizing the chances of encountering objects or buildings when rotating the machine. The DX63-7 is a conventional tail swing excavator. Both are available in standard or optional long arm configurations, for when more reach and dig depth are needed.
For enhanced durability, the new -7 Series mini excavators are designed with a width-protected swing frame. Operators can get closer to their work, including being flush against a structure or wall, when offset digging. The excavators' swing casting and cylinders remain within the track width at full left-swing, making it less likely that operators will damage these components when working in tight or confined areas. An integrated counterweight improves the machines' lifting capacity and robustness.
When turning, grading and maneuvering, the DX62R-7 and DX63-7 mini excavators will auto downshift, so they won't bog down when traveling. As the load decreases, the excavators automatically shift back into high range.
To reduce noise, improve job site communications and save fuel, the standard auto idle feature idles the engine automatically when machine functions are not used for a few seconds. When an operator moves the controls, the excavator automatically returns to the previous throttle setting.
A steel track undercarriage option is available for demolition work or other applications where working around sharp objects could damage the standard rubber tracks. New -7 Series mini excavators offer steel-track and rubber-shoe conversion with minimal modification required.
Enhanced Attachment Versatility
Standard on the DX62R-7 and DX63-7 is a thumb-ready arm that includes durable mounts integrated into the arm, eliminating the need for welding when adding a thumb. The new hydraulic quick-coupler-ready design with quick-coupler hydraulic piping installed to the end of the arm allows for easy attachment changes. Operators won't need additional accessories to install a compatible quick coupler to the machine, helping to reduce the time it takes to switch attachments.
The excavators offer 1-way/2-way hydraulic flow. For improved control, hydraulic flow is activated through the joystick, not the pedal. One-way hydraulic flow only requires hydraulic power in one direction, for such attachments as hydraulic breakers and plate compactors. Two-way hydraulic flow is ideal for mini excavator attachments that need bidirectional flow, such as hydraulic thumbs (clamps), rippers and grapples.
Attachments help operators complete multiple tasks using one machine. DEVELON offers a heavy-duty bucket, ditch-cleaning bucket, thumb, manual quick-hitch and hydraulic quick coupler that makes changing other attachments quick and easy — including augers, hydraulic breakers, plate compactors, grapples, rippers and flail mowers.
All-Day Comfort Features
The DX62R-7 and DX63-7 mini excavators come standard with a high-performance heating and air conditioning system. This improvement in comfort for mini excavator operators takes productivity to a new level on long, hot days. Fully integrated heat and air conditioning with multiple vents throughout the cab improves operator comfort and performance for all-day operation.
A thumb switch on the right joystick controls auxiliary hydraulic functions, making fine adjustments effortless and improving operator efficiency and comfort throughout the day. Boom swing is controlled by a thumb switch on the left joystick rather than foot pedals. This control style is more comfortable to use and brings better metering and improved multifunctioning to the job.
The DX62R-7 and DX63-7 mini excavators are designed with a framed, full glass door that provides exceptional visibility to the area alongside the excavator. Operators will have a better view when using the machine in tight areas. A rearview camera is available as an option for increased visibility behind the excavator. High-illumination LED lamps provide enhanced visibility to the work area to ensure that operators can see the workgroup, particularly the attachment. An optional rotating beacon is available for enhanced safety when operators are working in high-traffic areas or low-light situations.
With the standard Bluetooth audio, operators can more easily communicate without removing their hands from the joystick controls. They can also enjoy music or their favorite podcast while they're working. A selectable control pattern is a standard feature. Operators can choose the control pattern they prefer: ISO or BHL. A travel alarm alerts others on the job site when the excavator is at work, for added awareness and safety.
Serviceability
To facilitate daily maintenance, the DX62R-7 and DX63-7 mini excavators offer easy access to filters and oil service points. A centralized boom swing cylinder greasing makes critical maintenance simple.
A convenient battery disconnect completely disables the battery connection, protecting the battery life during extended storage periods. It can also provide an added measure of security on the job site after working hours. In addition, color-coded and labeled wiring and hydraulic hoses enable plug-and-play installation of electrical accessories — including the rotating beacon — and allow quicker, easier electrical troubleshooting.
Telematics Come Standard
DEVELON Fleet Management telematics system is a standard feature on the DX62R-7 and DX63-7 mini excavators, making it easy for customers to remotely monitor and maintain their machine. They can monitor the health, location and productivity of the dozer from a user-friendly mobile app and website.
The customer's dealer can also see the equipment status and notify them when it's time for service to minimize machine downtime.
To further protect customers' equipment investment, DEVELON offers its Smart X-Care service.
An experienced team of equipment specialists actively track machine telematics from a secure, state-of-the-art machine monitoring center. They interpret the data in real time, provide recommendations and deliver reports.
Request More Information
Fill out the form below to request more information about
DEVELON Announces DX62R-7 & DX63-7 Mini Excavators for Tight Spaces