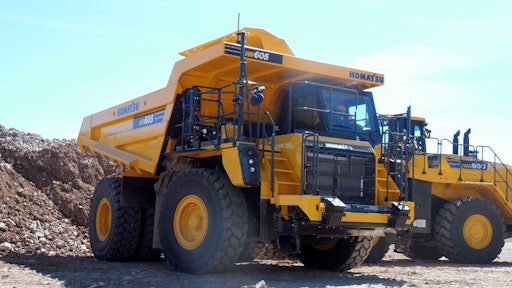 Komatsu America Corp., a leading global heavy equipment manufacturer, has introduced the new HD465-8 and HD605-8 off-highway trucks. Equipped with EPA Tier 4 Final certified engines, these latest additions to the rigid frame truck family combine increased horsepower and the Komatsu Traction Control System (KTCS) to provide improved productivity. These models have payload capacities of 61 U.S. (short)/55 metric tons and 69.4 U.S. (short)/63 metric tons, respectively. They replace the HD465-7 and HD605-7 models.
The new trucks feature a Komatsu SAA6D170E-7 engine that has increased to 724 hp (540 kW) and reduced fuel consumption for the HD465-8 by up to 7%, and the HD605-8 by up to 12%, compared to their predecessors. Machine access is improved with sloped stairs and handrails in front, to replace the previous ladder configuration.
For HD465-8 and HD605-8 machines, KTCS is now standard. KTCS automatically applies independent brake assemblies to achieve optimum traction in varying ground conditions. Because the system operates without the need for differential lock-up, steering performance is not compromised.
Other new standard features for both truck models include a 7 in., LCD color monitor, dedicated rearview monitor, fast-fill fuel system, an engine compartment light, and a premium heated and ventilated operator's seat with air suspension.
"With an increase in horsepower and improved fuel economy, the HD465-8 and HD605-8 are designed to maximize production efficiency," says Rob McMahon, Product Marketing Manager for Komatsu America. "With enhancements to the cab layout and maintenance access, combined with new technology features, these trucks have something everyone will like."
Standard features of the new HD465-8 AND HD605-8 include:
Tier 4 Final Certified Engine Technology
The powerful SAA6D170E-7 engine provides 724 hp (540 kW).

The hydraulically actuated Exhaust Gas Recirculation (EGR) and Variable Geometry Turbocharger (VGT) ensure precise operation and quick engine response.

Maintenance of Tier 4 Final engines is simplified with enhanced monitor panel capability and service features.

KOMTRAX and the monitor panel provide critical information for easy monitoring and key data for production management.

Komatsu Diesel Particulate Filter (KDPF) and other aftertreatment components are designed in conjunction with the engine for efficiency and long life.

Automatic KDPF regeneration is performed passively, with no action required of the operator and no interference with machine operation.

No Selective Catalytic Reduction (SCR) system is required for these models.
New In-Cab Enhancements/Features
New, air-suspension, high-back, ventilated and heated seat softens machine vibrations for operator comfort and cast frame members increase strength.

Seven-inch, full color, high resolution monitor delivers a sharp picture and vivid colors, even in harsh light.

Komatsu Auto Idle Shutdown can reduce idle time and save fuel.

Separate, full color, rearview monitor with improved line-of-sight.

Pioneering KOMTRAX Plus telematics system and monitor provides key machine metrics, including KDPF status, fuel consumption, plus performance information collected and sorted by operator ID.

Auxiliary jack and two 12V ports.
Additional Features/Benefits
Angled front access stairs with handrails are now standard for both sides of the machine.

KTCS automatically provides optimum traction in all ground conditions without operator input.

Komatsu Advanced Transmission with Optimum Modulation Control System (K-ATOMiCS) adjusts shifting performance according to demand for a more comfortable ride and reduced material spillage.

Automatic Retard Speed Control (ARSC) automatically maintains a selected downhill travel speed (rather than engine RPM) that is appropriate for the grade.

Komatsu integrated payload meter (PLM) data is available on the machine monitor and remotely via the web.

Tight turning radius with MacPherson strut front suspension.

Hydropneumatic suspension system for a smooth ride.