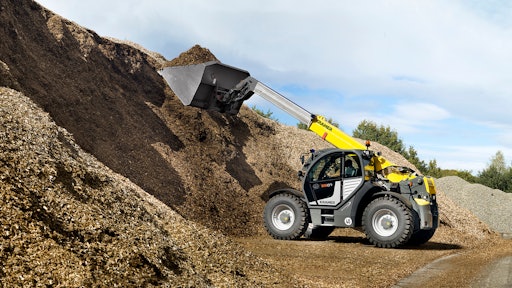 Since January 2018, Kramer-Werke GmbH offers its well-known six telehandler models (3007, 3507, 4407, 5007, 5507 and 5509) with many innovations. The telehandler series has been further developed through intensive customer feedback and meets Kramer's usual quality standards.
The Kramer brand stands for all-wheel steer loaders, telehandlers and telescopic loaders with extreme maneuverability, all-terrain mobility and high efficiency.
Kramer offers its customers a wide range of products: 18 wheel and telescopic wheel loaders as well as 10 telehandlers are now available. The machines are true all-rounders thanks to the large selection of front and rear attachments. The flexibility and versatility of the machines is also reflected in their possible application areas: Everything is possible, from road construction and civil engineering, gardening and landscaping or municipalities for application in an industrial or recycling company. All these application areas are also covered by Kramer 7 - 9 m class telehandlers.
In addition to the implementation of the new normative regulations, a new operating concept was integrated in the six models (3007, 3507, 4407, 5007, 5507 and 5509) for the 2018 model year. The proven and functional electronically piloted all-in-one joystick and the innovative jog dial control element enable intuitive operation of all functions. For example, the sensitivity of the work hydraulics can be adjusted with three speed levels. All relevant vehicle data and settings are displayed on the new 7-in. display. The image from the optional rear view camera is also integrated in this display and therefore no separate output screen is required. To increase driving comfort, a mobile phone holder and an interior mirror are optionally available in an equipment package. The installation takes place in the A-pillar in the optimum field of vision of the driver, but without impairing the field of vision in the working area of the loading system.
As a special innovation, the 5007 (optional), 5507 and 5509 models use the new hydrostatic "ecospeedPRO" wide-angle travel drive with 370 cc displacement for increased tractive power and driving dynamics. The continuously variable hydrostatic high speed transmission with 45 degree swivel angle of the hydraulic motor has been further developed by Kramer. In addition to the positive characteristics known for hydrostatic drives, such as simple reversing, good control and inching, the large working range of 45 degree technology also allows the entire speed range to be achieved without switching and thus without loss of thrust or tensile forces. In typical work situations, e.g. handling work in the Y-cycle, there is a high demand for constant pushing and pulling forces at low travel speeds. The ecospeedPRO transmission meets exactly these requirements while at the same time increasing performance compared to the predecessor model.
In the proven ecospeed and the new ecospeedPRO travel drive, the intelligent "Smart Driving" engine speed reduction is integrated as standard. This adapts the engine speed at constant speed optimally to the driving requirements. When the maximum speed is reached, this results in reduced noise, lower fuel consumption and reduced stress on the individual components. With ecospeedPRO, the engine speed can be reduced to 1,550 rpm at maximum travel speed.
All Kramer telehandler models (804, 1245, 2205, 2706, 3007, 3507, 4407, 5007, 5507 and 5509) are equipped with the Smart Handling driver assistance system as standard. Smart Handling with two or three function modes (depending on the model) for different requirements supports the end user in efficient and convenient operation and thus ensures economical material handling, e.g. when loading salt or recyclable materials. At the same time, the system permanently monitors the load condition and ensures that the vehicle is in a safe position and cannot tip over forward in the static condition.
Equipped with many innovative details for high user demands, Kramer 7-9 m class telehandlers feature automatic bucket return in combination with the practical bucket shake function for sticky materials, automated vibration damping and perfect all-round visibility. "In essence, our telehandlers can be described by three characteristics: robust, versatile and efficient. We are very pleased that we were able to equip the telehandlers from a stacking height of 7 m with many new technical details. This enables us to serve our customers' needs even better," says Karl Friedrich Hauri, Managing Director of Kramer-Werke GmbH.