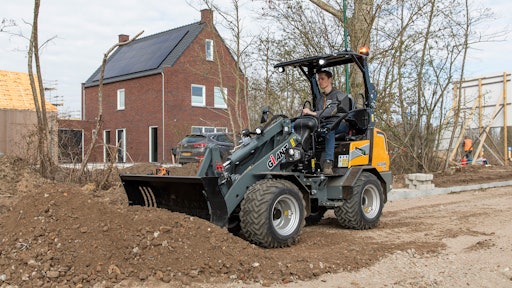 TOBROCO-GIANT
TOBROCO-GIANT introduces its new G2300 HD and G2300 X-TRA HD wheel loaders. Part of the company's G2300 series, the wheel loaders are designed to provide a higher level of performance and more compact design for easy machine transport.
The company says it worked closely with customers to ensure the new wheel loader models would meet their needs. "If we develop a new model or enhance an existing machine, we always do this because of a specific demand we receive from the market. We always listen very intensely when customers tell us what exactly they need for their work," says Toine Brock, founder, owner and CEO of TOBROCO-GIANT, in the company's press release announcing the new wheel loaders.
TOBROCO-GIANT developed the new G2300 series machines due to customer demand for wheel loaders in a size range between its existing G2200 HD+ and G2500 HD models. Customer input also lead the company's decision to create a base as well as an X-TRA model.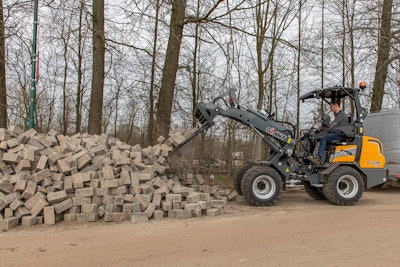 Compactly designed with improved performance
The new machines are equipped with a 26 hp (19.4 kW) Kubota engine with 1,500 m3 cubic capacity, four cylinders and high torque; it is certified to EU Stage V emissions standard.
Inclusion of a hydrostatic four-wheel-drive and limited slip on both axles improves operator comfort as well as machine performance in a variety of working conditions.
The wheel loaders' 8-ton planetary axles provide traction force of 23,000 N, which aids use in various applications including construction, agriculture and gardening and landscaping. Tipping loads of 1,595 kg (3,516.4 lbs.) for the G2300 HD or 2,260 kg (4,982.5 lbs.) for the X-TRA version ensure powerful and efficient loading and unloading of materials.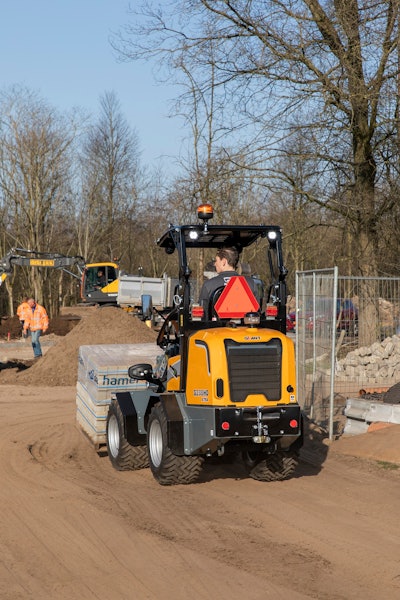 Compactly built, the wheel loaders feature a frame which has been specially designed to enable use of a larger engine. They have a width of only 180 cm (3.5 ft.) when mounted with standard tires, enabling the wheel loaders to easily maneuver in space constrained areas.
The machines have an operating weight of 2,300 and 2,350 kg (5,070.6 and 5,180.9 lbs.), which paired with their compact size enables easy transport from job site to job site.
Safety and comfort
All machines are equipped with a safety roof as a standard. Optionally, this can be changed into a foldable safety roof or a complete cabin. All roofs and cabins have been rigorously tested by independent controllers and are certified to the international ROPS/FOPS standard. The curved windscreen and the narrow stacks provide a 360-degree view, ensuring optimal visibility for operators. TOBROCO-GIANT says this allows operators to view the whole working area, enabling them to work safely and precisely at any time.
An adjustable seat helps to create pleasant working conditions for long days in the cab. Additionally, the cab has been designed to provide a spacious and comfortable working environment with control instruments that are easy to use. These include a smooth operating joystick and tilting and adjustable steering column.
By creating a more comfortable operating experience, workers will be less fatigued and can therefore be more efficient throughout the work day.
Attachments for every task
TOBROCO-GIANT offers more than 200 different attachments for use with the G2300 models to enable the machines to work in various applications all year long. These include buckets, sweepers and snowblades.
The attachments have been developed according to the characteristics of the machines and therefore provide the best collaboration between machine and attachment, ensuring a high level of performance.