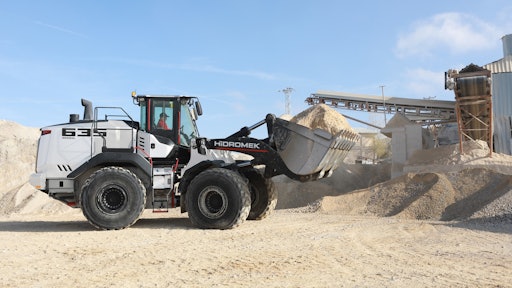 HIDROMEK

Construction equipment manufacturer HIDROMEK has recently announced the introduction of two new pieces of equipment designed to productivity for customers.
The new HMK 635 WL wheel loader is a heavy-duty machine which the company says in its press release announcing the launch of the machine provides high performance, durability, low fuel consumption, versatility, operator comfort and safety. Additional features of the machine include high breakout power and a high level of control in sever working conditions. All of this aims to shorten cycle times and increase productivity for HIDROMEK's customers.
The company has also introduced the new HMK 500 LCHD crawler excavator. It features the highest tonnage in HIDROMEK's H4 Series. Strengthening of the machine's heavy-duty structure as well as inclusion of a revised undercarriage help to make the new crawler excavator more durable, aiding use in harsh operating conditions.
HMK 635 WL Wheel Loader
HIDROMEK's new wheel loader offers a variety of other features, as well. It is powered by a Stage V compliant engine with 282 hp and 1,200 Nm torque ratings. Fuel savings can be achieved with this engine as it can provide a high level of torque even at low speeds, notes HIDROMEK in its press release announcing the launch of the wheel loader.
The HMK 635 WL has a standard operating weight of 20,600 kg and bucket capacity of 3.5 m3, ensuring optimal performance in a variety of heavy-duty applications.
Additional features of the wheel loader per the company's press release include:
Five forward and three reverse powershift transmission and shifting gears which operate smoothly and rapidly
TIPSHIFT function enables quick change in direction by pressing a single key when moving forward or backward while loading, increasing productivity and safety
Articulation angle of 40 degrees aids maneuverability in narrow working areas
Panoramic cab provides wide field of view for improved visibility
Insulated operator cab ensures comfort and reduced noise from outside the machine
Heated, adjustable, air suspension seat and automatic A/C system help to optimize operator comfort
Ergonomic placement of ventilation grilles as well as operator controls which include touchscreen control panel for comfortable and easy use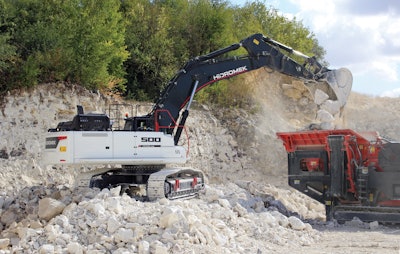 HMK 500 LCHD Crawler Excavator
The new crawler excavator features a 3.2 m3 bucket capacity, 6.3 m standard boom length and 52,000 kg standard operating weight, all of which helps to ensure optimized performance and productivity according to HIDROMEK.
Improvements were made to not only the undercarriage to improve durability but also the excavator's arm and boom structure as well as attachment groups. The company achieved this by using more durable materials for these machine structures. HIDROMEK says in its press release announcing the launch of the crawler excavator these improvements ensure uninterrupted operation in severe working conditions such as mining and large construction sites.
Additional features of the crawler excavator per the company's press release include:
Several options available to ensure operator comfort such as a heated, air-suspended and 35-degree adjustable seat as well as proportional control pedal and joysticks
OPERA Control System and ergonomically positioned 8- in. touchscreen control panel also aid comfort and ease of use for operators
Safety is assured through inclusion of red handles, side and rear cameras, and warning systems
FOPS certified cab also ensures a safe operator environment
Electronics system helps protect engine and hydraulic components to deliver fuel savings and optimized performance
Automatic stop system offers configurable idling and stopping times to provide fuel savings by stopping the engine once the machine is idle
Addition of safe fuel transfer pump ensures fuel tank is not overfilled
Power boost technology automatically provides extra power to the machine when necessary