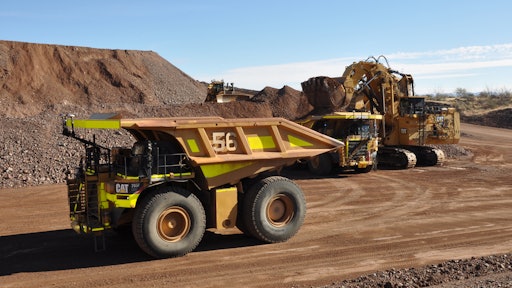 Caterpillar Inc.
The mining industry has no choice but to move toward advanced technology, digitization and automated vehicles. The major OEMs are launching hybrids and electric vehicles, and several have been investigating the automated vehicle and mine site option for years. For those that can't afford to go it alone, mergers, acquisitions and partnerships provide the means to accomplish their goals.
Every mine site is different and calls for unique technological solutions. That makes partnering with technology experts a critical strategy for OEMs to be able to meet the application-specific needs of their customers while keeping delivery time manageable, overhead low, and  allowing capacity flexibility for custom solution creation.
Just last year, Caterpillar worked with Torc Robotics to expand its autonomous technology for mixed fleets, and Atlas Copco collaborated with Saab and Combitech to develop safe mining digitalization solutions.
"When we build a solution for our customers, we're committed to delivering the best possible outcome we can," says Bill Dears, Caterpillar Mining Technology Product Manager. "We have great products that meet the majority of needs. But if there is a need that we can't meet, we'll find a technology that does."
Caterpillar announced its 930E retrofit program with Torc Robotics in order to help its customers get the most out of their existing equipment through modernizing vehicles with new technology. "We know that most mining operations are made up of equipment from multiple manufacturers," says Sean McGinnis, Product Manager, Caterpillar Mining Technology.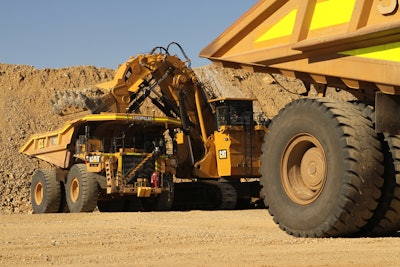 "By working with Torc to develop a solution that works on Komatsu trucks, we're making it possible for our customers with mixed fleets to get the benefits of our proven autonomy solution. They can boost their equipment availability and overall productivity in the field. And, most importantly, they'll reap the safety benefits that come from autonomy." The 930E program leverages the Cat Command autonomy solution from its MineStar technology suite.
Caterpillar is also working with Rio Tinto to retrofit 19 Cat 793F mining trucks for autonomous operation at the Marandoo iron ore mine in Western Australia. The retrofit solution will also utilize Cat Command and will result in Caterpillar's first fleet of autonomous trucks deployed by Rio Tinto. The project will be completed by the end of 2019 with the first retrofitted trucks being completed by mid-2018.
"This project with Caterpillar accelerates deployment of autonomous haulage via retrofit in our Pilbara operations and helps meet our objectives of making our operations safer and more productive," says Rio Tinto Iron Ore Chief Executive Chris Salisbury.
In October of last year, Atlas Copco singed a letter of intent with Saab, a defense and security company, and its subsidiary Combitech, a technology consultancy, as part of Atlas Copco's investment in secure digitalized mining operations. The Atlas Copco, Saab and Combitech collaboration includes an autonomous mining control tower, cyber security and ecosystem solutions.
"This collaboration is fully in line with our vision of the digital mine of the future," says Helena Hedblom, President of Atlas Copco's Mining and Rock Excavation Technique business area. "To shorten the lead time, we're choosing to team up with the best in the industry. We see great potential in combining our company's products and experience with Combitech's technologies."
Earlier this year, Atlas Copco acquired a stake in Mobilaris MCE, a business whose software solutions provide users with a comprehensive picture of mining operations, real-time positioning, and status information about vehicles, equipment and personnel.
"The innovative team at Mobilaris will play a key role as Atlas Copco further advances its digital and automation solutions, providing mining and civil engineering customers with increased safety, enhanced operational excellence and improved productivity," says Hedblom. "This is the future in mining."
Like Caterpillar and other major OEM players in the mining equipment marketplace, Komatsu has been working toward its autonomous vehicle solution development for years, and celebrated the 10-year anniversary of its Autonomous Haulage System (AHS) in January. With its anniversary announcement, the company highlighted its existing 100+ AHS trucks already safely and reliably operating in Australia and North and South America.
Based on the company's 10 years of experience, it stated its plans to accelerate the pace of its AHS deployment. The entire AHS operation is controlled remotely and efficiently from Rio Tinto's operations center in Perth, roughly 1,500 km (932.1 mi.) from the mines. Following those successes of AHS deployments, Komatsu supported Suncor's pilot of AHS in a section of its oil sands mine in Canada in 2013.  
Today, the AHS operates around the clock, hauling three different commodities in six mines across three continents. AHS enabled customer productivity has improved, reducing load and haul unit costs by more than 15%, compared to conventional haulage methods. In addition, the optimized automatic controls of the AHS reduce sudden acceleration and abrupt steering resulting in a 40% improvement in tire life compared to conventional operations.
Following a recent successful trial of Komatsu's AHS retrofit kit, Rio Tinto placed an order for 29 AHS retrofit kits to be installed on 830E electric drive standard haul trucks currently in operation. In addition to expanding the AHS retrofit kit to include other main models of Komatsu electric drive standard trucks, Komatsu is planning to enhance the AHS's mixed-operation functions. The planned enhancements will enable manned haul trucks of any make to safely interoperate with Komatsu AHS trucks in a blended fleet operation.
Suncor Energy, Canada's leading integrated energy company with operations in oil sands, offshore oil and gas production, announced it would implement over 150 autonomous haul trucks into its program over the course of the next 6 years, one of the largest investments of electric autonomous vehicles in the world.
The company notes that with safety being its core value, the autonomous vehicles bring a level of operational predictability and safety features—such as route mapping and obstacle detection systems—often attached to automated equipment benefits.
Suncor also admits that the implementation of these vehicles will impact around 400 heavy-equipment operator jobs, many of which will be unnecessary, and some of which will require retraining for new skill sets not currently held by existing operators. But, as the world continues to progress forward down a highly technical and automated path, an evolution of new jobs created and old jobs destroyed is a natural and unavoidable consequence.
As the mining industry in particular continues to refine itself in the image of the future expectations and capabilities of consumers, it will inherently reshape what it means to be a miner among cyber communications, the internet of things, data analysis, vehicle connectivity and the connected site, drone exploration, robotics and 3D imaging, to name a few.
Companies in this article