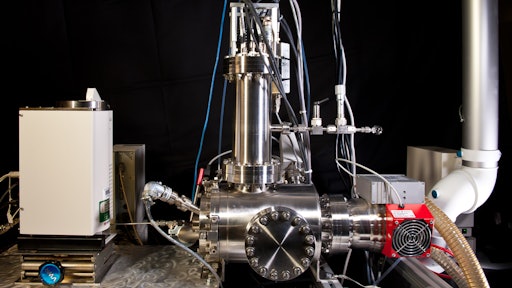 The U.S. Department of Energy's National Renewable Energy Laboratory (NREL) has developed a new biomass analysis tool that will help speed up the process of assessing whether a particular biomass product can feasibly be turned into a biofuel.
Both the U.S. Department of Agriculture and the Department of Energy have kicked off 2013 with investments in making biofuel production easier and more affordable.
NREL's High-Throughput Analytical Pyrolysis tool (HTAP) determines the chemical composition of biomass cell walls by employing a version of pyrolysis known as high-throughput analysis pyrolysis. This process involves using heat in the absence of oxygen to create a vapor from a biomass sample. The vapor is then analyzed to verify whether or not the cell wall chemistry of the biomass sample has the ideal genes necessary for creating a biofuel.
By studying the cell walls of biomass such as trees, crops, switchgrass and algae, researchers can see whether or not the biomass can easily be broken down to extract its sugars which are used to make biofuels. Researchers will first break down lignin—the part of the plant the helps its development and protects it from insects but prevents enzymes from accessing sugars in the plant's carbohydrates—to determine the ratio of lignin to carbohydrate components and the intensity of the lignin peaks. This ratio tells researchers how easily sugars can be extracted from the biomass product.
Determining a biomass' ability to be converted into a biofuel is just one small step in the process. Learn more about what it takes to turn a biomass product into a biofuel, and some of the current research being done with switchgrass and algae in Alternative fuels from the July/August 2012 issue of OEM Off-Highway.
Using HTAP enables the large lignin molecules to be broken down into smaller portions which can be then be read by a molecular beam mass spectrometer. The spectrometer obtains genetic information from the small biomass samples to asses whether or not the plant has the "right" genes that will enable it to easily be broken down and used as a biofuel.
What makes NREL's new HTAP tool so revolutionary for the biofuels industry is the speed at which samples can be tested. By using an auto-sampler to quickly move samples between the oven where pyrolysis takes place and the molecular beam mass spectrometer, researchers can take measurements every few minutes. Now biomass samples can be analyzed in minutes instead of weeks.
With this new tool, biomass producers can more quickly and easily determine which species of plant will be best suited for use in biofuel production.
Read the full press release to learn more about NREL's new biomass analysis tool and the benefits it can offer the biofuels industry.
What are your thoughts on this new tool? Do you think it will help advance the biofuels industry any further?