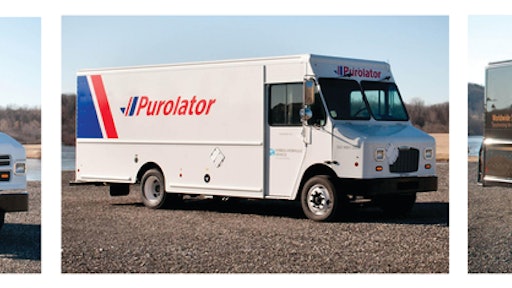 Members of the Hybrid, Electric and Advanced Truck Users Forum (HTUF) Parcel Delivery Working Group have announced the receipt of their hydraulic hybrid package delivery evaluation vehicles from Freightliner Custom Chassis Corporation (FCCC), Morgan Olson and Parker Hannifin. FedEx Ground, Purolator, and UPS each purchased an evaluation vehicle with assistance from CALSTART through a grant from the U.S. Department of Energy (DOE).

These are the first-of-their-kind commercially available hybrid hydraulic parcel delivery vehicles. The vehicle chassis includes a Parker hydraulic hybrid drive system, integrated and assembled by FCCC, with bodies installed by Morgan Olson.

Braking energy is recovered and stored in hydraulic accumulators, where it is used to power the truck during acceleration. Parker's onboard controller incorporates an advanced engine-off strategy to minimize unnecessary run time. As a result, fuel use can be reduced by 40% or better fuel economy based on route profile.
"Purolator is excited about the new FCCC truck with Parker hybrid hydraulic technology. We look forward to the improvements to fuel economy and drivability that this new technology brings to the industry and are willing to work with the OEMs to validate these improvements for other fleets to help build business cases to introduce these vehicles into their fleets as well," says Serge Viola, General Manager Fleet/GSE & GLH, Purolator.
Mike Britt, Director of Vehicle Engineering, UPS says, "We are optimistic that this new technology will perform as well as it did in the test vehicles improving fuel economy and reducing emissions."
"Parker is excited to deploy our first three hydraulic hybrid drive systems with the CALSTART-led HTUF Working Group. After recent EPA testing, Parker's system came out best in class compared to similar hybrid systems. We are anxiously awaiting to see real world test results from our three customers: FedEx Ground, Purolator and UPS," says Shane Terblanche, General Manager, Parker's Hybrid Drive Systems Division.
The Parker hybrid drive system installed in these trucks is designed specifically for medium duty, start-stop applications such as parcel delivery. Advancing upon Parker's RunWise heavy-duty system presently available for refuse applications, this medium duty version incorporates an infinitely variable transmission in its design. Power from Parker's hydraulic pump/motors and accumulators is seamlessly blended with engine power depending on driver demand.

"We are very proud to have assembled this world class team of leading manufacturers and fleets to help demonstrate and deploy this exciting new product. The fact that FedEx Ground, UPS, Purolator are interested in testing this technology is a positive statement about the potential of this American-made and manufactured vehicle and technology," says John Boesel, President and CEO, CALSTART.
The three package delivery companies will be cooperating with CALSTART and FCCC to gather data on the operation of the vehicles to establish expected fuel economy improvements and reduced brake and engine maintenance costs. Although hydraulic hybrid systems have shown promise over the last few years, commercial deployment of these systems has been limited to Class 8 refuse trucks. This evaluation will assess an efficient hydraulic hybrid system for the lighter, Class 6 vehicle applications. Successful demonstration could pave the way for additional purchases of hydraulic hybrid vehicles throughout the trucking industry.

The UPS vehicle will be on display at Fortune Brainstorm Green, April 17 to 18 in Laguna Niguel, CA.