Oshkosh Defense
Oshkosh Defense has unveiled its first silent drive hybrid-electric Joint Light Tactical Vehicle (JLTV) which it is calling the eJLTV. The vehicle is designed to provide the U.S. Army and U.S. Marine Corps with the same performance as the traditional JLTV but with the ability to drive silently.
In addition, the company says the eJLTV will provide extended silent watch, enhanced fuel economy and increased exportable power for use in combat as well as reconnaissance operations.
"For many years, we've been developing, testing and evolving hybrid-electric variants of our heavy- and medium-duty tactical wheeled vehicles," said John Bryant, Executive Vice President for Oshkosh Corporation and President of Oshkosh Defense, in the company's press release announcing the new vehicle. "Now, with the eJLTV, we're offering our military customers an affordable way to electrify their light tactical wheeled vehicle fleet without compromising the off-road performance or superior protection necessary in combat operations."
Designed to protect and improve operations
The eJLTV is based on Oshkosh Defense's JLTV platform. According to George Mansfield, Vice President and General Manager of Joint Programs at Oshkosh Defense, the company is using commercially available components and technologies for the hybrid electric vehicle. "We use an integrated motor generator and high-voltage energy storage system as part of the powertrain, while the same engine and transmission are retained," he explains.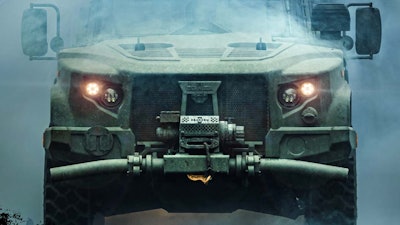 Oshkosh Defense states in its press release that key highlights of the eJLTV include:
Maintaining the performance and protection of the proven

Oshkosh

Defense JLTV
Improving fuel economy by more than 20%
Providing battery capacity of 30 kWh with opportunity for growth
Eliminating the need for a towed generator by providing export power capacity of up to 115 kW
The eJLTV utilizes a lithium-ion battery which can be recharged via the diesel engine while the vehicle is in use to help ensure power is available whenever needed. The battery can be fully recharged within 30 minutes, assuring little downtime for military personnel who may need to maneuver quickly from one location to another.
The recharging capability also eliminates the need for charging infrastructure, one of the biggest challenges currently for the military to fully shift to electrification. Not only is it a large investment to install charging infrastructure, but the ability to do so in the often remote locations in which the military operates can be difficult. There is also the question of what to do with the charging infrastructure if an encampment needs to move to a new location.
Also challenging is the fact the vehicle may not be able to make it back to the base in the time needed for recharging. With the battery's ability to be recharged while the eJLTV is in motion, these hurdles can more easily be overcome until other, possibly portable, recharging solutions can be developed.
READ MORE: Military Looks to Transform its Vehicle Fleet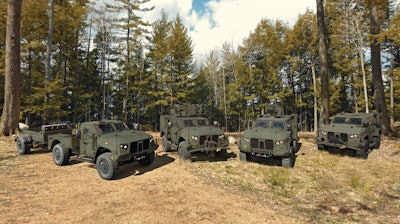 In 2022, the U.S. Army plans to initiate a recompete for the JLTV program for which Oshkosh Defense has been a supplier since 2015. The recompete will be a follow-on full-rate production contract that is expected to be awarded to a single vendor in the fourth quarter of fiscal year 2022. New vendors as well as Oshkosh Defense will be welcome to compete for the award which is expected to be a 5-year contract with five 1-year options.
"While the U.S. Army has not requested a hybrid-electric JLTV as part of the JLTV recompete, the eJLTV proves that Oshkosh Defense has the team and technical capabilities to produce this highly capable vehicle today," said Bryant.
This will be beneficial should the Army decide to request hybrid or electric vehicles as part of this recompete or other vehicle programs.
Development of the eJLTV is just one of several initiatives Oshkosh Defense and its parent company Oshkosh Corp. are undertaking in the areas of electrification and sustainability. In February 2021, the companies were awarded a contract to design and deliver the U.S. Postal Service's Next Generation Delivery Vehicle. As part of this contract, traditional diesel engine powered vehicles as well as battery-electric options will be developed.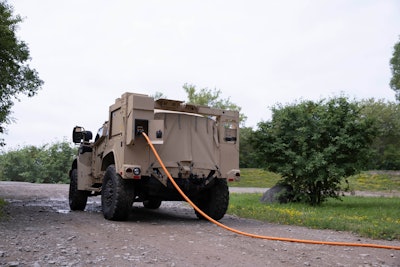 Oshkosh Defense also developed a diesel electric Light Combat Tactical Vehicle (LCTV) from which the company says the JLTV is derived. The LCTV utilized early versions of Oshkosh Defense's TAK-4 independent suspension system as well as the ProPulse diesel-electric system which uses a diesel engine to power a large electric generator to provide power to the vehicle's axles. This setup provides a large amount of electric power while helping improve fuel economy.
"Electrification of the ground vehicle fleet has become increasingly important to our military customers, and Oshkosh is no stranger to this technology," says Mansfield. "Oshkosh Defense has been employing hybrid-electric technology for the U.S. military on heavy- and medium-duty tactical vehicles for years, although adoption has been in small quantity demonstration and test programs. For example, our ProPulse Hybrid Diesel-Electric System dramatically improves fuel economy and serves as an on-board generator with enough output to power an entire airfield or hospital. Now, with the eJLTV, we are offering our military customers an affordable way to electrify the light tactical wheeled vehicle fleet without compromising performance or protection."
Mansfield says the eJLTV is currently going through an internal performance test phase. "For now, we plan to listen to the voice of customer and tailor the vehicle to meet their requirements. The modular architecture of the JLTV allows for design flexibility to meet the unique requirements of customers."
Companies in this article