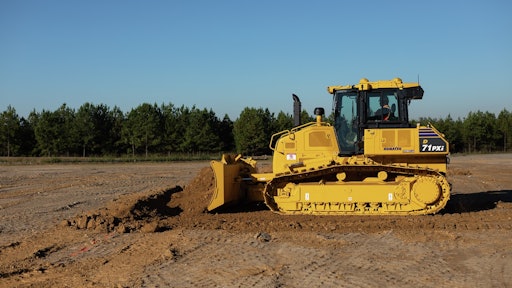 Komatsu America Corp.
OEM Industry News Briefs provides a weekly round up of the latest news and company announcements you may have missed in the heavy equipment engineering and manufacturing industries.
This past week saw new investments in battery technology from Oshkosh, as well as new partnerships to advance electric vehicle designs and market uptake, such as that between Proterra and Volta Trucks. In addition, several OEMs in the on- and off-highway markets introduced new vehicle and equipment models with advanced technology aimed at improving productivity, efficiency and safety for operators.
Yokohama Uses AI to Predict Physical Properties of Rubber
The Yokohama Rubber Co., Ltd. has announced the development of a proprietary system which utilizes AI (artificial intelligence) to predict the physical properties of rubber compounds. The company says it is using this technology to design rubber compounds for its tires. Yokohama anticipates this system's ability to conduct numerous virtual experiments will help accelerate development while reducing design costs and helping create better performing products.
According to Yokohama, the system uses AI to predict a rubber compound's physical properties based on the rubber compound design parameters input by an engineer. It includes a function that displays the certainty of predicted physical properties and one that searches for a compound composition that will achieve physical properties closest to the targeted ones, helping engineers confirm predicted results.
The company plans to use this new system to aid development of compounds for various tire products.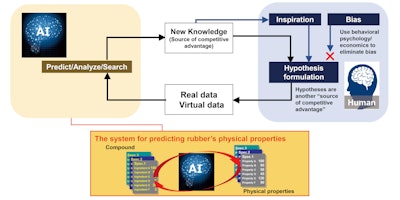 ClearFlame Selected as Finalist for 2021 SXSW Pitch
ClearFlame—a startup developing clean engine technology—has been selected as a finalist in the Smart Cities, Transportations & Logistics category for SXSW Pitch. Held in conjuction with this year's online version of South by Southwest (SXSW), SXSW Pitch provides startups from around the world the chance to showcase their developments to a panel of judges and a virtual audience. ClearFlame was selected among the 40 finalists spanning 8 separate categories.
The company will be one of four presenting in its category during the pitch event March 17-18. ClearFlame's engine technology enables low-carbon and carbon-negative fuels to be easily integrated into existing diesel engine platforms, offering a more sustainable and cost-effective solution than diesel fuel. It provides the same performance, efficiency, and rugged practicality associated with diesel engines, while eliminating the need for complex aftertreatment solutions.
"We're honored to be selected as a finalist for this innovative pitch competition," said Dr. BJ Johnson, CEO and cofounder, ClearFlame. "We're eager to showcase how our technology provides a rapid and cost-effective solution for the heavy-duty industry using carbon-negative fuels, helping to mitigate CO2 and greenhouse gas emissions."
Listen to our podcast interview with the co-founders of ClearFlame to learn more about the technology.
Allison Transmission Electric-Hybrid Propulsion for U.S. Army
Allison Transmission is partnering with American Rheinmetall Vehicles (ARV) to provide the Next-Generation Electrified Transmission (NGET) propulsion system for the Lynx vehicle that is in competition to be selected for the U.S. Army's Optionally Manned Fighting Vehicle (OMFV) program.
The OMFV program is the priority ground modernization program for the U.S. Army that will replace nearly 3,800 Bradley Infantry Fighting Vehicles. The program begins with digital design phases that continue through early 2023, followed by development of prototype vehicles in 2024, and government testing beginning in early 2026.
"Some of the design features include an electric hybrid architecture that will offer the warfighter the benefits of reduced detection by the enemy and increase soldier survivability. It also provides exportable power provisions for on- and off-board systems. Additionally, the autonomy-enabled NGET will provide superior performance and have the ability to meet future increases in vehicle requirements while delivering the proven reliability of an Allison Transmission," said Ken Adgie, Director for U.S. Government Defense Business at Allison Transmission, in the company's press release announcing the project.
Oshkosh

Invests in Microvast Battery Technology

JLG Industries Inc. recently announced parent company Oshkosh Corp. plans to invest in battery technology provider Microvast. According to JLG, this will aid electrification efforts at JLG and other Oshkosh brands.

"Our strategic investment in Microvast is an excellent addition to Oshkosh's electrification focus and established partnerships," said John C. Pfeifer, Oshkosh Corporation President and Chief Operating Officer, in JLG's press release announcing the investment. "These partnerships, combined with Oshkosh's highly-capable product development team, support our expanding leadership with technology-enabled products across the markets we serve."

According to Frank Nerenhausen, Oshkosh Executive Vice President and President of JLG Industries, this relationship enhances the Company's product development and technology roadmap. "JLG is focused on electrification and the delivery of sustainable technologies that are environmentally friendly without a compromise to performance. We believe advancing battery technology is crucial to striking this balance."

Oshkosh has also entered into a joint development agreement with Microvast for future battery collaborations and integration.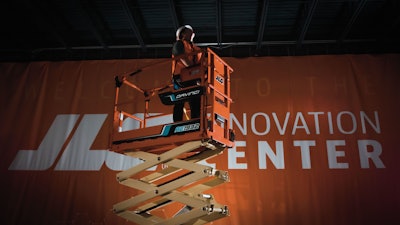 SKF Wins Award for Bearing Design
SKF has received the a 2020 Manufacturer Excellence Award for Innovation in Product Design from the Bearing Specialists Association (BSA) for its Cooper sealed split spherical roller bearing. The bearing was honored for its ease of replacement, sealing capabilities, longer service life as well as the fact it helps to reduce downtime while increasing the safety of those installing and maintaining the bearing.
According to SKF, both the open and sealed versions of SKF Cooper split spherical roller bearings are designed for easy replacement with little disturbance to the shaft alignment or driveline and eliminate the need to remove attached equipment. The design of the bearing helps to reduce mean time to repair (MTTR) and equipment downtime by up to 70%.
The sealed version of the bearing features an integrated machined seal which prevents entry of contaminants, helping to extend the life of the bearing.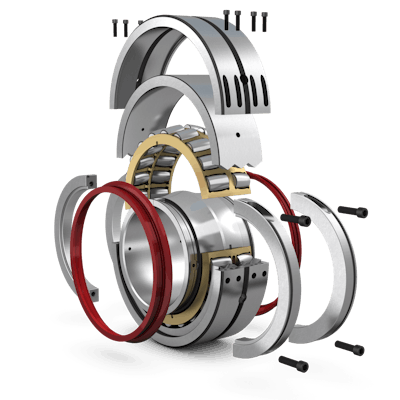 New corporate appointments
DEUTZ has announced its Supervisory Board has extended the term of Dr. Frank Hiller, currently Chairman of the Board of Management. He has been appointed to run the company for another 5 years.
The board says extending his appointment will help to ensure continuity for the company as well as a solid foundation for continued success.
Cummins announced several new leadership positions recently. Two key promotions were that of Tony Satterthwaite, who was named Vice Chairman, and Jennifer Rumsey who will succeed him as President and Chief Operating Officer. She is the first woman to be named to the position at the company.
Power Solutions Intl. (PSI) announced Chief Executive Officer John P. Miller will retire from the company; he will be succeeded by current Chief Commercial Officer Lance Arnett.
Shaojun Sun, chairman of the board, commented in the press release announcing Miller's retirement, "We are grateful for John's contributions during a period of transformation and wish him well in his retirement. During John's tenure at PSI, we had numerous achievements including substantial growth in the business through 2019, the successful completion of the financial restatement, the introduction of numerous engines to the Company's product portfolio, and the buildout of the management team, among several others.
"With the progress that we've made over the last several years, the board and I believe that Lance is the ideal person to build on our accomplishments. He is a seasoned business development and operational professional, who will serve us well as we continue to build out our product portfolio, expand our business and seek long-term growth."
Daimler Truck AG has appointed John O'Leary as President and CEO of Daimler Trucks North America (DTNA); he will succeed Roger Nielsen who is retiring effective April 30, 2021, after 35 years with the company.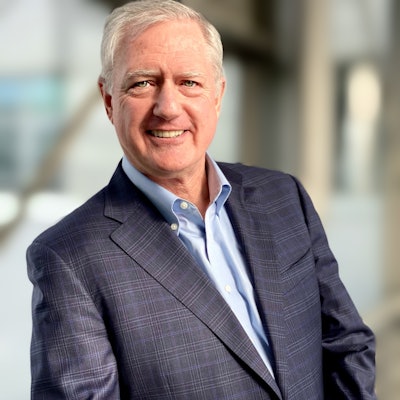 O'Leary started at DTNA with Freightliner in 2000. Since then he has held several leadership positions within the company.
Nielsen has been the President and CEO of DTNA since April 1, 2017. Under his leadership he started several customer trials with the Freightliner eCascadia and eM2 and launched the Thomas Built Buses Jouley school bus to pave the way to CO2-neutral transport at DTNA. In addition, he renewed the Western Star product lineup and the vocational truck business and made DTNA the most successful truck OEM in the U.S.
Volta Trucks

Debuts Electric Truck in France

On February 15, Volta Trucks' purpose-built full-electric commercial vehicle the Volta Zero will begin a series of customer and supplier events in France. Over the course of 4 weeks the truck will make its debut to potential and existing customers, fleet operators and suppliers in the country.

Swoopin, a global provider of sustainable transportation and urban logistics services, is one of the first French customers to announce it will use the Volta Zero. The company plans to use the truck as part of its existing fleet of zero-emissions vehicles which includes electric vans, cars and eBikes.

Current legislation in France will ban internal combustion engine commercial vehicles from operating in Paris starting in 2024. This is in parallel with new Low Emissions Zones being adopted by other French cities of over 150,000 residents. The French government is offering financial incentives to help fleets transition to zero-emissions vehicles.

It was also recently announced the company will work with Proterra on the supply of batteries for the Volta Zero. Proterra's batteries will provide a range of 200 km (124.3 mi.) on a single charge, which the company says will be more than enough to meet the needs of most inner city and distribution fleets.

The Volta Zero is expected to begin customer trials in 2021.

READ MORE: Volta Trucks Receives New Funding to Grow Business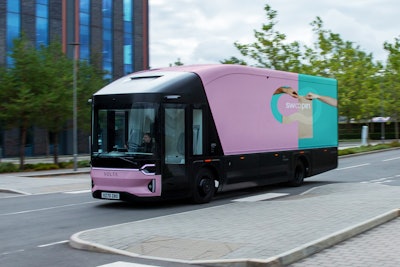 New equipment launches show industry design efforts
On Feb. 11, Kenworth Truck Co. announced the launch of tis new T680 Next Generation on-highway truck. It features a variety of technology enhancements, such as a digital display and SmartWheel LED headlights. In addition, the new truck includes under-the-vehicle airflow management and driver assistance systems which aim to improve performance and safety for fleets.
The announcement came just a week after fellow PACCAR brand Peterbilt announced its new Model 579 Class 8 truck. Both vehicles include advanced technologies as well as an emphasis on aerodynamic improvements to improve fuel efficiency.
Komatsu America Corp. announced the release of its latest dozer with a hydrostatic transmission, the D71EX/PX-24. The 237 hp (176.7 kW) machine is designed to work in a variety of conditions, and can provide production and finish grading, enabling customers to use a single machine for all grade work.
The dozer also includes Komatsu's intelligent Machine Control technology which automates some machine functions, helping to ensure accurate, productive grading.
Volvo Construction Equipment has also introduced a new machine with advanced control capabilities, the EWR130E wheeled excavator. This mid-sized machine features Volvo Dig Assist which uses the machine's computer to guide the digging process and prevent operators from digging below the programmed depth.
In addition, the short front and rear swing radius of the excavator aids use in urban or other space-constrained job sites. It has a a rear swing of 5 ft. 1 in. and a front swing of 5 ft. 11 in. Four-wheel steering and in-line outrigger options makes the machine stable and easy to control, as well.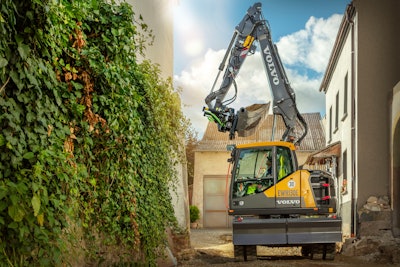 Companies in this article