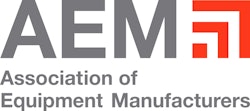 CONEXPO-CON/AGG and IFPE 2011 show management report that a successful recycling/repurposing program was conducted at the shows, held in late March 2011 at the Las Vegas Convention Center in Las Vegas USA.
The shows continued a recycling program initiated at the 2008 event, and for 2011 took those efforts a step further with the "Repurpose AMERICA program presented by DoppstadtUS."
Repurpose AMERICA complements and completes the recycling process by capturing non-recyclable material that would have ended up in landfills. This non-profit Las Vegas-based organization repurposes the discarded material for donation to local schools, teachers, community associations and other nonprofit groups.
Repurposing/recycling results at shows' end:
More than 442 tons of waste were processed from the event with nearly 338 tons able to be recycled, for a recovery rate of more than 76%. (Materials included paper/cardboard, carpet/padding and building materials such as concrete, ferrous metal, film, glass, wire/cable, plastics and wood.)
Compared to the last shows, held 2008, there was a 25.5% increase in the recovery rate (2008 recovery rate was 50.5% of total materials).
Repurpose AMERICA was able to collect for repurposing nearly 151,000 sq. ft. of non-recyclable materials from signage (such as magnetics, vinyl and foamcore).
Repurpose AMERICA reports that the materials are already beginning to work themselves into jobs programs, schools and other community outreach. One example: banner material was used in replacing a 4,000-sq.-ft. worn-out sunshade at a pre-school with more than 65 children.
Repurpose AMERICA worked closely with show producer Association of Equipment Manufacturers (AEM), the Las Vegas Convention Center and show general contractor GES during the waste-collection process.
"This was a group effort by many dedicated individuals to facilitate the recycling and repurposing, and the positive impact such efforts can achieve is gratifying," states Megan Tanel, AEM vice president exhibitions and events.
"DoppstadtUS was very pleased to have been the sponsor for the 2011 shows' Repurpose AMERICA program," states Hugh Fagan, DoppstadtUS sales director. "This was a great opportunity for us to emphasize the important benefits of material recovery while showcasing our range of environmental equipment."
Factors cited by show management for capturing a greater percentage of materials in 2011 to be repurposed and recycled included more extensive communications to exhibitors, both in advance and with onsite promotional signage.
"This is not an expensive or time-consuming process when partnering with the right groups," AEM's Megan Tanel states.