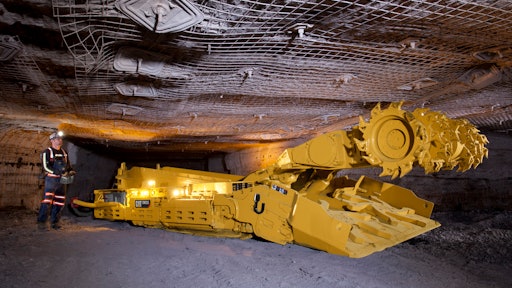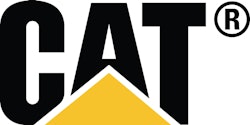 Weighing in at 67.5 tons (61.2 tonnes) and with a compact design specifically developed for low- to mid-seam operations, the Cat CM235 Continuous Miner incorporates all the robust features of the proven CM200 Series plus state-of-the-art enhancements. With 2 × 275 hp (2 × 205 kW) cutter-head motors, it is the most powerful continuous miner in its class.
The CM235 has a wide operating range. Caterpillar recommends the CM235 for seam heights of 43 to 116 in. (1,092 to 2,946 mm). Minimum clearance is 27 in. (940 mm) and maximum cutting height is 128 in. (3,251 mm). With total power of 940 hp (701 kW), a balanced power to weight ratio, and loading rates of 15 to 32 tons (14 to 29 tonnes) per minute, the CM235 delivers superior productivity.
The CM235 also features nimble maneuverability through its variable frequency drive (VFD) traction system. Fast tramming speeds shorten place-change times, and high torque across the entire speed range enhances maneuvering, sumping and turning crosscuts. The system also delivers high efficiency, high reliability and durability, and simplified diagnostics.
At the core of the CM235 is the heavy main frame for rigidity and stability. The frame uses steel plate as thick as 3 in. (75 mm), and main support rails are 2-inches (50-mm) thick. Robust pivot points with replaceable bushings deliver extended service life, and massive boom legs ensure minimal deflection and enhance durability.
Advanced operation and control systems
The Machine Control Unit (MCU) is based on a mine-duty PLC and is designed to maximize coal production and operator safety while minimizing downtime. Traction motors are controlled by a microprocessor-based system, which minimizes electrical connections and enhances reliability. The MCU provides data logging, fast diagnostics and advanced troubleshooting capabilities. The control system is proximity detection system ready.
A radio remote control unit with self-diagnostics is available. Features include a graphic display that shows the condition of all motors and VFD components and the condition and position of hydraulic control valves and solenoids. Both standard and compact remotes are available to suit the operators' preferences.
The CM235 is designed for easy maintenance access and simplified maintenance. Grease ports and fill points are centralized for easy access, and diagnostic ports and panels are located to speed the work of maintenance technicians. The split cutter head gear case simplifies repairs when needed.