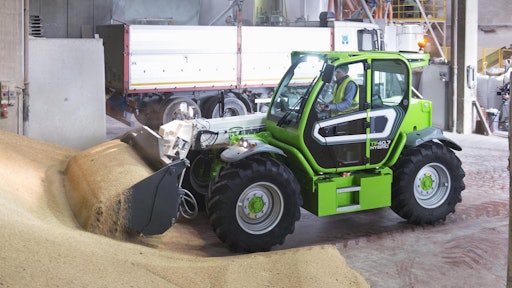 The Merlo Telescopic Handler 40.7 Hybrid has been awarded a gold medal by the experts from the independent Agritechnica Innovations Commission, and was announced by the German Agricultural Society (DLG).
The Merlo Hybrid was chosen among 400 innovations that were submitted thanks to its practical application, consumption and pollution reduction.
In brief, because it's a product that better interprets the evolution of modern agriculture. This Gold medal is the second award that Agritechnica has given to a Merlo product following the Silver medal of the Multifarmer 30.6 in 2001, and comes at the dawn of the company's 50th anniversary since it was founded in 1964.
Merlo showed its latest hybrid telehandler 40.7 version at its Agritechnica stand and features an innovative and patented series parallel hybrid architecture.
The Merlo objective is to make available a telehandler with a diesel electro- hydraulic hybrid system. The modular hybrid system will be characterized by a high degree of versatility and can be used both indoors and outdoors:
Indoors: greenhouses, cattle sheds and food processing;
Outdoors: any application since it can work in both a full electric and a hybrid mode.
The relevant advantages can be summarized as follows:
Ensuring the performance level of conventional Merlo machines
Reducing fuel consumption
Reducing noise emissions
Reducing pollution
The hybrid is equipped with a diesel engine with less than 56 kW instead of 100 kW or more. It does not require any installation of a urea system, allowing the machine to work in a full electric mode for indoor operations with an astonishing average autonomy of operation as follows:
Four hours in Eco mode
Two hours in full electric
It offers a modular solution which can be integrated in the current layout of Merlo machines and extend this application to the whole future range of Merlo telehandlers.
The performance level of conventional Merlo machines is guaranteed in terms of acceleration, pulling force, maximum speed, load handling time and load capacity. Fuel consumption in an average work cycle is reduced by at least 30% compared to a conventional Merlo machine.
Noise emissions are significantly lower in the hybrid mode, because the diesel engine runs at low rpm. Furthermore, noise emissions in the full electric mode are close to zero, as they are comparable to background noise in the work environment. Pollution is reduced because a smaller engine is used at a steady rpm for work stages whose specific fuel consumption is low. Furthermore, the batteries can be recharged from either the main or local solar panel energy network installed by the end user, allowing the vehicle to work always in a full electric mode with no exhaust emissions.
Repeated tests, performed both on test benches and on a test track, have proved that operation in the full electric mode guarantees the traction and lifting performance required, and it allows the vehicle to be used indoor with an autonomy of a few hours depending on the type of activity to be carried out.
Considering the fuel saving that the new Merlo hybrid system ensures versus the correspondent traditional version with only a thermic engine, the payback for the owner is of about two years (depending of course on the number of hours and of the kind of activity).