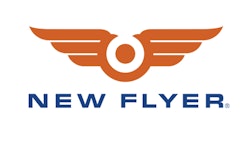 New Flyer Industries Inc., the leading manufacturer of heavy-duty transit buses in the United States and Canada, announces that the Capital District Transportation Authority (CDTA) awarded New Flyer a contract for up to 20 (40 equivalent units or EUs) heavy-duty, 60-foot Xcelsior clean diesel (XD) or diesel hybrid (XDE) buses.
The contract for XD60/XDE60 buses contains a firm order for two diesel buses (four EUs) with options for an additional 18 buses (36 EUs) and is valued at $2.4 million.
CDTA is a public benefit corporation created by New York State, overseeing a number of multi-modal parts of public transportation in the Capital District of New York State (Albany, Schenectady, Rensselaer and Saratoga counties). CDTA expects ridership to surpass last year's record of 16.5 million boarding passengers, and this will be the fifth consecutive year where ridership has exceeded the prior year. Expansion of the fleet with New Flyer XD60 buses will support the service excellence that riders have come to expect from CDTA.
"We are pleased to be a part of the growing service network that CDTA is providing its ridership and feel privileged to work with Albany for the first time," says Paul Soubry, New Flyer's President and Chief Executive Officer. "New Flyer is committed to providing the best bus value and support for the life of every bus we build and using our "best in class" Xcelsior platform will ensure this commitment is met."