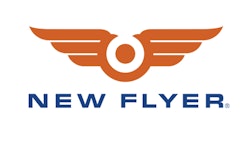 New Flyer of America Inc., a subsidiary of New Flyer Industries Inc. (New Flyer), the leading manufacturer of heavy-duty transit buses and motor coaches in the United States and Canada, announces the Connecticut Department of Transportation (CTDOT) awarded New Flyer a contract for up to 485 heavy-duty 35- and 40-ft. Xcelsior clean diesel and diesel electric hybrid buses.
The contract includes a firm order for 267 Xcelsior XD40, XD35, XDE40 and XDE35 buses valued at approximately $122 million, with options for an additional 218 units over the next five years. The order will replace older vehicles in CTDOT's current fleet with newer, more fuel efficient Xcelsior XD40 buses.
CTDOT currently provides over 31 million passenger trips annually with a fleet of 570 vehicles serving Hartford, New Haven, Stamford, Waterbury, New Britain, Bristol, Meriden and Wallingford urban areas. These services are operated by private contractors under CTDOT's CTtransit brand name.
New Flyer has delivered nearly 600 heavy-duty transit buses to CTDOT since 1993.
"We are very excited to continue our partnership with CTDOT that has spanned over three decades," says Paul Soubry, President and Chief Executive Officer of New Flyer. "Our best-in class heavy-duty Xcelsior bus will directly support CTDOT's strategic initiatives as they work to reduce their carbon footprint, and improve bus performance and reliability."