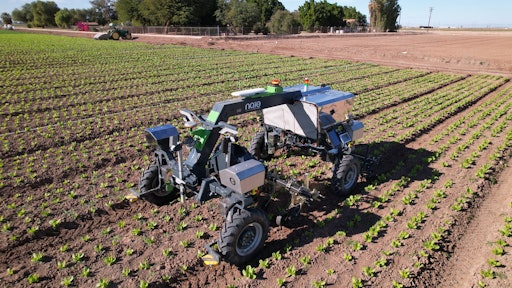 Naïo Technologies
Naïo Technologies, a developer of autonomous agricultural robots, will unveil its newest robot during World Ag Expo 2022. Orio is a multi-crop/multi-task autonomous, high-precision robot designed for large vegetable production operations. The robot is 100% electric which will help growers to reduce their environmental impact.
The robot has been selected as one of the Top 10 New Products to be shown at World Ag Expo. This follows Naïo Technologies' Ted vineyard robot receiving a CES Innovation Award honoree designation in the Robotics category during the 2022 Consumer Electronics Show (CES).
READ MORE: New Technology Launches at CES 2022
"Orio is a sustainable alternative to the use of herbicides that respects soils, improves working conditions and collects data for smart farming," explains Ingrid Sarlandie, COO for Naïo Technologies. "Orio offers a sustainable, serviceable and smart farming solution combining high edge technology in robotics and AI (artificial intelligence). We engineered a light electric and autonomous ag robot for obvious sustainable reasons: no carbon emission, no chemical use."
Technology enables precision
According to Naïo Technologies, Orio is GPS and camera guided, enabling it to easily maneuver through farm field. The robot is equipped with multiple sensors running on an algorithm based on AI. It is designed to provide high-precision weeding. Implements attached at the center of the robot are guided to pick weeds using the integrated technology which ensures optimal precision.
The company says its supervision system is able to guarantee safety for humans and infrastructure while also ensuring the efficiency and effectiveness of the tasks the robot is performing.
Automated vehicles such as Orio are becoming more common in agriculture and other heavy-duty off-highway applications because of the productivity benefits they can provide. The robot can be working on one task while a farmer can be focusing on another, helping to ensure all work is completed in a faster manner than if the farmer was having to do all of the work his or herself. These machines can also help overcome the labor challenges faced in the market; it is becoming increasingly difficult to find skilled labor for farming and other similar applications. The robots can be used instead of those hard to find workers to help farmers get their farm work accomplished.
In addition, the robots can complete tasks that might otherwise be uncomfortable or undesirable by the farmer or workers. Use of the robots then enables them to do other work while staying safe and comfortable.
A three-point attachment on the robot enables it to carry implements at the rear. The Orio robot is also able to provide high-accuracy seeding; its ability to carry attachments aids this, while helping farmers stay productive.
"Our unique AI, concentrating years and many acres of experience, allows us to monitor the robot and implement behavior to guarantee the quality and the reliability of the farming task performed," says Sarlandie.
Naïo Technologies says the electric and autonomous design of Orio offers many benefits to farmers including:
providing an "as a service" business model to the growers for in-row and intra-row weeding of vegetables and leafy greens as well as precision seeding and fertilizing,
ability to use in a fleet and be adapted to large scale fields to complete missions in the field at a faster rate,
fully-remote monitoring and control via sensors and AI aid both customers and Naïo's technical team for any future updates or design changes.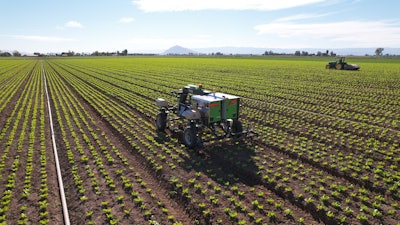 Naïo Technologies continues U.S. expansion
Naïo Technologies has been present in the U.S. since 2019 when it brought one of its first robots to the market, the Dino mechanical weeding robot for vegetables. The company is headquartered in France and recently celebrated its 10th anniversary, as well as 60,000 hours of operation for its robots in real-world conditions.
The company expanded into the U.S. as it saw a market need and growing customer demand for agricultural robots. It established an office in Salinas, CA—considered the heart of California agriculture—and plans to assemble its Orio robots at this location.
The Ted robot introduced at CES 2022 is also available for U.S. and other North American customers. Naïo Technologies sees its robots benefiting many agricultural applications—with the primary focus on fruits and vegetables—and regions, and is looking to continue growing its presence in North America.