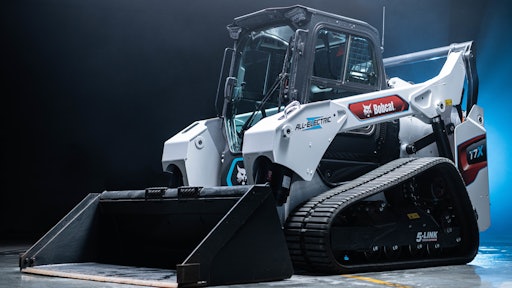 Doosan Bobcat
*Editor's Note: This article was originally published January 5 and updated on January 11 with additional information.
The Consumer Electronics Show (CES) 2022 officially kicked off on January 5. Although the global pandemic once again had an impact on the show—causing organizers to close the show a day early on Jan. 7 and many companies choosing in the weeks and days leading up to the event not to attend in person—there was no shortage of technology introductions at CES.
Luckily, show organizers planned from the start to host the show both in-person and digitally, allowing exhibitors to highlight their latest innovations and attendees from around the world to still get a look at these technologies.
CES has become the top show for companies in a variety of industries, not just consumer electronics, to introduce new technology including those from and related to the heavy equipment industries. And the 2022 show was no different. John Deere made one of the biggest announcements from the off-highway equipment market, unveiling its fully autonomous tractor which will be available to customers in 2022.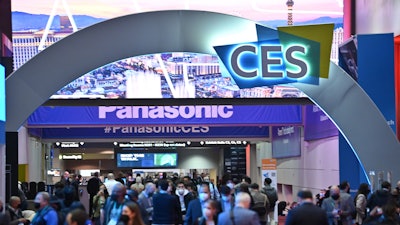 Another big highlight from this sector was the launch of the Bobcat T7X all-electric compact track loader, believed to be the first electric-powered machine of this type in the world. Parent company Doosan and sister brand Hyundai Construction Equipment also made big debuts while showcasing the Concept-X project which brings together electric and autonomous equipment.
READ MORE: Heavy Equipment Industry Gears up for CES 2022
Over 2,300 exhibitors attended CES reports show organizer the Consumer Technology Association (CTA). Of these, 143 were new additions in the last two weeks leading up to the show, overcoming the loss of those exhibitors who chose not to attend due to the pandemic. From these exhibitors came a wide array of new products and innovations.
Final reports from CTA put in-person attendees at 40,000, with 30% of those from outside of the U.S.
CES 2023 is currently scheduled to take place January 5-8 in Las Vegas.
John Deere bringing autonomous tractor to market
During a special media-only press conference held Jan. 4 as part of CES Media Days, John Deere unveiled its fully autonomous 8R tractor. The tractor is ready for large-scale production and is expected to be available for customers later in 2022.
It was stated during the press conference that one of the greatest challenges farmers face is growing enough food to feed the world while using the same amount of land we have today as well as facing challenges like unpredictable weather and labor shortages. John Deere believes autonomy will play a key role in helping overcome these challenges and continue feeding a growing global population.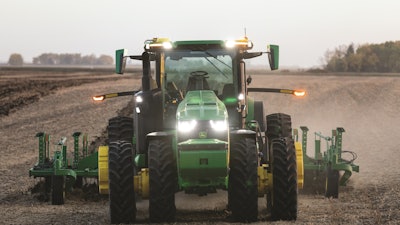 By using autonomous equipment like the 8R on their farms, growers can be freed up to focus their attention on other tasks because they don't have to be in a tractor all day. "Autonomously the tractor can handle some of the work that farmers don't have the time or the labor to do, giving them time to focus on the more technical jobs," said Deanna Kovar, VP of Production and Precision Ag Production Systems at John Deere during the press conference. Autonomy can also ensure the tasks are completed in a consistent and productive manner.
John Deere's 8R autonomous tractor is equipped with six pairs of stereo cameras which create 360-degree obstacle detection, explained Willy Pell, Senior Director of Autonomous Systems at John Deere. These cameras work similarly to the human eye by stitching together visual information to create a single image and calculate distances. Machine learning algorithms running on GPUs (graphics processing units) interpret the information and enable to the tractor to always know where it is and where it has authorization to be. "It does this by continuously tracking its global position relative to a geofence," said Pell.
Redundant safety systems are also built into the tractor to ensure core components work properly.
Per John Deere's press release announcing the launch of the tractor, to use the autonomous tractor, farmers only need to transport the machine to a field and configure it for autonomous operation. Using John Deere Operations Center Mobile, they can swipe from left to right to start the machine. While the machine is working the farmer can leave the field to focus on other tasks, while monitoring the machine's status from their mobile device.
Currently the system is for tillage work, but John Deere intends to expand to the technology for other farm tasks and eventually other machine types, all based on what customers tell the company they feel will bring the best benefits to their operations.
READ MORE: John Deere Unveils Fully Autonomous Tractor
Video courtesy of John Deere
Doosan

Bobcat introduces all-electric compact track loader

Doosan Bobcat also held a press conference during CES Media Days at which it announced the launch of its all-electric Bobcat T7X compact track loader. According to Scott Park, President and CEO of Doosan Bobcat Inc., it is the first such machine in the world.

A key aspect the company pointed out during its press conference is the fact the hydraulic systems found in traditionally powered machines were eliminated, helping create a cleaner and more efficiently operating machine.

Per the company's press release announcing the launch of the machine, it is fully battery-powered and built to be more productive from the ground up with electric actuation and propulsion. The T7x is also quieter with high-performance torque and more powerful than any diesel-fueled track loader that has ever come before it – all while eliminating any carbon emissions.

Joel Honeyman, Vice President of Global Innovation at Doosan Bobcat North America, said during the press conference that the heart of the T7X is its 62 kW lithium-ion battery. Depending on the application, it can provide up to 4 hours of continuous operation or a full day under normal contractor intermittent operation. Doosan Bobcat developed the battery and battery management system in partnership with Green Machine, whom it first partnered with in 2020 for development of an electric compact excavator.

"The intelligence of the power management system is programmed to sense when loads are increasing," explained Honeyman. "It automatically backs off power when not needed, so it preserves energy and runtime. And remember, unlike its diesel counterpart, this EV (electric vehicle) machine and power management technology only consumes energy when it's at work."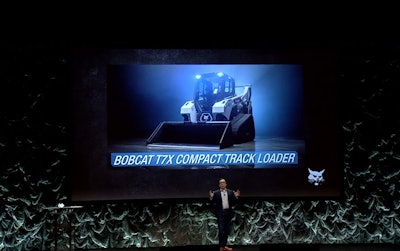 Honeyman said the electric platform also enables instantaneous power so operators can get to work faster. Different work modes are utilized as well to conserve battery power; the three modes are Eco, Advanced and Beast. Beast mode provides short bursts of full instantaneous torque to the drive system when needed. "This is a significant leap in terms of eco-friendly construction equipment and design," said Honeyman.
The unique design of the T7X features close to 50% fewer parts than the equivalent diesel hydraulic machine. Emissions and noise are also reduced, helping provide more comfortable operation for those using the machine as well as those around it.
The machine was also honored with two CES Innovation Awards in the Vehicle Intelligence and Transportation and Smart Cities categories.
READ MORE: Nominees for CES 2022 Innovation Awards Announced
FPT showcases sustainable power systems of the future
FPT Industrial used CES 2022 to highlight what it sees as the future of sustainable power systems for the four key business segments it supplies to—on-highway trucks, off-road equipment, marine and power generation. To best showcase these technologies, the company divided its booth into four innovation areas representing each of the key markets it serves.
The company also shared its booth space with startups it worked with to develop the innovative technologies exhibited.
Electric solutions for on-road vehicles
Electrification was a key theme for the on-road technology portion of FPT's booth. New technologies it showed included two e-axles as well as a battery pack with battery management system which can be customized to meet specific customer application needs.
The integrated electric axle was developed in partnership with IVECO and Nikola, and will be utilized on the Nikola Tre battery-electric and fuel cell powered trucks. It is designed for heavy-duty 4x2/6x2 articulated 44-ton GVW (gross vehicle weight) trucks. According to FPT, the e-axle delivers 840 kW of power while providing a high level of efficiency.
FPT has also begun collaborating with Microvast on the development of a battery pack. A 37 kWh version was shown at CES; this compact battery is designed for light commercial vehicle and minibus applications and features a multipack option.
The company is also developing customizable battery management systems, aided by its acquisition of Potenza Technology.
Carbon reductions for off-road equipment
A key highlight for off-highway equipment was the F28 Natural Gas engine which is currently powering sister brand New Holland's TK Methane Power tractor. This tractor is currently in use at the Fontanafredda winery in Italy to help improve sustainability of the wine-making process.
The engine utilized on the Methane Power tractor is fueled with biomethane produced by anaerobic digestion of agricultural waste to provide a renewable fuel option while also demonstrating a circular economy concept for farming operations.
For the tractor the engine provides power output of 75 hp and peak torque of 360 Nm to ensure diesel-like performance.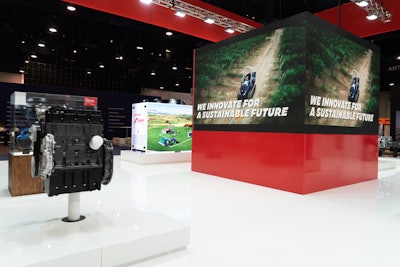 ACEINNA introduces new receiver for autonomous vehicle development
ACEINNA showcased its newly launched INS401 INS and GNSS/RTK solution for autonomous vehicle precise positioning. The new Inertial Navigation System (INS) is part of a new product portfolio designed to provide high accuracy and integrity localization for those developing ADAS (automated driver assistance systems) and autonomy solutions.
The INS401 features an RTK-enabled dual frequency GNSS receiver, triple-redundant inertial sensors and a positioning engine. According to the company, it is designed for use in L2+ and higher ADAS applications needing precise position information. Per ACEINNA's press release announcing the launch of the INS, it provides centimeter-level accuracy, enhanced reliability, and superior performance during GNSS outages. The dead reckoning solution delivers strong performance in GNSS challenged urban environments.
"Based on a decade long history in ADAS and safety applications, ACEINNA is ready for today's and future autonomous mobility applications," said Wade Appelman, President and COO of ACEINNA, in the company's press release. "The INS401 is our next step forward, delivering complex INS/RTK technology to mass markets with turnkey products. Highly accurate INS solutions like these usually run ten grand or more - we have sliced that to under $500!"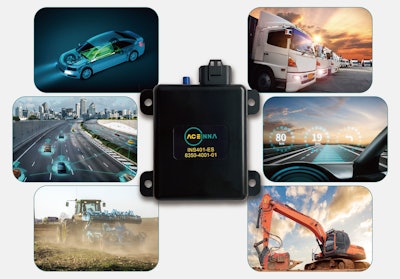 REE Automotive introduces electric, modular commercial vehicle platform
Technology Developer REE Automotive Ltd. has announced it will begin trials of its P7 platform for electric commercial vehicles. The flat design of the platform allows for maximum space for installation of batteries or fuel cells to power the vehicle as well as cargo. Modular in design, the P7 can be scaled for a range of commercial vehicle applications from Class 1 to 6 according to Daniel Barel, REE Automotive Co-Founder and CEO.
Key to the design of the platform is REE's REEcorner and X-by-Wire technology. REEcorner packs critical vehicle components (steering, braking, suspension, powertrain and control) into a single compact module positioned between the chassis and the wheel. At each corner of the vehicle is a complete module which allows them to be replaced individually if ever necessary, easing maintenance for customers.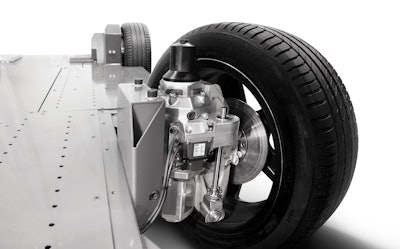 Each REEcorner module can be individually controlled, and allows for all-wheel steer, drive and brake options to provide improved maneuverability including tighter turning for improved travel in urban and other space constrained environments.
The P7 platform—which is targeted currently at a U.S. walk-in van application [but due to the modular design can be scaled up or down for other applications]—supports up to 8,800 lbs. maximum payload, enabling up to 35% more packages to be transported than on comparable vehicles. Or it can comfortably carry up to 30 passengers, making it the optimal platform for target markets such as delivery and logistic fleet owners, transit authorities, school buses and mobility operators, states REE in its press release.
REE's goal with the P7 platform is to help simplify the development of electric commercial vehicles for OEMs. Using a modular platform which can be scaled to different vehicle sizes and types will make it easier for OEMs and fleet customers to create electric vehicles while still enabling unique designs.
More on the P7 platform from REE's press release announcing its launch and road trials:
Core design commonalities in the innovative P7 architecture are designed to provide significant development synergies for additional future REEcorner models across vehicle classes. This architecture approach affords both cost and timing benefits through the development process, as well as further production efficiencies from the resultant economies of scale.
Electric and autonomous vehicles built on top of REE's P7 platforms will be able to achieve driving ranges of up to 370 miles with max speeds of 80 mph and supporting gross vehicle weight ratings (GVWR) of up to 16,500 lbs.
Customers can create their own commercial vehicle brand, unique design and market differentiation utilizing the REE configuration and lowest TCO due to Battery-as-a-Service, Data-as-a-Service and fast REEcorner swap.
PACCAR brands showcase latest technology developments
PACCAR's Peterbilt brand unveiled the first Model 579 truck equipped with a Level 4 autonomous driving system from Aurora. Known as Aurora Driver, the system brings together sensors, software and the Aurora Computer to create a safe driving path for the vehicles onto which it is equipped.
Aurora has been developing and testing its autonomous driving system for several years now, including in its own vehicle fleet.
"Our partnership with PACCAR to co-develop self-driving Class 8 trucks builds on a deep technical foundation and years of collective expertise. The team is making progress as we prepare to launch Peterbilt's first autonomous trucks at scale," said Sterling Anderson, Aurora Chief Product Officer and Co-founder, in Peterbilt's press release announcing its presence at CES. "Together, we're building a product and business that will make our roads safer and our supply chains more efficient, and we're excited to share a glimpse into that future at CES."
PACCAR Parts along with its electric vehicle charging station infrastructure partners EnTech Solutions and Schneider Electric highlighted their charging technology at CES.
The charging infrastructure can be tailored to fleets of any size. Partnering with EnTech Solutions and Schneider Electric is helping the company streamline the procurement process for customers by offering advice on the type of chargers that would best fit their needs as well as conducting site assessments and completing installations.
Schneider Electric is working together with PACCAR on charging infrastructure as part of the SuperTruck 3 program as well which looks to improve freight efficiency in medium- and heavy-duty trucks.
During CES, Innoviz Technologies introduced its third-generation LiDAR technology Innoviz360. The HD LiDAR sensor features a lightweight design and allows multiple scanning software configurations with up to 1,280 scanning lines. The company says this new sensor is a more cost-effective and durable solution than traditional 360 LiDARs.
More details on the new LiDAR sensor from the company's press release announcing its launch:
Innoviz360's HD, wide FoV (360 x 64 degrees) and reduced cost will help overcome major challenges in achieving full automation in scale for L4-L5 automotive applications, such as robotaxis, shuttles and trucks, and opens new market opportunities for Innoviz beyond the automotive space. These industries include logistics, mapping, industrial and smart infrastructures, which are expected to provide new meaningful revenues for the Company starting in 2023. Innoviz expects samples of its Innoviz 360 HD LiDAR to be available in Q4 2022.
"With its high-resolution and wide field of view, the new architecture breaks through the performance and cost limitations of traditional and standard-resolution 360 spinners which will support not only the needed growth in the automotive market, but also in emerging markets such as smart infrastructure, logistics and Industrial," said Innoviz Co-Founder and CEO Omer Keilaf.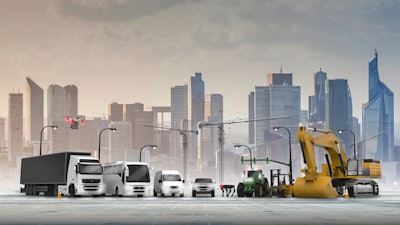 Naio bringing vineyard robot to U.S.
French agricultural robot developer Naio Technologies exhibited its TED vineyard robot which the company is bringing to the U.S. market. The company says the robot will help wine growers to overcome the labor challenges many in the agricultural industry are facing.
The company has set up an office in the U.S. to help serve the market and work with potential customers to ensure an optimal robotic solution.
According to Ingrid Sarlandie, Chief Operation Officer for the U.S. business, the company's development of its own hardware and navigation software for its robots—which include TED as well as models for other agricultural applications—has been beneficial to the success of the machines.
TED and the company's other robots are designed to automate farming tasks to help customers be productive. The robots provide real-time monitoring to help farmers make more informed decisions about how they want to grow and harvest their crops.
In addition to the Naio-developed navigation software, the robot is guided through vineyards through the use of GPS, various sensors and a camera.
The company is planning for the first TED robots to arrive in March 2022 for the U.S. market. Robots for the vegetable industry are also available.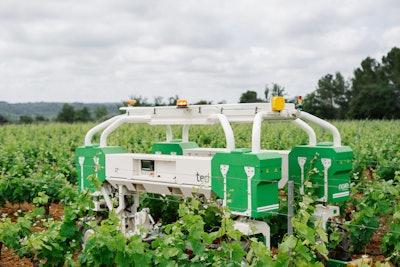 Udelv unveils autonomous cabless transporter, driven by Mobileye
Silicon Valley venture-backed company Udelv virtually launched its Transporter, a cables autonomous electric delivery vehicle designed for multi-stop delivery. The vehicle is driven by Mobileye.
A key feature of Transporter is its proprietary, self-contained, hot swappable modular cargo pod called uPod which helps the vehicle carry up to 2,000 lbs. of goods. Transporter is able to make up to 80 stops per cycle at highway speeds and covers ranges between 160 and 300 miles depending on the battery pack option chosen. Mobile apps developed by Udelv enables users to schedule, deliver, track and receive packages.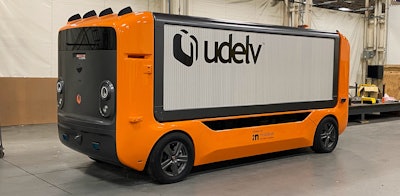 "The Transporter is transformative for two of the world's largest industries: automotive and logistics. It was created to solve two great challenges of commercial fleets: the shortage of drivers and the electrification of fleets," said Daniel Laury, Udelv CEO and co-founder.
The vehicle shown at CES is the third-generation design. Udelv first debuted its concept in 2018, making the first-ever autonomous delivery on public roads in California the company states in its press release announcing the unveiling at CES. The vehicle has since completed over 20,000 deliveries in California, Arizona and Texas. The first Transporters are expected to be commercially deployed in 2023; Udelv is planning to have 50,000 units on public roads by 2028.
Features of the vehicle noted by Laury during the unveiling include:
The uPod is connected to a proprietary cloud-based software with intelligent loading and unloading, as well as a function to return items.
It can deliver nearly anything from convenience goods, e-commerce packages and groceries to auto parts, electronics, and medical supplies for B2B and B2C applications.
The Transporter is driven by the Mobileye Drive™ self-driving system with a robust suite of cameras, LiDARs, radars and the fifth generation of EyeQ®, Mobileye's System-on-Chip for automotive applications. To rapidly deploy at scale, the Transporter will integrate Mobileye's AV maps based on Road Experience Management (REM™), a crowdsourced, continuously updated map of the world that digitizes what autonomous vehicles need to navigate.
The vehicle features Udelv's 24/7 proprietary ultra-low latency camera-based teleoperation system for remote maneuvers and assistance and Udelv's proprietary uECU (Electronic Control Unit) acting as the vehicle's central compute unit to integrate and optimize all functions.
Battery capacity is between 90 and 160 kWh with a 160-300 mile range.
DC fast charging will take 45 minutes to add up to 220 miles of range.
Top speed is 70 mph.
The fleet of Transporters is operated by a proprietary Fleet Intelligence and Management System for route optimization and fleet planning algorithms.
The Transporter is designed to maximize delivery efficiency and customer satisfaction while minimizing the total cost of operation.
Hyundai Heavy Industries establishes big data platform with Palantir Technologies
During CES, Hyundai Heavy Industries (HHI) Group signed a partnership agreement with Palantir Technologies Inc. to create a big data platform for its core businesses. These will include shipbuilding and offshore engineering, energy, and industrial machinery. The companies are also considering a joint venture to help promote the big data platform in both the mid- and long-term.
Per HHI's press release announcing the partnership, HHI Group will provide the affiliates' process expertise and sales know-how whereas Palantir Technologies will offer software and development personnel. Once the big data platform for each affiliate is built, the two parties plan to create a joint venture that specializes in developing and selling big data platform services. Based on the accumulated achievements, the joint venture will commercialize big data solutions from platform construction to operation to generate sales targeting domestic and foreign companies.
Each of HHI's business groups will use this partnership to aid with various projects. The shipbuilding and offshore engineering business, for instance, will utilize the big data platform to aid its "Future of Shipyard (FOS)" project. Through this project the company is looking to create smart shipyards by enabling real-time connection for work management.
Hyundai Doosan Infracore has worked with Palantir Technologies in the past to develop "DI 360," a big data platform which aided management of the parts supply chain as well as on-site quality claim issues and potential sales opportunities. A platform is also being considered for other businesses such as Hyundai Construction Equipment.
"We expect that this partnership with Palantir Technologies will substantially improve the competitiveness of core businesses of the Group. It will be an important turning point in innovation of organizational culture that changes the way we work using data," said Kisun Chung, CEO of Hyundai Heavy Industries Holdings, in the company's press release.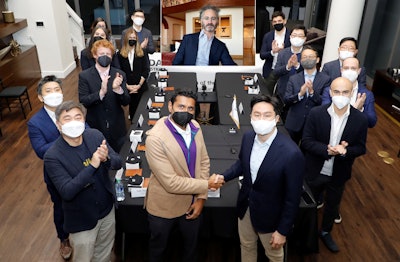 Companies in this article