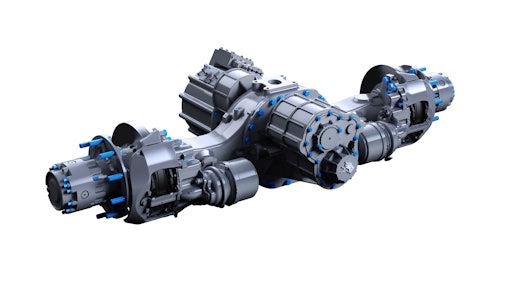 Meritor Inc.
Meritor Inc. announced the launch of two new electric axles and improvements to its 14X HE axle at the 2019 North American Commercial Vehicle Show (NACV Show) in Atlanta.
Under its Blue Horizon product line, Meritor has developed the 12Xe axle for Class 4, 5, 6 and 7 applications and the 17Xe axle for heavy-duty 4x2 and 6x2 trucks. The new products expand the company's electric drivetrain portfolio.
"I believe that we now have the most comprehensive electric powertrain offering for medium- and heavy-duty trucks of anybody in the world," said John Bennett, Meritor's Chief Technology Officer, during the NACV Show.
Meritor has increased its number of e-mobility programs to 22 and plans to deploy 130 vehicles during the next year with the company's electric drivetrain technology on them.
"We've added system integration capabilities through our investment with TransPower," said Bennett. "We can now offer a complete electric drive, battery or hybrid system to our OEM customers, including the vehicle controls, the battery packs, the power electronics, and of course, the electric powertrain."
12Xe powertrain
Developed for medium-duty trucks and buses, testing of the 12Xe axle starts next year, and production launch begins in 2021. It has many of the same components as the 14Xe which the company has been validating; this simplifies complexity and grow the scale of both axle platforms. The gearing of the 12Xe was optimized specifically for medium-duty applications, and for packaging in a smaller axle housing, Bennett said.
"This makes the 12Xe very easy to package in smaller vehicles and it improves ground clearance, which makes it the perfect solution for Class 4 and 5 vehicles, even Class 6 and 7 vehicles that run on smaller 17.5-in. (44.5 cm) wheels," he said.
Vehicle manufacturers can choose from a range of wheel ends, brakes, transmissions and differential gearing, all tailored to meet the vehicle's duty-cycle. "The 12Xe is highly modular," Bennett said.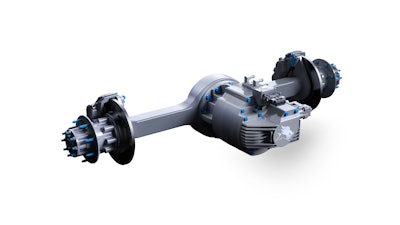 The electric motor can be scaled to specific vehicle requirements and delivers various levels of continuous power, and 250 kW (335.3 hp) of peak power.
"Fleets can pick from four different power levels, 130, 150, 180, even 200 kW (174.3, 201.2, 241.4 and 268.2 hp) of continuous power so they can tie it in with the performance of the truck that they want," he explained. "They get good performance, better performance, best performance, even rocket ship performance if that's what they want."
The 12Xe axle is available with several differential options, including differential lock and a limited slip differential.
17Xe powertrain
Meritor's 17Xe axle will deliver 420 kW (563.2 hp) of continuous power and 450 kW (603.5 hp) of peak power, packaged to fit into the rails of 4x2 trucks, Bennett said.
"In Europe, applications include 44-ton, heavy-duty long-haul trucks, medium-duty 27-ton refuse vehicles, 19.5- and 26.5-ton intercity buses and 26.5-ton coaches," he said. "It will also fit 40- and 60-ft. (12.2 and 18.3 m) city buses in North America."
Meritor's new two- and three-speed dual countershaft transmission is optional on the 12Xe and 14Xe powertrains. The transmission, paired with the right-sized motor, delivers improved vehicle performance compared to a single-speed or direct-drive system, Bennett said.
"Each variant of the transmission is built with compact gear range splits to deliver efficient and high-performing operation. The three-speed version extends the performance envelope over the two-speed version to deliver higher startability and top speed."
The 17Xe has a patent-pending architecture, with the motor on the back and transmission on the front. This minimizes its stand out so it can drop into an existing chassis without disrupting the frame rails or any of the cross brackets. "It's essentially a drop-in solution. And like its little brothers, is highly modular," said Bennett. "There is a variety of motor power ratings, transmission types, and wheel end ratios available to meet the performance and the efficiency requirements."
HE drive axle upgrades
Improvements to the 14X HE linehaul tandem drive axle were added during the past year, as well as two more drive axles to Meritor's high-efficiency products.
The 14X HE axle, the new RT160 HE axle for heavy-haul and vocational applications and the 17X HE axle for heavy-duty applications include high-efficiency bearings, specialized gearing and fast ratios for downspeeding.
Meritor is shipping pre-production units of the 14X HE to major customers around the world, Bennett said.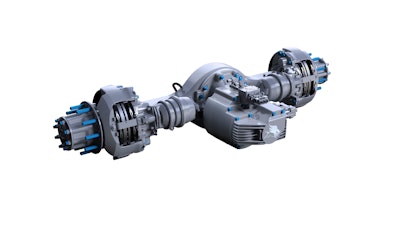 "We've accumulated thousands of miles on the 14X HE in a multitude of applications and duty cycles to prove out its durability and efficiency," he said.
Meritor upgraded the 14X HE tandem axle by adding a second Meritor Lube Management System to the carrier of the forward axle. When the axle launched in 2017, only the carrier of the rear axle was equipped with the system. With the Meritor Lube Management system now on both axles, the 14X HE tandem axle will deliver more efficiency than the initial offering, he said.
The new 17X HE axle for 4x2 and 6x2 heavy-haul applications targets a 1% efficiency improvement over Meritor's previous offering.
The Meritor Lube Management system is standard, offering reduced lubrication volume, and Meritor's use of laser welding to join the ring gear and differential housing eliminates the need for bolts, which contribute to churning losses. The 1.95 fast gear ratio equips applications for downspeeding. The axle offers a gross axle weight rating (GAWR) of up 40,000 lbs. (18,143.7 kg).
The new RT160 HE tandem axle targets a 1% efficiency improvement over Meritor's previous product due to the Meritor Lube Management System and fuel-efficient bearings. Offering a GAWR of 46,000 lbs. (20,865.2 kg), the tandem axle is equipped with axle ratios of 2.67 and 2.80 for downspeeding.
Companies in this article