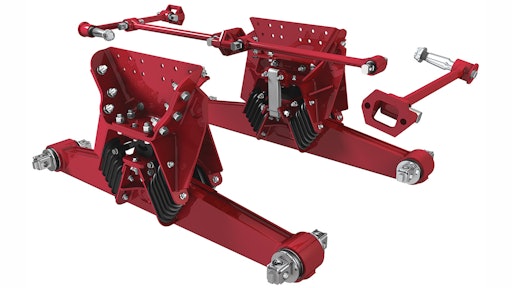 Hendrickson Truck Commercial Vehicle Systems announces an additional advancement in its suspension technology with the introduction of the new Progressive Load Spring (PLS) for its industry leading HAULMAAX vocational rear suspension system. The PLS is an elastomeric spring which works in concert with the bolster springs in Hendrickson's patented Vari-Rate Spring system providing unparalleled ride quality in both the loaded and unloaded conditions. 
The new Progressive Load Spring will improve the already rugged and reliable HAULMAAX rear suspension system by providing key advancements in ride quality and stability. The PLS is continuously engaged, thus providing excellent unloaded ride performance. As payload increases, the spring further engages and functions together with the rubber bolster springs to provide additional stability. The PLS's constant engagement also eliminates the need for shim adjustments for most applications, resulting in reduced maintenance and lowered cost.
"PLS is another example of how our customers drive innovation at Hendrickson. By listening to our customers and monitoring the trucking industry, we are able to continuously improve our products, and we are never complacent with our technology," says David McCleave, Director of Marketing for Hendrickson Truck Commercial Vehicle Systems.