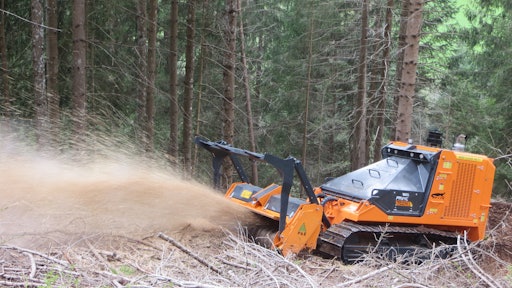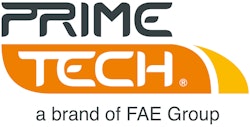 The PT-175 is a light purpose-built carrier, it is the most compact in the PrimeTech range of tracked carriers featuring a Cummins 4.5 L engine producing 160 hp. It is designed for vegetation management, clearing undergrowth, mowing and mulching of bushes, brush and shrubs and for cutting seismic lines.
The PT-175 has now a higher ground clearance and is incredibly stable under tough conditions. In fact, the machine is equipped with a new, more robust and beefier D3 undercarriage which has the following features:
More heavy-duty parts and chains;
Wider sprocket and idler to avoid twisting of the track chain;
Stronger tensioning device to increase the idler pulley force;
Increased lifetime of the main components and consequently lower maintenance costs and lower operating cost per hour.
At Agritechnica 2017, PrimeTech will showcase the PT-175 with 500 mm wide rubber track pads that guarantee an excellent surface protection. They won't damage paved roads the way bare steel tracks do, for example when driving from one job site to another or when crossing roads.
The rubber pads are chain-on type pads, and bolt onto the same track chain as the steel tracks, making it easy to switch from steel to rubber track pads. Compared to a dedicated rubber track this is an important advantage as it leaves both options (rubber – steel) open for the customer.
The main advantages of rubber pads are:
No footprint on asphalt or paved roads;

Important noise reduction;

Less vibrations.
More about PT-175
REMOTE CONTROL
The PT-175 is also available with remote control. Remote control technology enables PT-175 to operate in dangerous conditions and on very steep slopes. It is able to perform uphill, downhill and sideways, without putting the operator into risky and unsafe situations and avoiding an uncomfortable seating position for the operator due to continuous driving sideways on slopes and ditches. An innovative remote control ensures accurate guidance of the vehicle at a range of up to 1,000 m. All of the controls and displays the operator would normally see in the cab are on the remote-control unit too. The runtime of the batteries reaches up to 10 h. Moreover, the tilting remote control unit can be opened by a manual pump, which allows easy access and inspecting of all components located underneath.
ACCESSIBILITY
The engine compartment is very accessible:
The big side doors guarantee easy access and perfect service ability;
The rear part of the frame is hinged and can be opened for quick and easy cleaning and maintenance of the radiator.
RADIATOR AND FAN
PT-175 is equipped with an oversized radiator, allowing the machine to operate in very hot climate with no overheating issues. The radiator comes with coarse fins, preventing it from getting plugged by dust and dirt and making cleaning much easier. As an option, the PT-175 can be equipped with a proportional (so-called variable pitch) and reversible sucker fan. Based on radiator temperatures (coolant, intercooler and hydraulic oil) the blades will automatically adjust their position in the most efficient and effective way. This results in less power absorbed by the fan and in lower fuel consumption as well as less air and dust flow crossing the engine compartment, helping to keep it cleaner.
OPTIONS
The available options are:
Rear winch with 6 t pulling power
Rear view camera, with extra display
Additional light package
Service light in engine compartment
Air shut-off system
Preheating system for the engine and for the hydraulic oil
Front screen for driver's cabin
Control for hydraulic push-frame
Pressurized air system for driver's cabin
Additional handle for emergency exit (to open it up from outside)
Rock guards for lower rollers and sprocket guards
Oil fill pump
Drain filter for travel and mulcher circuit
Track chain guides to better guide the track chains and to reduce wear
Canopy to avoid built-up of debris and snow on engine compartment.
New GPS Plus with surface mapping to monitor productivity by measuring mulched surface, overlap, etc. with an accuracy of 0-20 cm (0-8 in.).