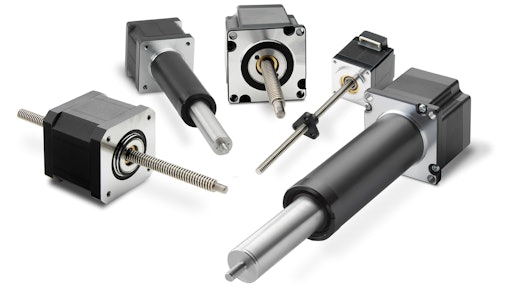 Thomson Industries Inc. has launched an online tool that simplifies the selection and purchase of stepper motor linear actuators. The new tool saves significant time by streamlining the selection process for design and system engineers. 
Using the intuitive online selector tool, users can quickly and easily find the optimal Thomson motorized lead screw actuator, or rotating screw or nut configuration for their machine design.
"Built upon the successful framework of our existing online product selectors, this new advanced tool allows users to narrow down to their optimal stepper motor linear actuator based on the needs and attributes that they can select within only a few minutes. Our e-commerce capabilities make the selection process even more efficient for users," says Saurabh Khetan, Product Line Manager - Lead Screws at Thomson.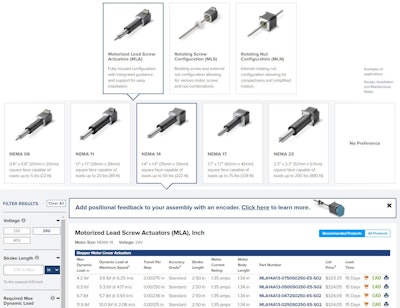 With this new online selection tool's visual-based menu, machine designers and builders can find the stepper motor linear actuator that is right for their application with just a couple of clicks. To further narrow their search, users can take advantage of real-time adjustments as defined by filter parameters - all without leaving the page. Additionally, the tool provides an enhanced shopping experience with up-front pricing and lead times, and user-prompted assistance.
The process typically takes less than five minutes and yields an optimized list of stepper motor linear actuators that meets the requirements of the user. Once an actuator is selected, users can either add it to a shopping cart for immediate purchase, download a 3D model into their CAD program or access a PDF containing product features, benefits and technical specifications. A live customer support representative is only a click away to answer any questions.