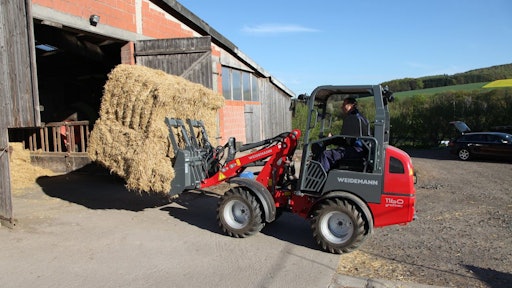 Weidemann's advances in electronic drive systems, already in factory production since the spring of 2015, are practice-oriented and permanently in further development.
The runtime is naturally THE criterion for any operation deciding between a conventional diesel engine and an eHoftrac with electrical drive. Does a charged battery with a runtime of 2 to 5 hours (depending on application conditions) really suffice for the given daily work task? This is a question the end user will ask, as well as other relevant business factors. For machines in this performance category on small- to medium-sized farms, working times of mornings and evenings should not present a problem. In any event, this was Weidemann's experience with the first machines in the field.
Optimization with a software update
The operating comfort and degree of efficiency of the electrical eHoftrac can be raised with a software update. The engine "inches" noticeably better with the new software, improving brake performance. The frequency inverter also now runs at its optimum degree of efficiency, i.e. the machine when deployed is noticeably more efficient. Additionally, depending on the temperature, the electric motor for the drive system is now actively cooled with a new fan.
If one leaves the machine in order to work in stop-and-go mode, for example, then the seat contact automatically switch switches off the eHoftrac for safety reasons. To begin working with the machine again after remounting, one previously needed to turn the key again in order to start up the electronics. This has likewise been optimized, i.e. one now activates the machine simply by moving the travel direction button on the joystick in neutral — an increase in comfort while still ensuring safety requirements are met. All existing machines in the field will be brought up-to-date.