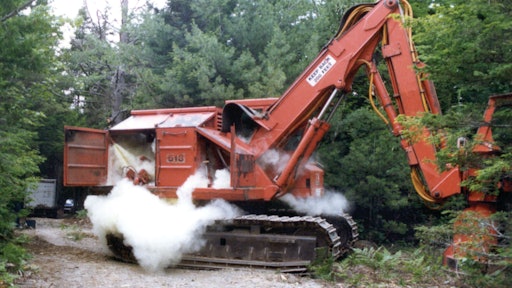 No one likes a pile of burning garbage. That burning pile is even more despised when it's still in the garbage truck. The smoldering heap is downright hated when it is accidently unloaded at a landfill, where it can mix with brush and paper while being fueled by methane, a highly flammable byproduct of landfills. Landfill fires can emit dangerous gases and are difficult to extinguish. They're also a public relations nightmare. Stopping a vehicle fire in these situations not only prevents a loss of the machine, but in many situations can save lives and the surrounding property, as well.
Better maintenance practices and equipment design can help lessen the chances of a machinery fire, but accidents still happen. A couple of guys near St. Louis discovered that in late April when the contents of a garbage bin they were dumping in the back of their truck exploded. Some illegal chemist had set up or discarded a meth lab in the bin. The operators were slightly injured, but the implications of the event has had far-reaching effects. Local garbage companies vowed to have their employees take a meth lab awareness program so they'll know how to spot the danger before it's too late. www.hypertherm.com.
On a garbage truck, there are two significant opportunities for fire, either on the chassis of the truck itself, or in the case of the meth lab, in the garbage that is picked up and then transferred to the compactor. The most common cause is the latter, typically when backyard chefs dispose of smoldering coals.
"A burning load is a tough thing to deal with," says Bob Oudenhoven, product manager, Leach Co., Appleton, WI . "When the truck body is full of dry garbage, there is a lot of flammable debris with considerable stored energy."
The second type of garbage truck fire often boils down to poor house keeping. Front-loading trucks are built on cab-over engine chassis where the engine extends out of the rear of the cab. Windblown trash can drift back there and land on the hot turbocharger or exhaust manifold, where a fire can occur. The situation is further complicated by spilled fluids or accumulated grease, so proper maintenance practices are essential.
This is an area where a hand-held fire extinguisher (80% of the Leach trucks leave the factory so equipped) or an on-board fire suppression system would make a difference. "Generally a fire of that type doesn't have a lot of mass," says Oudenhoven, and "can be handled with fire extinguishers." A mounted system works well, too. On Leach's trucks these systems are mounted on the forward part of the chassis with two or three discharge ports that flood the back of the engine and cab.
Installing a fire suppression system in the truck body is generally not feasible. The compacted garbage is very dense, and the environment does not provide a good location for nozzles to dispense liquid or dry chemicals. For some haulers, when a fire is discovered in the truck body, the procedure is to find an empty parking lot, dump the load as fast as possible, and call 911. This usually results in a hazardous waste clean-up fee, but if the load is not dumped, the fire can travel through the truck, where fuel and hydraulic fluid will add to the fire.
On Leach's equipment central fire suppression systems are not factory installed, which is typical across the industry. The pressurized systems generally require a certified technician.
At the landfill
Once at the landfill, the danger of a fire starting and the damage that could ensue doesn't subside. For BOMAG's line of refuse compactors, central fire suppression systems are a customer request item that gets installed on at least 80% of its products.
There are plenty of dangers at the landfill, from blowing debris to spontaneous combustion of the decaying garbage. But maintenance is a major factor in preventing a fire on any machine. "If there's been a judgement error when they were adding oil to the engine or the hydraulic reservoir, anything that could be combustible could ignite just from underhood temperatures," says Steve Wilson, product manager, BOMAG Americas, Inc., Kewanee, IL .
BOMAG will often contract with the customer's local fire suppression distributors for installation. "For warranty support of a system it's more efficient to have the system installed near where the customer will be using the machine."
At the factory, BOMAG will often include mounting brackets or tabs and provide attachment points for the electrical hook up. Beyond that the system is completely installed by system manufacturer's representative.
System selection, machine design
Like most technology, fire suppression systems are continuously advancing. There are temperature sensing systems that will monitor different points on the machine to allow the system to actuate, while others are manually operated where the operator has to make a judgement call on when to activate the system.
"As we move forward there will be systems that will sense a given underhood temperature and then discharge," says Wilson . "It may also be possible to arm and actuate a system from a remote location. Fire suppression technology is becoming much more sophisticated."
BOMAG, as with its competitors, continuously strives to produce a machine that provides as much uptime as possible. "We work to put components in which are not going to prematurely fail, and make provisions such that the maintenance of the machine can be performed easily and completely. Aspects of the design can ensure that cleanliness from debris and flammable liquids can be attained and maintained on the machine.
"All of these things, once accomplished, lend to being a safe machine that is going to be less prone to the possibility of a fire," says Wilson . "Beyond that we look at the positioning of the operator relative to the engine area, ensuring that we are providing adequate protection, and that the operator is placed in as secure a zone as possible to allow him safe exit from the machine if a fire does occur."
Fire prevention by design
Created in 1944, the Smokey Bear campaign has taught most of us how flammable the forests are, and what our role in preventing them is. At press time, more than 160 fires are burning throughout the United States . While some of the causes of these forest fires were natural, too many were not.
For individuals who make their living in the forests, going the extra mile to prevent and suppress a vehicle fire has been at the top of the list for decades. The forest is full of flammable materials ranging from dry pine needs to saw dust that can ignite easily, and debris is constantly falling on and around the machines during harvesting. Add to this fact that logging takes place in remote areas, and a fire that's easily started can be extremely difficult and expensive to extinguish.
"Preventing fire is a major design objective, but unfortunately in the logging environment this can not always be achieved," says Lee Crawford, production manager, TimberPro Inc., Shawano, WI . " Fires are a fact of life in the forest and people should be educated to reduce fire risk. Proper cleaning and maintenance is vital."
Crawford predicts that as insurance companies evaluate the risk of machines with and without fire suppression, more machines will have fire suppression systems added.
"If the machine is new, I believe the manufacturer should install the fire suppression system," says Crawford. "The system will be more consistent in the design and layout. The OEM and fire suppression manufacturer should work together to evaluate hot spots and hazards to determine the best fire protection coverage. If an OEM fire suppression system is installed, the logger needs to find the local distributor system and schedule the mandatory system inspections."
Design for prevention
TimberPro was founded in 2002 by Lee's father, Pat Crawford, who purchased the wheeled timber harvester line from his old company, Timbco. This year, TimberPro introduced a new line of harvesters and forwarders, for which fire prevention was a major goal throughout the design process.
In the new machines, such as the TF 830 forwarder, TimberPro worked to seal hot spots (engine, turbo and exhaust) from forest debris. The exhaust and muffler is covered with a high-temperature wrap to help reduce the hot spots in the engine compartment (the turbo cannot be wrapped so heat can dissipate from the turbo bearings).
" Forest debris is like dust," says Lee Crawford. "No matter what is done to prevent its infiltration into the engine compartment, it always seems to work its way in. We tried to make house cleaning much easier for the operator." The clam shell opens with a small cylinder and a drop-down ladder provides access to the engine and hydraulic compartments.
The combined engine and hydraulic compartment is covered with a sloping clam shell hood with no openings in the roof where debris can fall into the engine compartment. A wall was installed between the hydraulic components and the engine to help keep the hydraulic oil away from the heat of the 250 hp John Deere powerplant.
Other features include a master electrical disconnect switch that allows the operator to turn the power off at the batteries when leaving the machine. Worn wires can cause a spark which might ignite forest debris. TimberPro also added louver vents to allow a portion of engine compartment air to exit within the operator's view, to allow for early detection of a fire.
An Ansul fire suppression system in installed on the TimberPro machine. "Because this is a suppression system, there is no guarantee that the fire will be put out by the system," says Crawford. "The machine operator should be trained to use the on-board fire extinguisher." TimberPro has a hand-held 10 lb. dry chemical extinguisher on board along with an optional 30 lb. loaded stream antifreeze extinguisher.
Loss prevention
Don Curtis, senior loss control consultant, Acadia Insurance, Bangor, ME, works with loggers and OEMs such as TimberPro to help reduce fire losses.
Acadia Insurance was founded in 1992 and due to its location in New England many of its customers were in the forestry business. In 1996 it set out to investigate the causes of machinery fires and suggest ways to prevent fires from happening or reduce their severity.
"We can't prevent everything, however," says Curtis. "One of the things we have done is encourage fire suppression systems to deal with the fires we couldn't prevent."
Through the use of fire suppression systems, a surprising side-benefit was discovered. Curtis has studied all 77 known saves (as well as the 15 losses) of logging equipment since the program began April 1, 1996 .
"One of the really neat things that happened as a result of fire suppression systems," says Curtis, "was we're now stopping fires small enough so we can read the tracks. We can determine what the scenario was when the fire started and what caused it."
Having established a good relationship with many forestry equipment manufacturers over the years, Curtis shares that information. "We can prove a problem with pictures, and because no great big loss involved, the lawyers stay out of the picture and the engineers can get involved to come up with a solution."
Firefighting retrofit
Dozers play a critical role in fire suppression. Fighting forest fires involves applying extinguishing agents, removing fuel, and isolating the fire until it's contained and burns itself out. Dozers work independently or alongside hand crews to construct fire lines around the fires, removing fuel from their path to prevent spreading, while trucks, helicopters and fixed-wing aircraft douse the flames with water and foam.
But dozers don't roll off the assembly line with the necessary gear to keep both operator and machine safe from these dangerous, difficult conditions.
G.R. Mfg. Inc., Trussville, AL, is a company that specializes in outfitting John Deere equipment with special packages for use in harsh conditions. One area of expertise is upgrading dozers for use in firefighting applications.
According to Paul Hodges, vice president of sales and marketing for G.R. Mfg. Inc., which works with state agencies such as the Florida Division of Forestry and the Alabama Forestry Commission, most tractors they work on receive 30 to 40 custom upgrades for firefighting use.
Typically, G.R. technicians will start the upgrade by adding a variety of different guards and screens, such as an A/C condenser guard, and hosing guards. They also install screens that go around the rear, side and front windows to protect them from breaking. This same type of screening is also installed on dozers without cabs to protect the operator from brush. Limb risers are also added to protect the operator and machine and allow operation through heavy brush.
The company also incorporates a number of systems to protect both machine and operator from the fire itself.
"The thin layer of rubber insulation on an electrical wire can melt very quickly and short out, disabling the machine. We protect the electrical harnesses, as well as hydraulic hoses with fire sleeving to make them more durable and tolerant to fire," says Hodges.
A fuel shut-off valve can also be added. If the dozer fails in the woods or the operator needs to leave the machine, he can engage this valve which shuts the fuel off at the tank and keeps it contained in the metal fuel tank. Without this type of valve, the fire could easily burn through a rubber line that supplies fuel to the engine and feed the 40+ gal. of fuel to the fire, which would totally destroy the machine.
They also normally install quick release floor plates, that can be easily and quickly removed so the operator can put out a belly pan fire with a hand-held fire extinguisher. And often times a complete 15 to 20 gal. water suppression system is added as well. It has a hose and nozzle similar to a garden hose sprayer that the operator can use to put out belly pan fires and help protect both himself and the machine.
G.R. also often paints the roofs of the machine white, so the state agencies can easily paint numbers on top for aerial identification.
One of the most noteworthy modifications that G.R. adds is a filtration system that protects operators in an enclosed cab from smoke and noxious gasses. It contains a spark arrestor screen, a HEPA element and also an activated carbon element to filter out the gasses.
When G.R. first started retrofitting tractors in the early 90s, they would normally add systems that would cost the customer an extra $4,000 to $5,000. Today, because there is more emphasis on operator safety, modifications can cost $30,000 to $35,000.
Suppression systems>
AFEX Fire Suppression Systems has focused exclusively on manufacturing fire suppression systems for heavy off-highway equipment for almost 40 years. Its systems are most commonly used on machines in mining, forestry, solid waste and slag-handling industries. In these industries high production demands combine with long hours and difficult or abusive operating environments to create a greater danger of vehicle fires.
"There are other market niches out there," says Rod Cavallaro, vice president of sales, AFEX Fire Suppression Systems, Raleigh, NC . "We have found these to be applications where the equipment handles combustible or hazardous materials, where the capital investment in the equipment itself warrants the protection, and often where the job places unusual stresses on the mechanical and hydraulic systems of the machine. We target industries committed to protecting their equipment against fire. Some industries receive reduced insurance premiums for their equipment if it has a fire suppression system installed. Other industries, especially those dominated by larger firms, purchase suppression systems as an investment for protecting their equipment and its productivity. "
AFEX works directly with OEMs in a variety of capacities, which include conducting machine fire hazard analysis, providing technical field support and custom system design. Although AFEX works directly with several equipment manufacturers, fire suppression systems are most often sold as an aftermarket accessory. "Most of the industries we service have a culture for using fire suppression, so it's budgeted for as they make their new equipment purchases." AFEX's distributors work with equipment dealers and the end users to install and service fire suppression systems on machines.
Fire suppression systems feature fire detection, automatic actuation and a discharge of A:B:C dry chemical powder that floods the engine and transmission compartments. Manual-only systems offer economic and reliable performance, but ultimately depend on the operator's ability to identify that his machine has a fire and when to take appropriate action.
Despite the advances of modern machinery, the risk of fire is more prevalent than ever. "The elements of fire will always be present," says Cavallaro, "whether intrinsic to the equipment itself or its work environment."
The challenges of protecting today's equipment have increased with the size and sophistication of the machines. Powerful hydraulic systems, electronic control systems and shrinking real estate for mounting fire suppression system components are a few examples.
At the same time, fire suppression systems have evolved and incorporate technologies that make them reliable and effective.
Fire standard>
"The purpose of this report is to provide general recommendations for the design and operation of mobile forestry machines which can help reduce the possibility of fire. The term 'mobile forestry machines' is intended to include those off-road machines which are designed especially for, or adapted to be used in, the planting, site preparation, harvesting, processing and transporting of trees. The diversity of machines and systems falling within this scope prohibits detailed specifications and therefore recommendations are of a general nature."
This statement describes the scope of SAE's J1212, Fire Prevention on Forestry Equipment. J1212 is classified by SAE as an "information report" which is not as strict or binding as a standard. Instead, it serves as a document to provide information on best practices in a particular area of product design.
J1212 is currently being reviewed by a committee working to update the recommendations to reflect current technology and safety standards.
According to Bill Ganser, a product safety engineer for Peterson Pacific Corp., Eugene, OR and also a member of the committee, J1212 is unique in that it doesn't just talk to the manufacturer about how to make machines fireproof, but also addresses the end-user's role in fire prevention.
"The idea is to make people aware that it's a team effort to prevent fire," says Ganser. "You can't just design something that is 100% fireproof in this industry. It's unreasonable to think that. The operator does have a role here."
One of the recommendations being considered in the review committee, is to somehow incorporate the information from J1212 into the equipment owner's manual.
"It's always been kind of a hang up in the communication process. J1212 asks end-users to perform a certain tasks or avoid certain practices to help prevent fire, but how do you let him know that? Manufacturers pay attention to standards, end-users don't."
Ganser stresses that they are just in the beginning stages of reviewing and updating this document. The review committee, which has representatives from nearly 20 companies in the forestry equipment industry, expects to have a completed document one to two years.
For more information or to provide feedback please contact Ganser via e-mail at [email protected].