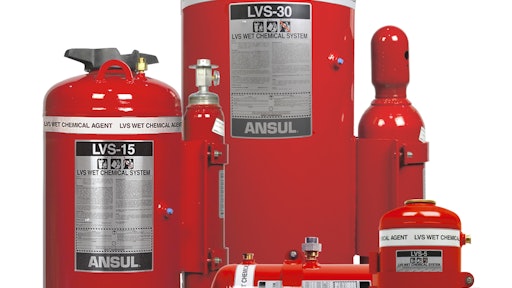 ANSUL, a leading global brand of Tyco Fire Protection Products, debuted its single-agent Liquid Vehicle System (LVS), a breakthrough technology providing fire suppression and cooling in one agent, at 2012 MINExpo INTERNATIONAL. The company also featured its total fire solutions for the mining industry, including the complete line of ANSUL vehicle fire suppression systems, its new CHECKFIRE detection and actuation controller, and its comprehensive suite of fire protection products, such as its flagship A-101 Vehicle Fire Suppression System line and RED LINE hand portables.
"Our ANSUL Liquid Vehicle System offers fire suppression to safeguard hundreds of thousands of mine workers around the world," says Jay Thomas, General Manager, Special Hazards Products, Tyco Fire Protection Products. "As the predominant mining exposition, MINExpo is the premier event to showcase how Tyco's leading brands and technologies are advancing the industry."
Developed specially for the mining industry, the ANSUL LVS fire suppression system provides unparalleled protection to non-road mobile equipment applications, from surface to underground mining. The system supports surface mining equipment including haul trucks, hydraulic excavators, wheeled loaders, electric shovels, rope shovels, drag lines, dozers, graders and blast hole drills. Protected underground mining equipment includes haul trucks, scooptrams, reef dozers, conveyer belts, scalers, locomotives, loaders, continuous miners, drills and shuttle cars. 
Its flexible design and installation parameters accommodate vehicles for any size operation, while its proprietary Wet Chemical Agent is effective in suppressing Class A and B fire types. Fire types are classified by the fuel involved in the fire, with Class A fires designated as ordinary combustibles, and Class B fires categorized by flammable liquids and gases. 
"Our goal is to enable mining professionals to help prevent and address the most complex and specialized fire-related challenges of today," says Thomas. "The ANSUL product portfolio focuses on creative system design and providing the training, education and service support that equips global mining experts with the resources they need to preserve their resources and investments."
Tyco also gave attendees a sneak peek of its new CHECKFIRE detection and actuation system. CHECKFIRE controllers offer the next generation of fire protection, featuring plug and play wiring capabilities and optimized detection for a wide range of vehicle types and sizes.
In addition, the company showcased a broad range of proven solutions, including:
The A-101 Vehicle Fire Suppression Systems product line – One of Tyco's chief product lines in fire suppression for mining, the ANSUL A-101 system uses a dry chemical or twin agent to safeguard mining equipment of all sizes.
RED LINE hand portable fire extinguishers – These cartridge-operated extinguishers are the premium firefighting units preferred by safety directors of high-risk operations around the globe.
Superior customer support and training –Tyco offers world-class training and technical services to support the end-users of its state-of-the art equipment.
GRINNELL Products – GRINNELL Products is dedicated to offering mining professionals innovative, quality piping products that provide a safer and more efficient installation compared to traditional welding methods.
Engineered Systems - INERGEN systems protect enclosed areas where there is a need for quick reaction to a fire, where people may be present, where fire may strike day or night, and where damage from conventional agents cannot be tolerated such as Electric Mining Shovels and MCC rooms.
Foam Systems – Foam Systems include an extensive line of premium foam concentrates for both Class A and B fires, proportioning equipment for various system arrangements, and an array of discharge devices.