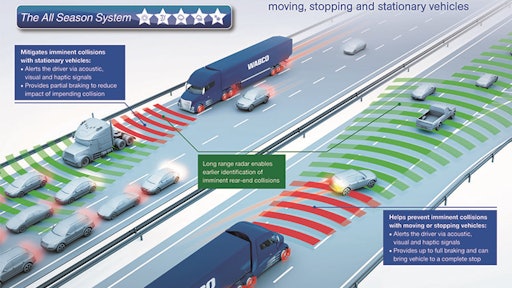 WABCO, a leading global supplier of technologies that improve the safety, efficiency and connectivity of commercial vehicles, marked a major milestone of more than 100,000 OnGuard collision mitigation systems (CMS) sold in North America through its Meritor WABCO Joint Venture. The company made the announcement at the 2016 Mid-America Trucking Show (MATS), held in Louisville, KY (USA).
WABCO's OnGuard is a radar-based active safety system for commercial vehicles that offers collision warnings and collision mitigation with active braking on moving vehicles, as well as adaptive cruise control. The OnGuard CMS detects vehicles ahead and measures the vehicle's position in relation to others on the road to warn the driver of a possible rear-end collision via audible, visual and haptic warnings. Should the driver fail to take appropriate corrective action in time, the system automatically applies the brakes to help mitigate or prevent impending rear-end collisions.
Used extensively in heavy-duty trucks since 2007, WABCO's OnGuard is North America's leading collision mitigation system, with an installed base of more than 100,000 systems and having protected customers collectively for more than 45 billion miles. More than 200 fleets are currently utilizing the system to help keep their truck drivers, vehicles and fellow motorists safe. Heavy-duty truck fleets have reported a 65-87% reduction in accidents and up to an 89% reduction in accident costs since adopting OnGuard.
In 2015, WABCO introduced OnGuardACTIVE, the company's most advanced collision mitigation system for trucks and buses in North America. WABCO's OnGuardACTIVE provides high performance in all seasons and low visibility driving situations when camera-based sensors used on other collision mitigation systems may be impaired. The system provides active braking on moving, stopping and stationary vehicles to mitigate or prevent impending rear-end collisions. OnGuardACTIVE is capable of delivering up to full braking on moving, stopping and stationary vehicles and can bring the vehicle to a complete stop.
"WABCO's OnGuard is the industry's leading collision mitigation system. The milestone of 100,000 systems sold in North America is a powerful testament to our proven safety technology," says Jon Morrison, WABCO President, Americas. "We continue to write a new chapter in the success story that is WABCO collision mitigation technology with OnGuardACTIVE, our most advanced system to-date."
Companies in this article