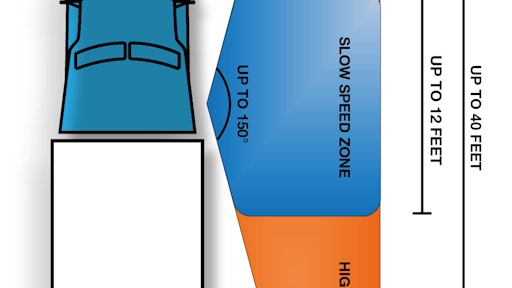 Improved technology, increased connectivity: The next generation of the Bendix BlindSpotter Side Object Detection System delivers both, advancing commercial vehicle safety and addressing a common request of fleets aiming for "one-stop shopping" for comprehensive driver assistance systems. Available now from Bendix Commercial Vehicle Systems, the new BlindSpotter features an upgraded radar unit and the ability to integrate with Bendix's flagship advanced driver assistance system, Bendix Wingman Fusion.
"Based on the input we've gotten from fleets using BlindSpotter over the past decade, these are the two most impactful updates Bendix could have made to a system that's already generated a lot of positive responses about its performance," says Fred Andersky, Bendix Director of Customer Solutions – Controls. "Particularly in recent years, there has been high interest in tying the side-radar unit into active safety systems as adoption rates of both have increased. Today, pairing these systems is even easier, and makes more sense as a key step toward putting safe drivers in even safer trucks."
BlindSpotter uses a new side-mounted radar unit – typically installed on the passenger side of the vehicle but also available for driver-side mounting – to alert drivers to vehicles or objects in adjacent lanes. When connected to the vehicle's J1939 CAN (controller area network), its new radar operates over a significantly wider field of view than the previous version, allowing it to "see" farther toward both the front and back of a combination or single-unit vehicle – up to 2.5 times farther in each direction compared to the previous generation of BlindSpotter. Despite the new internals – radar and CAN connectivity – the new BlindSpotter maintains the look, size, position, and mounting hardware of its radar and in-cab display units, making it easy to upgrade from the current version or retrofit the entire kit.
When connected to the vehicle's CAN, the new BlindSpotter provides a wider, 150-degree range of coverage capable of detecting objects up to 20 ft. in front of and 20 ft. behind the BlindSpotter radar. The coverage zone extends up to 10 ft. to the right of the vehicle. BlindSpotter minimizes false alerts by operating in two modes: highway speeds and lower speeds. When connected to the CAN and at highway speeds, the sensor filters out stationary objects like guardrails; the slow-speed warning mode – active at less than 20 mph, such as during city driving or in parking lots – narrows the range for alerts and does not filter out stationary targets or infrastructure.
"As with any advanced safety system, BlindSpotter isn't a substitute for a trained, professional driver practicing safe habits – and it doesn't replace the need for side and fender-mounted mirrors, or for drivers to check them before changing lanes," Andersky says. "All trucks have blind spots: This is a proven, reliable technology to help keep an extra set of 'eyes' on them."
Andersky notes that technologies like BlindSpotter do not replace the need for skilled drivers who engage in ongoing training and who practice safe driving habits. Responsibility for safe operation of any commercial vehicle remains with the driver at all times.