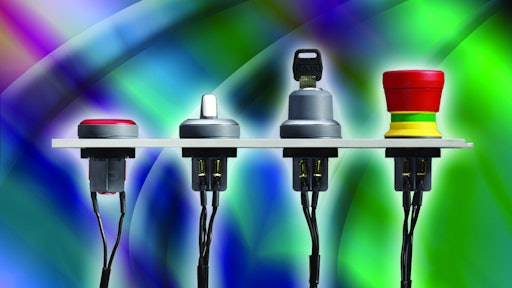 C&K Components, an international supplier of tact switches, toggle, rocker and pushbutton switches, and smart card interconnect devices, announces the availability of the RAFIX 22 FS Series low profile, universal quick-connect switches.
Quick-connect feature supports modular installation concept, allowing switches to be plugged into the panel and locked
User can store individual switch elements separately and configure them during final assembly to meet application-specific needs
Available in pushbutton, selection, key, signal lamp and emergency-stop configurations
Require 27 mm of mounting depth behind the front plate
IP65 splash-water protected
Mounting diameter in the front plate is 22.3 mm in accordance with IEC 60947 specifications
Lowest profile quick-connect switches available on the market
"The minimal space requirements of the RAFIX 22 FS Series switches make them ideal for extremely flat applications that previously required PC board mounted switches," said Vinny Acampora, product manager for C&K Components.
Emergency-stop switches are designed with a positive mechanical movement sequence:
A certain operating force must be exerted at the push cap in order to prevent inadvertent operation
When pressed, the pushbutton latches and is reset by turning the switch in a clockwise direction
Wiring of the RAFIX 22 FS Series switches is carried out via a 2.8 x 0.8 mm blade terminal, or via the soldering terminals in the quick connector.
Ridge between the contacts prevents short circuits, even under tensile load of the connection cable
Illuminated versions of the pushbutton and signal lamp switches available with LEDs in five different colors; can be clicked into the switches from behind using flat contactors
All RAFIX 22 FS Series switches are available with gold contacts for electronic applications (minimum 5v/1mA) or silver contacts for mains voltage (maximum 250v/4A)
Request More Information
Fill out the form below to request more information about
RAFIX 22 FS Series Quick-Connect Terminal Switch