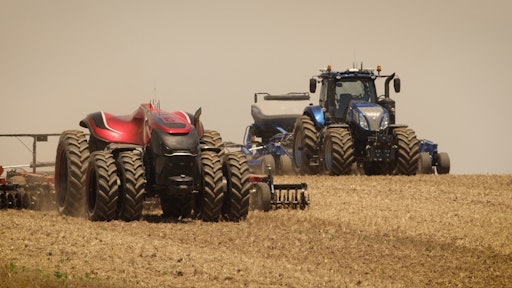 CNH Industrial
Fact.MR has released a new report which forecasts the global autonomous farm equipment market will achieve a 10% CAGR (compound annual growth rate) through 2031.
As the technology for autonomous equipment continues to advance and become more readily available, and manufacturers prove the benefits of these machines, their market uptake will increase. According to the new market report, demand for autonomous agriculture equipment will be particularly high in the U.S., Germany, China, Japan and a few other markets over the next 10 years.
Fact.MR says in its press release announcing the new report that recovery in the global agricultural market will help to increase demand for autonomous equipment. Continued investment in the technology will aid the market, as well.
The research firm says key takeaways from the market report include:
High demand for tractors and harvesters will fuel sales of suppliers
Fully autonomous farm equipment will gain traction
The United States to lead in the world's largest autonomous farm equipment industry
Germany to maintain its lead in Europe for farm equipment
Asia Pacific to register fastest growth, with its focal points in China and India
The United Kingdom, Canada, France, Japan, Italy, and a few other countries to remain highly lucrative markets throughout the forecast period
"Inclination towards highly advanced technical equipment such as fully autonomous tractors, harvesters, and UAVs is bringing major changes to the outlook of the autonomous farm equipment industry, fueling sales further," says a report analyst.
The agricultural equipment industry has often been at the forefront of advanced technologies compared to some of the other heavy-duty off-highway equipment markets. Farmers' profitability is heavily tied to how productive and efficient they are; advanced technologies like autonomous equipment can help to improve their operations. These technologies can help ensure more precise planting, spraying and harvesting which can lead to larger crop yields.
There are a number of companies developing autonomous agriculture equipment. Recently, Yanmar announced an upgrade to its autonomous tractors which are currently available in Japan. Two models are available which can operate either semi- or fully-autonomously.
CNH Industrial has taken a minority stake in Monarch Tractor which is developing electric tractors which can be driven autonomously or by a human operator. CNH says the partnership will help with its development efforts for both agricultural equipment and other machine types.
Off-highway equipment applications like agriculture are optimal for autonomous operation because the machinery is typically used in a private location where there would not be interaction with vehicles operated by the public. Mining has already been utilizing autonomous vehicles for several years now, demonstrating what is feasible.
Use of autonomous equipment will be important going forward as labor market challenges are likely to persist for agricultural and other heavy-duty applications. Not as many people are entering theses fields, making it difficult to find skilled labor. Autonomous equipment will enable farmers to more easily get their work done even if they have less staff because it will not be necessary to have as many people operating the machinery.