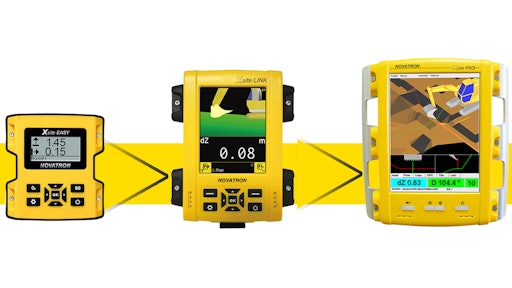 MOBA, developer and manufacturer of measuring and control systems for mobile machines, will showcase at CONEXPO in Las Vegas at booth 50063 its latest solutions for construction machine automation. Amongst others MOBA will present a new solution for controlling quality during asphalt paving, a line of upgradeable excavator systems, their 3D levelling system for graders and dozers and single components for the flexible use on different machines.
With the new PAVE-IR Scan system, MOBA offers with its temperature scanner a new way of monitoring and documenting the temperature during asphalt paving for the entire project. As a result, contractors can optimize their processes and verify the quality of the paving process. With the intelligent temperature scanner, the system measures the asphalt temperature over the entire paving width of up to eight meters. The temperature profile is displayed in real-time on the display and the operator can react at any time if irregularities occur. All information is saved for documentation and can be used as quality proof.
Xsite product line: Modular excavator systems
With the Xsite product line MOBA provides excavator systems for every need. For getting started with automation, the economical Xsite EASY system offers diverse 2D functionalities. Xsite LINK provides additional basic 3D functionalities and for complex requirements, and Xsite PRO, with its wide range of 3D functionalities is the ideal system for performing large-scale projects. Should service be necessary, telesupport via internet connection offers quick help without a service technician needing to visit the construction site. The modular structure allows an upgrade of each system within the Xsite line at any time.
One system, many possibilities: MOBA 3D-matic
With the new 3D-matic, MOBA offers a precise and flexible 3D leveling system that increases efficiency in machine use and contributes to fast and precise project execution. The system is optimized for graders, dozers and blades and it can also be used as a 2D system. The compact "2 in 1" controller combines 2D and 3D computers in a single housing. The display as well as the sensors are also designed for use in 3D and 2D applications. MOBA 3D-matic scores with a simple menu navigation and a clearly arranged, 7 in. touchscreen display.
Flexible platform products
For the first time MOBA shows at CONEXPO a selection of MOBA platform products. These sensors, controllers and HMIs can be integrated easily into all types of existing systems, no matter if it is in construction machine automation or in safety systems on aerial work platforms. According to the "building block" principle, the freely-programmable components can be individually controlled with CAN technology and combined in any way.
Optimized material compaction
With the MCA-2000 roller system, optimized material compaction can be achieved in the construction of roads and tarmac surfaced areas. The system determines the machine's GPS position. With this data, it records the number of roller passes during the entire project and reconciles target and actual passes. Additionally, the system measures the asphalt's temperature at the time of rolling. This allows an overview over the compaction and permits the production of a homogeneously compacted material, preventing future road damage. All data is shown at the display can be transferred via USB stick or directly to a web server.