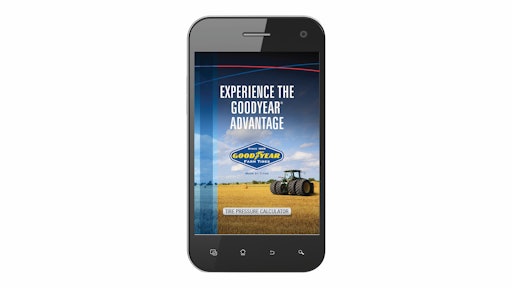 Goodyear Farm Tires, a Titan Tire Corporation brand, has launched a new mobile app that calculates optimum inflation pressure of radial farm tires based on tire size, application and axle weight. The app also allows users to save their "favorite" tires, which can then be accessed and recalculated without an Internet connection whenever changes to weight or application are made in the field.
The app works for any brand of metric radial farm tire and is now available for iPhone and Android devices in the iTunes and Google Play stores.
"Tire Manager is a really handy tool not only for growers, but also for service technicians and tire professionals," says Scott Sloan, Agricultural Product Manager for Titan and Goodyear Farm Tires. "Proper inflation pressure is undoubtedly the best way to prolong the life and increase the performance of your tires, and using the Tire Manager app is the easiest way to ensure you're doing so without the need to carry around databooks and load/inflation tables."
How it works
Upon first use, the user is prompted to input tire size, load index (found on side of tire) and total axle weight, which is calculated as total machine weight plus the weight of the implement. The user is also prompted to select application from a dropdown menu (e.g., tillage, road transport, etc.), as well as tire type (R1, R2, etc.), and configuration (singles, duals or triples). The user can then save the tire into "favorites" in order to be accessed later.
The introduction of the app follows the 2011 launch of TirePressureCalculator.com, a mobile-friendly website from Goodyear Farm Tires that also helps growers calculate optimum inflation pressures from their mobile device or desktop computer.
Goodyear Farm Tires is American-owned and manufactured by Titan Tire Corporation, a subsidiary of Titan International, in Des Moines, IA, and Freeport, IL.