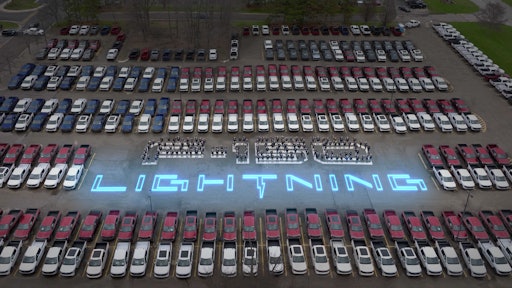 Ford
As passenger vehicles speed toward electrification, automakers and heavy-equipment manufacturers encourage other climate friendly initiatives and social responsibility.
GM Asks Suppliers to Sign Pledge Advancing Global Climate Action and Human Rights
General Motors (GM) announced a new pledge. It invites global suppliers to join the company in a commitment to carbon neutrality, the development of social responsibility programs and implementation of sustainable procurement practices in their supply chain operations. By signing the pledge suppliers commit to:
Achieving carbon neutrality for their Scope 1 and Scope 2 emissions by dates based on their respective industry,
By 2025, achieving a minimum score of 50 in the EcoVadis Labor & Human Rights and Ethics pillars, which demonstrates a mature sustainability management system that covers employee health and safety, social dialogue, diversity/nondiscrimination, child and forced labor, and avoids corruption and anticompetitive practices.
By 2025, achieving a minimum score of 50 in the EcoVadis Sustainable Procurement pillar, which covers how GM's suppliers understand and govern the social and environmental practices of their own suppliers and use their purchasing influence to advance sustainability.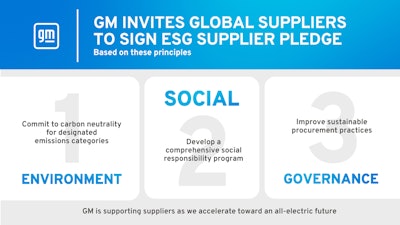 "There are economic and social imperatives in lowering emissions and addressing climate change while cultivating a just transition," said Jeff Morrison, GM vice president of Global Purchasing and Supply Chain. "As we accelerate toward our vision of an all-electric future, our commitment to bringing everybody along includes our global suppliers whose collaboration is critical to promoting a sustainable, safe and better world."
GM announced that of its approximately $76 billion direct material annual purchase value in 2021, suppliers representing more than 53% of that value have signed on.
Learn more about the Environmental, Social and Governance Partnership Pledge.
Hyundai Motor Group Affiliates Join Climate Group's RE100
Hyundai Motor Group (the Group) announced that four key affiliate companies, including Hyundai Motor Company (Hyundai Motor) and Kia Corporation (Kia), are members of Climate Group's RE100. RE100 is a global initiative committed to large corporates moving toward 100% renewable electricity.
Hyundai Mobis Co. and Hyundai Wia also joined. All four affiliates plan to accelerate efforts on the use of 100% renewable electricity throughout its global operations. While they aim to make this transition by 2050, each will strive to achieve the targets ahead of schedule, by as early as 2040.
The Group is considering ways to procure renewable energy, such as self-production through solar panels, power purchase agreements (PPA) with wind and solar energy producers purchased through Korea Electric Power Corporation's "Green Premium" program. Other Group affiliates agree with the need to make this transition and plan to actively use it at their operations going forward.
Learn more about this Hyundai initiative.
America's Best-Selling Vehicle Now Electric
The all-new, electric F-150 Lightning pickup launched on April 26, 2022. F-150 Lightning trucks are now being built for customers across America. F-150 Lightning is the fastest-accelerating F-150 yet and the only full-size electric pickup available. Built at the Rouge Electric Vehicle Center, the F-150 Lightning is part of the Ford F-Series, which has been America's best-selling truck for 45 years in a row.
"Today we celebrate the Model T moment for the 21st Century at the Rouge Electric Vehicle Center," said Ford Executive Chair Bill Ford. "The Rouge is where Ford perfected the moving assembly line, making it a fitting backdrop as we make history again. The stunning anticipation for F-150 Lightning is a credit to the work of our Ford engineers and designers, and the UAW team members who are building these trucks with pride."
Ford has high demand for the F-150 Lightning with 200,000 reservations and is expanding the Rouge Electric Vehicle Center to ramp up production to a planned annual run rate of 150,000 in 2023.
"America's real transition to electric vehicles starts now," said Ford President and CEO Jim Farley. "F-150 Lightning is just the beginning of our ambitions for growth and leadership in digital, electric vehicles. We continue to expand our EV manufacturing footprint across the U.S., including the start of site preparation at BlueOval City, which will enable us to meet the ever-increasing customer demand for our exciting EV line-up."
The manufacturing technology in the Rouge Electric Vehicle Center is innovative. It is the first Ford plant without traditional in-floor conveyor lines and instead uses robotic autonomous guided vehicles to move F-150 Lightning trucks from workstation to workstation in the plant. These autonomous guided vehicles create more flexibility in the plant for additional production output, quality checks and product customizations, among other benefits.
The plant also uses cobots, or collaborative robots, that work side-by-side with people without any safety cages needed. These cobots help with tasks that would be ergonomically challenging for employees, while also keeping employees safe.
The Rouge Electric Vehicle Center is a zero-waste-to-landfill site, meaning none of the material generated as a by-product of the manufacturing process enters landfills. Ford is committed to achieving carbon neutrality by 2050, and to using 100% local, renewable electricity in all its manufacturing operations by 2035.
In addition, the F-150 Lightning Pro is the first electric F-Series truck purpose-built specifically for commercial customers. F-150 Lightning Pro is offered through Ford Pro, a shop for commercial and government customers with a range of conventional and electric vehicles. F-150 Lightning Pro is backed with turnkey solutions for commercial operations.
Learn more about Ford's electrification initiatives.