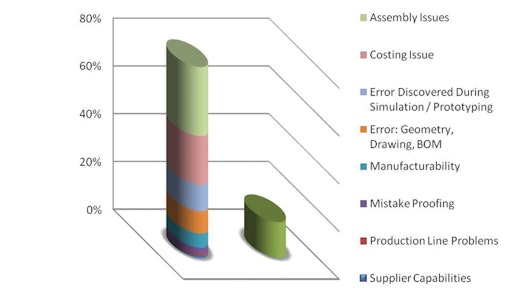 In the course of designing and manufacturing new products, engineers often make costly mistakes. They do not design functionality as intended or select components and materials that meet reliability requirements. They often create products that are difficult to manufacture and service, and, all too often in an effort to correct these mistakes, they miss schedule and budget targets.
A method to gain an insight into the frequency, causes and severity of these mistakes is to examine the changes engineers make to the design and the manufacturing process during the early phases of the product lifecycle, before volume production commences. These changes are typically recorded as engineering change orders (ECOs), sometimes also called engineering change notices (ECN) or engineering change requests (ECR).
ECOs are an excellent gauge of the product development process maturity: how well the organization defines and implements requirements, follows design guidelines, understands and implements manufacturability best practices, and complies with quality and sustainability standards. ECOs can be extremely disruptive and resource intensive, and essentially represent waste that mature organizations strive to eliminate.
The chart (pg. XX) highlights findings from the analysis of over 2,000 ECOs generated by an industrial equipment manufacturing company over the course of three months. The chart groups ECOs that resulted from preventable errors and those that are inherent to the process and cannot be avoided easily and completely. "Preventable" ECOs are those that could have been eliminated through reasonable use of existing information, tools and processes.
The analysis suggests that preventable ECOs account for nearly 70% of all ECOs. A similar analysis of data from a heavy equipment manufacturer estimated that a little over 80% of the ECOs were caused by preventable errors. To put this point in perspective, an industrial equipment manufacturer estimates its annual labor cost of researching and implementing ECOs at $40M. See Figure 1 for a breakdown of ECO.
There are several reasons why designers make such patently obvious mistakes. Most engineering and manufacturing organizations are under constant pressure to accelerate the time to market of new innovative products, improve product quality and reduce manufacturing costs, while R&D budgets continue to shrink and resources are scarce. Under these conditions, it is easy to see how "obvious" mistakes are being made repeatedly and very little is invested to stem them by eliminating their root causes. Furthermore, research shows that many ECOs are the result of poor adherence to established best practices, nonconformance with downstream guidelines and resources, and just overzealous engineering, all issues that should be reasonably easy to thwart.
These pressures on industry will not ease any time soon; quite the opposite. Increasing competitive pressures will continue to drive up design complexity and the application of new material and processes, and mandates to accelerate innovation and time to market. At the same time, the aging of the experienced workforce is resulting in gradual attrition in practical design and manufacturing knowledge that is not easily replaceable by the tepid supply of well-educated yet inexperienced engineers.
Recognizing these challenges, some manufacturing companies are taking proactive steps to reduce the occurrences of costly design and manufacturing errors. Studies show five key areas in which successful companies excel:
Frontload Decisions. This is old advice that is still as relevant as it has ever been, yet many do not follow it. All product lifecycle related considerations, including manufacturability, supply chain, service and product end-of-life should be evaluated and optimized early in the design. However, because product development processes are typically implemented as a linear forward-feeding process, they delay critical decisions concerning downstream activities, such as manufacturability and maintainability. In one study, the plastic enclosure of an electronic module was redesigned to improve airflow. Simulation showed that the new design met the thermal dissipation requirements and the new design was released to manufacturing. However, the new design suffered from high rate of breakage in manufacturing and in the field. Good product lifecycle management practices bring all requirements and constraints, which can often be in conflict with one another, and address them holistically to reach an optimal solution.
Standardize Designs and Processes; Maximize Reuse. One of the bigger challenges encountered in many companies is the insatiable urge to innovate, to come up with new designs, to do things differently. These are all important traits in today's competitive economy. At the same time, smart companies are careful not to innovate for innovation's sake. When practical, these companies make sure to standardize design elements and manufacturing processes so that they can accelerate the learning curve and reduce potential risks.
Implement Best Practices. This is easy advice to follow, yet not many do. Organizations amass vast amounts of knowledge and experience, although many do not make this knowledge easy to find and apply. Mature organizations recognize that a culture to generate and use best practices has a significant impact on reducing unnecessary design and manufacturing errors and avoid repeating the mistakes of the past. And when errors do occur, they can be identified and corrected swiftly, and the new knowledge is incorporated into the corporate knowledgebase.
Unify Methods and Tools. The complexity and multidisciplinary nature of product design today demands the use of a number of design and analysis tools to help product engineers assess the design from multiple perspectives simultaneously: functionality, cost, reliability, manufacturability, serviceability and others. These should be synthesized into a single decision-making framework to create a complete, accurate and up-to-date context for better design trade-off decisions, identifying opportunities for design reuse, applying best practices, and improving engineering productivity.
Maximize Communication and Collaboration. The use of multiple engineering and manufacturing disciplines, and the increasingly elongated and often fragmented design and supply chains strain product companies. Effective collaboration in product design, manufacturing and quality management are critical. Here, again, a unified framework for encapsulating best practices, both formal and informal, can help to create an effective and agile design and manufacturing environment.
Studies of manufacturing companies that implement a formal workbench to maximize the application of best practices in design and manufacturing through design rules and automatic design validation show significant process improvement. Figure 2 shows a typical workbench view of a sheet metal design with potential manufacturability problems highlighted, including relative placement of cutouts and holes and incorrect bend radii. Typical savings these companies experience include:
10 to 20% overall productivity improvement
7 to 15% reduction in rework
3 to 9% savings in tooling
1 to 3% reduction in waste
1 to 2% reduction in warranty expenses
Manufacturers should pursue a deliberate and consistent Design for Excellence strategy to reduce the impact of disruptive and resource consuming design mistakes by implementing formal methods and tools to validate design and manufacturing procedures early in the lifecycle.
Joe Barkai is an industry consultant and analyst, specializing in product lifecycle management and the application of advanced information technology tools and methods to improve product development practices. He advises manufacturers, engineering companies and software vendors on engineering and manufacturing innovation, and comments regularly on industry events in his blog www.JoeBarkai.com.
Contact him at jbarkai@outlook.com or 781-864-9011