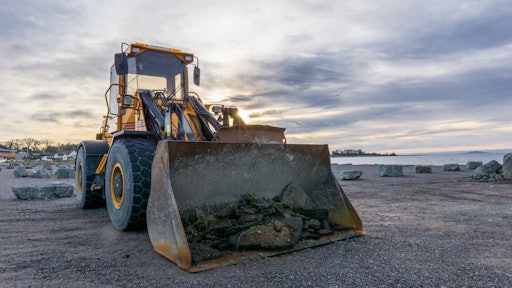 Unsplash
At the beginning of 2020, the heavy equipment markets were starting the year on a mixed note as some markets saw positive sales figures in 2019 while others did not, or started experiencing declines at the end of the year. CECE reports last year was a better year for the European construction equipment sector than initially expected, with total 2019 sales in Europe growing 3.4%.
However, as COVID-19 (aka coronavirus) quickly spread across the globe and halted or slowed many manufacturing and business operations the negative impacts to the markets began to show.
CECE says its Business Climate Index showed an optimistic trend at the start of the year, which turned into a dramatic decline in March with the early signs of disruptions due to COVID-19. A CECE flash Barometer survey carried out between March 23 and 27 showed 32% of respondents were significantly affected by the crisis and 30% already closed factories. The survey also showed 40% of respondents anticipate a 10-30% decrease in sales for the year.
Around mid-March, as the impacts of coronavirus began to present itself in more parts of the world—especially in the European and North American markets—many companies began withdrawing their full year guidance due to effects it was having on business, including those which had to temporarily shut down operations.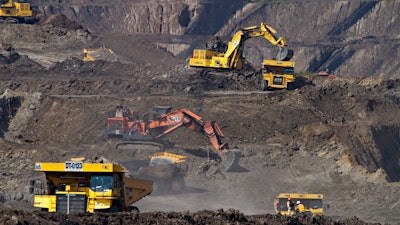 Equipment demand declines sharply
The Association of Equipment Manufacturers (AEM) recently released the results of a survey it conducted with presidents, CEOs, and owners of U.S. equipment manufacturers. The majority of respondents said the COVID-19 pandemic has negatively impacted the industry by decreasing demand and causing supply chain disruptions. "The COVID-19 pandemic has had an unprecedented impact on equipment manufacturers and the 2.8 million men and women of our industry," said Dennis Slater, President of AEM, in the press release announcing the survey results. "Even before the current crisis, equipment manufacturers were facing challenging times as a result of the protracted trade war with China, the mounting infrastructure crisis, and a decline in commodity prices. The COVID-19 pandemic has managed to turn an already dire situation worse."
Volvo Construction Equipment (Volvo CE) reports sales dipped 17% during the first quarter, and order intake fell 7%. The company says demand in China, the world's largest construction equipment market, did increase toward the end of the quarter, but wasn't enough to impact sales for the first quarter.
In its first quarter results press release, Volvo CE says the major global construction equipment markets of Europe and North America were both down in the first quarter, declining 1% and 2% respectively in the first 2 months of the year. In Asia (not including China) demand was down by 4% compared to the same period last year. The impact of COVID-19 was more pronounced in China, which fell 44% during the period, due to market disruption. China did see a rebound in March, with demand up 2% compared to the same month in 2019, thanks to government stimulus measures aimed at boosting infrastructure development.
"The measures to stop the spread of the COVID-19 pandemic began affecting our operations in China in February, and had a severe impact in mid-March, when our global supply chain was disrupted and production halted in most parts of our operations," comments Volvo CE's President Melker Jernberg. "It is clear that we are now entering a tough period, with both production stops and low demand having a negative impact on our profitability. That said, we take confidence in the fact that our customers are active in businesses that are important to society, and that our products and services are vital in building sustainable infrastructure for the future."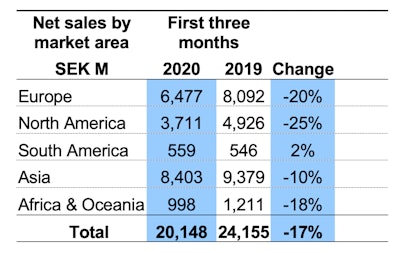 These sentiments were reiterated by Martin Lundstedt, President and CEO of the Volvo Group. "Our global supply chain was disrupted and production halted in most parts of our operations. The reduced production and the lower demand impacted both the group's sales and profits negatively in Q1.
"Net sales decreased by 15% to SEK 91.4 billion. Our adjusted operating income amounted to SEK 7.1 billion (12.7) with a margin of 7.8% (11.8). Cash flow was negative of SEK 4.1 billion with the normal seasonal effect from higher working capital. We maintain a strong financial position with net cash of SEK 57.8 billion in the Industrial Operations, pension and lease liabilities excluded," he says.
Caterpillar Inc. announces its first-quarter 2020 sales and revenues decreased 21% compared to the first quarter of 2019. In its press release announcing its first-quarter results, the company says the decline was due to lower sales volume driven by lower end user demand and the impact from changes in dealer inventories.
Caterpillar says it expects 2020 financial results for the remainder of the year to be impacted by global uncertainty due to COVID-19. As such, it has withdrawn its earnings guidance and for the moment will not be providing a financial outlook for 2020.
The company notes it has implemented various safeguards at its facilities to protect the health of employees. It has temporarily suspended some operations due to supply chain disruptions, weaker demand and/or government regulations. But as of mid-April 2020, Caterpillar says about 75% of its primary production facilities globally and across its three primary segments continue to operate. Some facilities which were temporarily closed have also begun to reopen.
Manitou Group reports first quarter revenues declined 25% compared to the previous year. "First quarter business was suddenly interrupted by the globalization of the COVID-19 crisis, which massively affected the construction sector and, to a lesser extent, the industry. Agricultural demands and service activities remain less impacted due to the greater resilience of these sectors. The year will certainly be very difficult, but I am convinced that the women and men of Manitou will enable the group, thanks to their commitment and responsiveness, to overcome this crisis," says Michel Denis, President & CEO of Manitou Group in the company's press release announcing its first quarter results.
Manitou says the Material Handling & Access (MHA) Division recorded a 29% decrease (also -29% at constant exchange rates) compared with Q1 2019. The division's business declined sharply during the quarter due to a combined effect of rental companies waiting to make equipment purchases and the COVID-19 crisis.
The Compact Equipment Products (CEP) Division posted sales revenues of €64m, a decrease of 24% (-26% at constant exchange rates) compared with Q1 2019. The beginning of the current fiscal year showed an acceleration in demand, particularly from American rental companies, before this dynamic was stopped by the COVID-19 crisis. The Services & Solutions (S&S) Division recorded an 8% decrease in its revenue (-11% at constant exchange rates) compared with Q1 2019 at €74m. The division was able to maintain reduced activity throughout the containment period, enabling it to limit the impact of the COVID-19 crisis.
Like many other companies, Manitou had to temporarily close many of its facilities, including those in France, Italy and India. In its press release, Manitou says it was able to gradually reopen sites in France and Italy in mid-April after securing their health and safety. The implementation of new measures and the restarting of the supply chain should impact industrial performance for many months to come, the company also notes.
John Deere announced its first quarter results in February as its quarter ended on Feb. 2, 2020. The company says worldwide net sales and revenues decreased 4%. "John Deere's first-quarter performance reflected early signs of stabilization in the U.S. farm sector," says John C. May, Chief Executive Officer in the company's press release announcing its first-quarter results. "Farmer confidence, though still subdued, has improved due in part to hopes for a relaxation of trade tensions and higher agricultural exports. At the same time, activity in the construction sector has slowed leading to lower sales and profit for our Construction & Forestry division. Also impacting results in Deere's construction equipment business were our actions to reduce factory production and lower inventories in response to current market conditions. Additionally, the quarter included costs of a voluntary employee-separation program, which is among the steps Deere is taking to improve flexibility and efficiency."
At the time its first-quarter results were released, COVID-19 had not yet started to make an impact on the markets John Deere's divisions serve. However, the company was anticipating at that time declines of 5-10% in its Agriculture & Turf division and 10-15% in its Construction & Forestry business for 2020.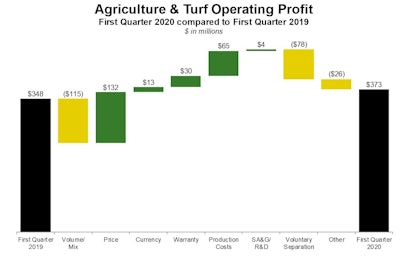 Recent data from the Italian agricultural equipment association FederUnacoma indicates sharp declines for tractors occurred in March 2020. Sales for all equipment segments fell:
tractors -34.4%
combine harvesters -12.5%
tractors with load platform -21.1%
trailers -39.3% and
agricultural telehandlers -10.5%.
For the first quarter overall, tractor and trailer registrations were down but tractors with a loading platform and telehandlers recorded increases.
FederUnacoma says even when manufacturing facilities reopen, production levels will be reduced due to safety measures that will likely be enacted and reduced spending by customers who have also been negatively impacted by the pandemic.
The Association of Equipment Manufacturers (AEM) reports unit sales of agricultural tractors and self-propelled combines fell across the board in the U.S. and Canada during March 2020. "Although the March numbers were likely impacted by COVID-19, it is too soon to tell the long-term impact of the current crisis on ag equipment sales," says Curt Blades, Senior Vice President of Ag Services at the Association of Equipment Manufacturers.
In its January-March 2020 interim report, Husqvarna Group says net sales decreased 4%. "After a good start to the quarter, the financial performance of the group was negatively impacted by the rapid spread of the COVID-19 disease. The negative impacts initially related to supply chain disturbances but towards the end of the quarter the lockdown measures in many of our main markets had an increasing impact on our sales. In total our net sales decreased by 4% adjusted for currency effects and the exited Consumer Brands business. The decline was particularly visible in the Husqvarna and Construction Divisions whereas the Gardena Division had an adjusted net sales increase of 5%. Operating income in the first quarter amounted to SEK 1,424m (1,644), corresponding to a margin of 11.7% (12.0). Lower net sales and manufacturing volumes contributed negatively but was partly compensated by cost saving activities. I was very pleased that our focused actions to address working capital has resulted in a SEK 1.7bn improvement in our direct operating cash flow to SEK -132m versus SEK -1,807m last year," says Henric Andersson, President & CEO.
The company says it is closely monitoring the COVID-19 situation; it is taking every safety precaution and currently all global manufacturing and warehouse sites are in operation although at lower volumes. "Actions are already in place to enable them to quickly ramp-up as the demand situation improves. In addition, our sites are also supporting society in general with production of parts for medical equipment in Europe and in the U.S.," adds Andersson.
Read more: SDLG Makes Safety a Top Priority Upon Reopening of Factory Following Coronavirus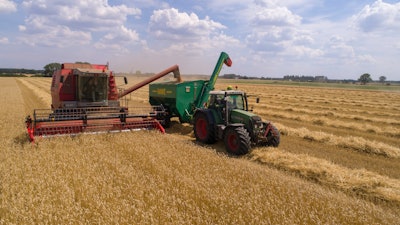 Component sales follow suit with lower volumes
Decreased demand for equipment has also impacted component manufacturers, with many reporting lower sales for the quarter due to reduced equipment and vehicle orders from OEM customers, as well as the impact of COVID-19. However, some manufacturers faired somewhat better during the quarter as many of them still need to supply parts for essential businesses, such as the trucking and agricultural industries.
Parker Hannifin, for instance, reported during the quarter—its third quarter for fiscal year 2020—a 1% sales increase for its North American Diversified Industrial Segment; the International portion of this business declined 8%. Orders overall for the company were down during the quarter with a 2% for the company as a whole.
Fiscal 2020 third quarter sales were $3.70 billion, compared with $3.69 billion in the prior year quarter. "The third quarter was a strong quarter for Parker during the early stages of this historic period of global disruption," says Chairman and Chief Executive Officer, Tom Williams, in the company's press release announcing its quarterly results. "Despite an organic sales decline of 7.4%, we delivered strong adjusted total segment operating margin, and adjusted EBITDA margin was 19.3%, an improvement of 60 basis points compared with the same quarter a year ago. Our year-to-date operating cash flow was a third quarter record at $1.3 billion and we improved the balance sheet through repayments of debt that totaled $611 million during the quarter.
"Our global team has worked hard to minimize the exposure and spread of the coronavirus in all workplaces around the world...and support our customers across critical industries where Parker technologies are helping with the front-line effort to manage through the pandemic. Parker products are being used in countless applications to combat the spread and support the treatment of COVID-19....
"We expect that the months ahead will be much more challenging as April order trends have become more negative with the current global economy. As a result, we have been comprehensive in taking immediate cost reduction and cash preservation actions that include global salary reductions and reduced work schedules..." concludes Williams.
Bossard Group—a manufacturer of fastener technologies—said in its first quarter report the company was able to hold its own despite the market challenges presented by COVID-19. Net sales fell by 5.7%, although the drop was largely the result of the stronger Swiss franc. In local currency, the decline was less pronounced at 1.8%. In particular, business in Europe stayed the course with only a slight drop in sales of 0.2% in local currency, maintaining virtually the same level as last year. In Asia, where the impact of the COVID-19 pandemic was most evident in the first quarter, the company says it is seeing the first signs of market normalization, primarily in China.
Bossard says it is currently taking a number of actions to maintain operational performance and ensure liquidity. Among other things, short-time work was introduced in Switzerland. As part of this measure, the affected employees will see a maximum reduction in pay of 4%. To set a sign, the board of directors, the executive committee and the management have committed themselves to a 4% salary reduction.
In America, Bossard reports it was already facing considerable headwinds in the second half of 2019. In 2020, sales in the first 3 months dropped 7.1% (4.3% in local currency) compared to last year. Still, sales rose by 5.5% over the last quarter of 2019. Meanwhile, authorities in this market region have also begun to institute stricter policies to combat the COVID-19 pandemic. These measures are increasingly affecting Bossard's customers and the company says it will likely face challenging weeks in this market region in the second quarter and possibly beyond.
The company says it expects the second quarter to be difficult in all regions as it is not likely there will be a quick recovery from COVID-19.
Cummins Inc. reports its first quarter revenues decreased 17% from the same quarter in 2019. This was due to lower truck production in North America and weaker demand in global construction, mining, and power generation markets. Currency negatively impacted revenues by 1%, as well, primarily due to a stronger U.S. dollar. The company says sales in North America declined by 16% while international revenues decreased 17% led by declines in Europe, Asia Pacific, Latin America, India, and China.
For its specific divisions, Cummins reports the following results:
Engine Segment - Sales down 19%; On-highway revenues decreased 17% and off-highway revenues decreased 23%, primarily due to decreased global demand in truck and construction markets.
Components Segment - Sales down 19%; Revenues in North America decreased by 24% and international sales declined by 12%, both due to weaker global truck demand.
Power Systems Segment - Sales down 18%; Power generation revenues decreased by 8% while industrial revenues decreased 30%.
New Power Segment - Sales of $10 million; Costs associated with development of new products and current low adoption rates of new technology are contributing to EBITDA losses.
Like many other manufacturers, Cummins says it is not providing financial guidance for 2020 due to the uncertainty COVID-19 has brought about for the global markets. It expects a significant impact to its second quarter results due to disruptions across customer and supplier operations and lower end market demand. For now, the company is planning for weak demand levels to persist for some time.
Read more: Purdue University Examines How COVID-19 will Change Manufacturing
Dana Inc. reports sales for the first quarter of 2020 totaled $1.93 billion, compared with $2.16 billion in the same period of 2019. The decrease is primarily attributable to weaker demand in the heavy-vehicle markets in January and February of 2020 and the rapid reduction in production across all mobility markets in March as a result of the global response to the COVID-19 pandemic. These declines were partially offset by the conversion of sales backlog and the benefit of recent acquisitions.
"The response to the global pandemic is presenting unprecedented challenges for Dana as well as our people, customers, suppliers, and communities," says James Kamsickas, Dana chairman and CEO, in the company's first-quarter results press release. "The rapid onset of containment measures and disruption to production schedules has challenged our organization like never before. However, I am very proud of how our people have responded and the decisive actions we have taken to protect our employees, communities, customers, and future. As we work toward bringing our operations back online, we will continue to take appropriate measures to ensure the safety of our people while also serving the needs of our customers."
Meritor Inc. announces its sales for the quarter—which is the company's second quarter for fiscal year 2020—fell approximately 25% from the same period last year. The company says in its press release the decrease in sales was driven by lower global production volumes, including changes in customer demand and the impact of government mandates as a result of COVID-19, partially offset by sales from the AxleTech business, which was acquired in the fourth quarter of fiscal year 2019.
Sales for its Commercial Truck segment were down 33% during the quarter while the Aftermarket, Industrial and Trailer segment was down 3%. Lower market volumes for most regions in these segments, including changes in customer demand and the impact of COVID-19 were the cause of declines in both segments.
The company says the majority of its global commercial truck operations in North America and Europe are running limited production at the moment and its facilities in China are fully operational. Facilities in India and South America are expected to restart production in early May.
Meritor's Aftermarket business remained fully operational to support replacement parts for the truck and trail market. Its Industrial businesses have also remained operational at varying levels, the company says, to help support production of vehicles considered to be essential such as defense, bus and coach, and off-highway applications.
The company has begun to execute a Safe Start plan to reopen facilities as well as test labs, distribution centers and administration; it anticipates the enhanced safety guidelines being put in place will be used for the foreseeable future. Due to current market uncertainties, Meritor says it is only providing an outlook for the third quarter of its fiscal year which is the anticipation of revenue to be in the range of $400-500 million.
International mobility supplier DENSO ended its 2019 fiscal year on March 31, 2020. For the year the company reports a 3.9% decrease in consolidated revenue. "Revenue decreased due to a decline in vehicle production and the impact of the COVID-19 outbreak. Operating profit decreased due to factors such as quality cost provisions, as well as effects from the COVID-19 pandemic," says Koji Arima, President and CEO of DENSO Corporation, in the company's financial results press release.
Regional impacts for the company:
In Japan, despite a production volume increase, currency exchange loss led to a decrease in revenue of 0.1% from the previous year.
The North American market slowdown lead to a 3% revenue decrease.
Revenue in Europe declined 10.6% from the previous year.
Asia fell 9.7% and other areas, mainly South America

—specifically Brazil and Argentina

—saw a 16.5% decrease in revenue.
The Timken Co. reports first-quarter 2020 sales were down 5.7% from the same period in 2019. According to the company, the decline in sales was due to lower demand in most end markets and unfavorable currency which was partially offset by the favorable impact of acquisitions and positive pricing.
"First quarter revenue and profitability improved meaningfully from the fourth quarter of 2019 as we expected, despite the impact from the COVID-19 pandemic," says Richard G. Kyle, Timken President and Chief Executive Officer in the company's press release of its financial results. "The Timken team responded quickly to the pandemic, prioritizing the health and safety of our global associates and stakeholders. We have also taken significant short-term cost-reduction actions across the enterprise to mitigate the impact of COVID-19 on our second-quarter performance. We are confident in our ability to successfully manage through the challenges that lie ahead."
Timken says sales for its Mobile Industries segment decreased 6.7% compared with the same period a year ago. The decline was driven primarily by lower shipments in the off-highway, automotive and heavy truck sectors, along with unfavorable currency, partially offset by the benefit of acquisitions and growth in the aerospace sector.
While the company has withdrawn its financial guidance for the year, it plans for revenue to decline significantly in the second quarter of 2020 compared to the year-ago period, with markets anticipated to improve from second-quarter levels over the remainder of the year. The company expects to generate strong free cash flow in 2020. Timken plans to reinstate full-year financial guidance at the earliest reasonable opportunity.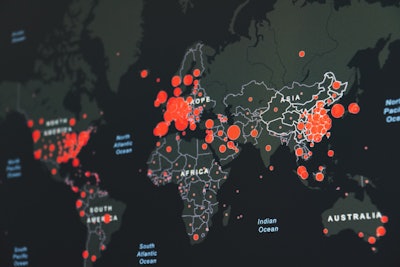 Truck orders start year lower, and continue to fall
While a market correction was anticipated for the North American heavy-duty truck market in 2020 after strong orders the prior year, the impact of COVID-19 is starting to present itself. In March, Class 8 plummeted to their lowest numbers since 2010. March orders were down 45-48% month-over-month (m/m) and 51-52% year-over-year (y/y). According to FTR, a significant number of fleets canceled orders previously placed due to the sharp and sudden downturn in economic conditions.
The uncertainty of the crisis is also limiting order intake in the short term.
Read more: ACT Research Says Full Impact of COVID-19 Not Visible in Commercial Vehicle Data
ACT Research's recently released Transportation Digest says the pervasive negative impact of the COVID-19 pandemic has forced a major downward shift on the organization's views of the heavy-duty market for 2020. "While we believe activity will reach bottom sometime in the second half of 2020 and be followed by recovery, that view is tentative and tenuous, as any scenario is dependent on the trajectory of the disease," said Kenny Vieth, ACT's President and Senior Analyst in a recent press release. He added, "The timing and slope of a recovery process is highly uncertain and while services took the hardest initial hits in early March, the shutdowns have spread into freight-intensive goods-producing sectors, like energy, manufacturing, and construction."
Vieth continued, "Low-margin necessities crowded out higher margin items during the pantry-stocking phenomenon we saw in March, supporting transportation volumes and freight rates during that logistics scramble to fill channels, but that was last month." He further explained, "ACT believes rising unemployment, falling profits and incomes, and COVID-triggered risk-aversion will determine consumer and business behavior. If so, we are on the threshold of a steep fall that will mark the second quarter as the worst for the North American economy since the Great Depression of the 1930s."
Vieth is, however, cautiously optimistic, noting, "While a sharp decline can be followed by a sharp rise thanks to pent-up demand, it is also important to note that reviving shuttered production and recalling the labor force will require unprecedented steps to ensure safety."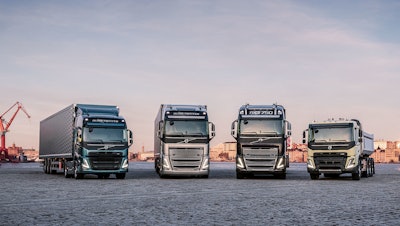 IHS Markit's latest report forecasts global commercial vehicle production (GVW 4-8) volumes in 2020 will be down 22% (more than 650,000 units) to 2.6 million units compared to 2019 due to the impact of COVID-19. According to the report, while shutdowns in China early in the year resulted in more than 80,000 units of lost production among truck manufacturers mainland China has started vehicle production again. March output appears to have recovered a portion of this volume, says IHS Markit.
For the North American market, IHS Markit forecasts a production decline of more than 30% in Class 4-8, or about 198,000 units from previous forecasts, as the economic slump combines with rapidly ebbing replacement pressure to undermine new orders. The report goes on to say Europe had nearly 50,000 units of lost production in March and April, as of this writing, due to stringent plant closures, workplace controls across the region, supply chain challenges, and stay-at-home orders. For the year, IHS Markit forecasts a decline in European production of 14% from the prior year.
In its most recent data on commercial vehicle registrations in the EU, ACEA (the European Automobile Manufacturers Association) says there was a massive decline in March. Demand fell by 47.3% across the EU; total first quarter registrations fell 23.2%. The four major markets, Spain (-31.7%), France (-26.9%), Italy (-26.6%) and Germany (-14.4%), all faced double-digit losses so far in 2020.
Daimler AG has reports the group's total unit sales decreased by 17% due in large part to the global COVID-19 pandemic. Revenue fell just 6% during the quarter. Ola Källenius, Chairman of the Board of Management of Daimler AG and Mercedes-Benz AG, says in the company's announcement of its quarterly results, "The COVID-19 pandemic has substantial effects on the global economy - and our company. We took the proactive decision to stop production in March, and moved very quickly into cash preservation and cost management mode. As a consequence, Daimler ended the first quarter with a positive result and a robust liquidity. Now we have started with a gradual ramp-up of our production. At the same time, we are continuing to invest in key technologies, including electrification and digitalization. They are non-negotiable elements of our future."
The Daimler Trucks & Buses division showed a decrease in unit sales of 20% to 97,600 vehicles in the first quarter (Q1 2019: 121,400). Sales by Daimler Trucks fell by 20% to 92,500 vehicles in the first quarter (Q1 2019: 115,900). Daimler Buses sold 5,100 vehicles (Q1 2019: 5,500) – a decrease of 8%.
As things currently stand, Daimler says a significant decline in global economic output should be anticipated for 2020 as a whole. And with the continued uncertainty of the pandemic and its effects, the company says its original forecast for the year is no longer valid. It expects 2020 unit sales to be below those of the previous year.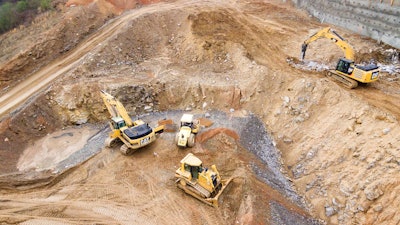 Overall, the heavy equipment and vehicle industries were hit hard during the first 3 months of 2020. The second quarter is expected to be much of the same. Although more manufacturing operations are anticipated to start reopening or somewhat increasing production, demand will likely remain low with various markets and regions of the world gradually working toward returning toward some semblance of normalcy.
Many end customers also don't have the capital to invest in new equipment which will likely keep demand lower. Manufacturers who responded to AEM's recent survey note an infrastructure bill from the U.S. Congress would help equipment manufacturers—and thus component manufacturers who supply parts to them—as well as the economy through this difficult time. Similar economic stimulus efforts around the world and in other industries could also be beneficial.
For now, it will continue to be a game of 'wait and see what happens' for much of the industry as the world figures out how to best manage and eventually overcome the current global health crisis.
Companies in this article