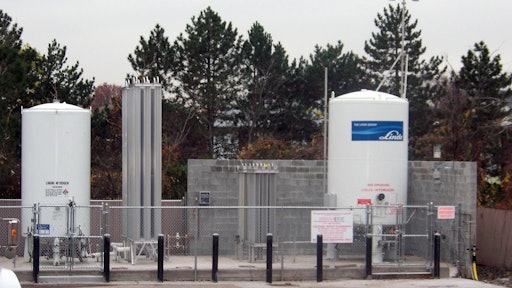 Polymer Technologies Inc. (PTI), a custom plastic and metal injection molding company that has been providing advanced injection molding services to global leaders in the Aerospace, Healthcare, Commercial and Military industries for over 20 years, recently completed a significant equipment upgrade to expand its metal injection molding capabilities by installing a Linde-hydrogen and AGL-nitrogen tank farm on company grounds.
Hydrogen and Nitrogen gas are used during the sintering of injection-molded metals. Product quality is enhanced by tank farms providing a cleaner gas supply versus bottled gas. In addition, an on-site tank farm allows the team at PTI to support uninterrupted sintering runs while avoiding frequent gas deliveries and bottle switchovers. The assurance of an interrupted gas supply was key in PTI's recent decision to hire weekend staff to run the sintering furnaces around the clock.
"We are very proud to announce this equipment upgrade," said Neal Goldenberg, President of Polymer Technologies, Inc. "We believe it is a critical investment that will allow us to continue to provide our customers with the high-quality products and services they deserve. As always, we remain committed to offering the very best in injection molding."
PTI joins the top 20% of toll sinterers - industry wide- by adding this capability.
More information on PTI and Metal Injection Molding is available at the company website, www.polymertechnologies.com.