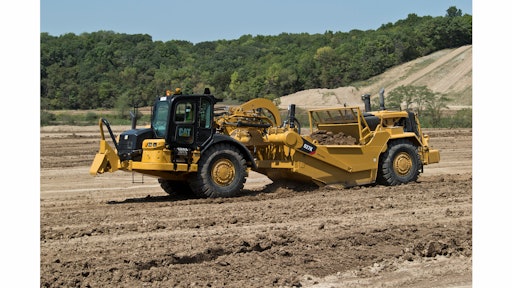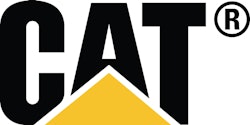 The new Cat 620 K Series Wheel Tractor-Scrapers—621K, 623K, and 627K—refine the design of their H Series predecessors, which introduced industry leading features such as Sequence Assist and Load Assist that automate cycle functions for optimum production and operator convenience. K Series models build on the productive qualities of the H Series with new customer-requested features, including high pressure steering, engine over-speed protection, tire spin reduction, differential lock engagement protection, machine/ground-speed control and payload estimator. Payload capacity of the open-bowl 621K and open-bowl, twin-engine 627K is 28.8 tons (26.2 mt), and 27.6 tons (25.1 mt) for the elevating 627K.
The new models incorporate a number of additional enhancements: Advanced Cushion Hitch uses new software to dampen end-of-stroke movement of the load cylinder for a smoother ride; hydraulic-system refinement simplifies the bowl quick-drop function; draft arm overflow guards divert material away from bowl sides; Auto-Stall assists in quickly bringing the transmission to operating temperature for faster transitions from torque-convertor drive; cab interiors feature a redesigned dash as well as visibility and operator comfort enhancements; maintenance improvements include an easier-to-service filter bank; and the Fuel Economy Mode for the 627K adjusts shift points and power distribution for optimum fuel economy.
Engine Over-Speed Protection: If machine sensors anticipate an engine over-speed condition, the compression brake or service brakes automatically apply at an appropriate level to keep engine speed within the target range.
Tire Spin Reduction: This selectable control automatically adjusts engine speed to reduce the potential for wheel slip.
Differential Lock Engagement Protection: This standard new feature is designed to prevent the operator from engaging the differential lock when operating situations are inappropriate.
High Pressure Steering: The 620 K Series steering system operates at a higher hydraulic-relief setting to reduce steering effort, minimizing operator fatigue and boosting production.
Machine Speed Limiter: This feature, which can be set through the dash display or via the Cat Electronic Technician, allows top travel speed to be restricted. Once set, the machine will automatically select the transmission gear most suited for the selected speed, resulting in lower engine-load factors and reduced fuel burn.
Ground Speed Control: Ground Speed Control is intended for use when reduced top speed is required for shorter segments or time periods. The operator can set the desired top speed, and the machine will select the optimum gear for operation of the engine and transmission.
Payload Estimator: Cat Connect makes smart use of technology and services to help improve jobsite efficiency. PAYLOAD technologies, such as Payload Estimator, help managers measure loads to accurately track material movement and maximize productivity. Payload Estimator is designed to calculate payload in English or metric equivalents, to an estimated accuracy of 95%, by measuring pressures at the bowl-lift cylinders at the start of the haul segment. Payload Estimator works optimally in conjunction with the Sequence Assist feature.