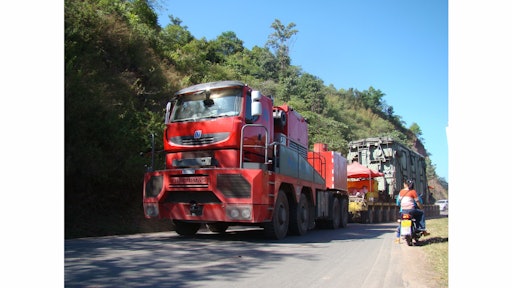 The TII Group is showcasing its wares at bauma China in Shanghai from November25 to 28 (N1.730). Major interest is expected especially in SCHEUERLE's SPMT range. The TII Group is the undisputed global market leader in this sector and regularly causes a stir with its new models and innovations. China's booming economy profits from this solid market presence thanks to the global availability of vehicles, the possibility of cross hire rental and outstanding global service around the clock. Seventy percent of all transports over 3,000 tonnes in the world are transported on TII Group SPMT vehicles; this figure is as high as 90% for transports over 5,000 tonnes.
Investment in China of several hundred billion in infrastructure projects, in plant engineering, in the oil and gas industry or wind energy will ensure that the need for pulled and self-propelled heavy-duty transporters continues to grow. The demand for intelligent technical solutions in the field of self-propelled modular transporters (SPMT and SPE combinations) is on the rise, as requirements and dimensions are continually increasing.
As a leading global supplier of SPMTs, the TII Group is bringing a wealth of innovations to bauma China. These include models with an axle load of 60 tonnes (SPMT ES), "Sprinters" with increased speed (SPMT F), Widening and Split-Type models (SPMT SL with various accessories for widening using spacers, scissor or telescopic mechanism), an Arctic Package, which enables operations down to -40 C with no loss in performance (SPMT AC), and new Lifting Jacks to make maintenance easier on the SPMTs. Despite the availability of the SPMT ES with an axle load of 60 tonnes, the SPMT with an axle load of 48 tonnes will remain the most popular model in the future. This is down to maximum ground pressure restrictions around the world, which limit use of the SPMT with 60-tonne axle load to selected sites.
Thanks to its broad product range, the TII Group is able to offer an array of specialized transport solutions for various fields in addition to its SPMTs. Vehicles from the TII Group are hard at work all over the world in road haulage, the steel industry, tunnel construction, wind turbine transport and aerospace. For years, visitors to bauma China have used the presence of the TII Group as an opportunity to find out about innovations and to get advice on the diverse transport solutions on offer from the group. The TII Group is expecting particular interest in the PowerBooster models, the broad selection of road vehicles and Tractomas, the strongest truck tractor in the world, which is already being used successfully in China.