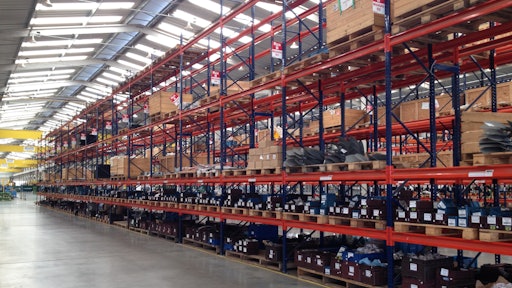 Manitowoc is moving its Crane Care parts warehouse in Brazil from Barueri, a suburb of São Paulo, to its factory in Passo Fundo, which is located in the southern part of the country. The goal is to increase parts availability in the region by consolidating and expanding stock capabilities.
The Manitowoc offices in Barueri will also relocate to a high-rise commercial building near the current location. The changes were announced to dealers and customers in the region earlier this year.
By reorganizing its parts stock, Manitowoc aims to expand its footprint and elevate the quality of services in the region, as well as take advantage of the resources in Passo Fundo.
"We have great logistical and supplies systems already in place at the factory that we can leverage to streamline our parts and service support across the region," says Marcelo Medeiros, Manitowoc Crane Care's Customer Support Director. "This change reallocates Manitowoc resources to better serve our customers in the region."
The parts stock at Passo Fundo will store tens of thousands of items, immensely adding to the plant's current supply. A new warehouse was built for the parts stock with a vertical design that will ease access and reduce costs.
Crane Care training is also being revamped at the Passo Fundo facility to make best use of the new system.
"Our training area with simulators is now fully integrated with the factory. This allows for more effective hands-on training," explains Medeiros. "The proximity to our products and processes substantially adds to trainees' learning experience."
Similarly, Passo Fundo's EnCORE facilities will see more benefit from the plant's renewed infrastructure. Repair and refurbishment services will see quicker turnaround times thanks to the increased parts availability.
Becoming the hub
Nearly three years since the opening of the Passo Fundo factory, Manitowoc has established an array of logistics partners in the region. The time spent refining processes and gaining experience is making the plant central to South America's lifting industry.
"As we expand operations in Passo Fundo, the plant is quickly becoming a hub for crane products and services in the region," says Leandro Nilo de Moura, Manitowoc's Latin America Marketing Manager. "This regional headquarters warrants some of the fastest delivery times and availability for parts in the subcontinent—something no other manufacturer can rival."
According to Moura, Manitowoc customers in Latin America already know that Manitowoc Crane Care has unmatched parts inventory, training and refurbishment services.
"The integration of the parts and logistical systems further elevates the high standards of operation at Passo Fundo, and the new improvements and additions to our facilities will only strengthen our position in the region."