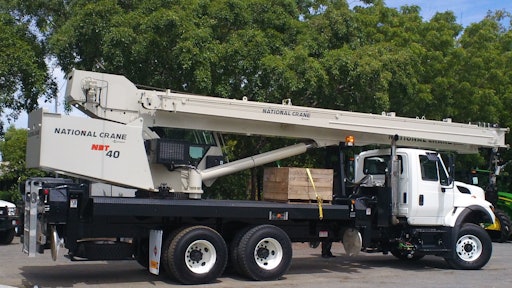 Central America can look forward to increased support for Manitowoc tower and truck-mounted cranes with the appointment of Nicaragua Machinery Company (NIMAC) as the newest authorized distributor of Potain and National Crane equipment and services in Nicaragua.
Pedro Jiménez, Manager of the Automotive Division at NIMAC, foresees a significant improvement in tower and truck-mounted crane availability and support options in Nicaragua as Manitowoc expands its presence in the region.
"Nicaragua is gearing up to accommodate much greater investments in infrastructure throughout the country over the next decade," he says. "Potain's and National Crane's leading product lines will help our country achieve its goals in several industries, such as energy and manufacturing."
Nicaragua has been in the news recently as work started in December on a 278 km (173 mi) waterway to connect the Atlantic and the Pacific oceans. The Nicaragua Grand Canal is projected to cost US $50 billion. The finished engineering marvel is projected to handle the largest cargo ships in operation today, some of which can reach up to 400 m (1,313 ft.) in length.
Alberto Camarillo, Manitowoc's Regional Business Manager for National Crane in Latin America, says the Nicaragua canal is attracting world attention to the region and it will make the country a strategic player in Central America. 
"With the new canal we expect Nicaragua to achieve a remarkable growth projection for many years to come," he says. "And Manitowoc will be part of this important infrastructure initiative."
The first Manitowoc crane offered in the country is the 36.3 t capacity National Crane NBT40 boom truck, followed by the 20.9 t capacity 800D and the 27.2 t NBT30H models that will arrive in May.
Founded in 1944, NIMAC is Nicaragua's leading distributor of construction equipment. The company offers rental and support services, such as parts, training and financing options for buyers in a diverse array of industries.