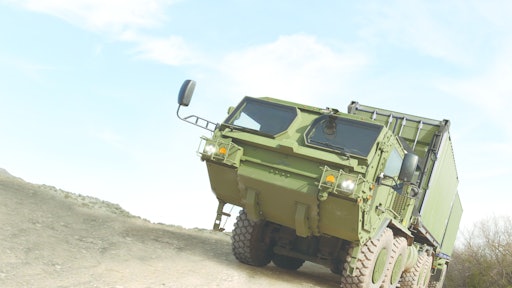 Oshkosh Defense LLC, an Oshkosh Corporation company, is debuting to the public its Medium Support Vehicle System (MSVS) Standard Military Pattern (SMP) offering at CANSEC 2015 May 27 to 28 at the EY Center in Ottawa, Ontario.
"Oshkosh is committed to serving the Canadian Department of National Defence with the most combat-proven, technologically advanced vehicles to support Canadian troops across a full range of missions," says John Lazar, Senior Director of International Programs for Oshkosh Defense. "We are confident that Oshkosh's unmatched vehicle performance and full life-cycle sustainment offerings for these critical modernization efforts will deliver exceptional value to the Canadian soldier."

Oshkosh is leveraging its growing network of more than 700 Canadian suppliers and strategic team members for its MSVS SMP offering. Through coordination with key partners, including DEW Engineering and Development, General Dynamics Land Systems-Canada and Link Suspensions of Canada-Raydan Division, Oshkosh is committed to returning 100% or more of its contract value back to the Canadian economy.
With a 70% off-road mission profile and a 98% mission reliability rate, the Oshkosh MSVS SMP vehicles and trailers are built to serve logistics missions from disaster recovery at home to major conflicts abroad. Using decades of global operational experience, the Oshkosh MSVS SMP integrates an industry-leading suspension system, a high-performance drivetrain and safety systems to provide the Canadian Armed Forces next-generation performance and capabilities. The MSVS SMP also features a state-of-the-art armor protection system (APS) to protect Canadian troops operating in extreme and threatening conditions.

Five years of In-Service Support (ISS) are included within the MSVS SMP contract. As Canadian troops become increasingly involved in defence and humanitarian missions across the globe, life cycle sustainment is critical to ensure mission readiness. Oshkosh's ISS offering leverages a team of highly trained in-theater service personnel and experience with major repair and overhaul programs to minimize MSVS SMP life cycle costs while maximizing reliability and readiness rates.

Oshkosh Vehicles and Services on Display at CANSEC

Oshkosh Defense is showing the following vehicles on static display in its outdoor booth, with its GIPS solutions demonstrated inside the exhibit hall.

MSVS SMP Cargo Variant – Oshkosh will display the Cargo variant of its MSVS SMP at CANSEC. The vehicle is based on the Oshkosh Heavy Expanded Mobility Tactical Truck (HEMTT) platform, a purpose-built, exceptionally reliable military vehicle that has been chosen by the United States Department of Defense and more than 20 allies worldwide for its consistent outperformance of commercial vehicle derivatives in competitive scenarios. The Oshkosh MSVS SMP family of vehicles includes a total of five variants – Cargo, Cargo with Material Handling Crane, Load Handling System (LHS), Cargo Mobile Repair Truck (MRT) and Gun Tractor.

Heavy Equipment Transporter (HET) A1 – The HET A1 is engineered to transport mission-critical equipment such as tanks, armored vehicles, recovery vehicles and construction equipment, even in the harshest terrain. The HET A1 sets the benchmark in performance and mobility for transport systems, dramatically reduces wear and tear on heavy equipment, cuts transportation costs and reduces team member fatigue.

Global Integrated Product Support (GIPS) Kiosk – Oshkosh will feature a technology kiosk at the indoor booth to demonstrate its global integrated product support (GIPS) offerings that comprise a comprehensive vehicle-service portfolio designed to optimize fleet readiness and life-cycle costs. Oshkosh GIPS solutions include training services, instruction manuals, maintenance and repairs, parts supply, and fleet restoration services.

Oshkosh leadership will be available to discuss our MSVS SMP solution and the company's broad portfolio of vehicles, technologies and services at indoor booth #1001 and outdoor booth #3025.