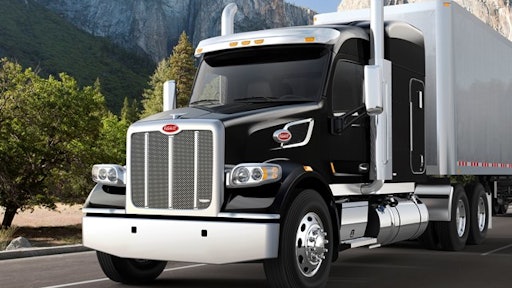 Peterbilt's new Model 567 Heritage salutes the company's beginnings by combining its most modern and technologically advanced work truck with distinctive styling and exclusive features inside and out, Peterbilt Motors Company recently announced.
"Peterbilt's Model 567 Heritage elevates the classic styling of Peterbilt with a package of unique features that will command attention on highways and jobsites," says Darrin Siver, Peterbilt General Manager and PACCAR Vice President. "The Model 567 Heritage appeals to owner-operators and premium carriers who want to reward their drivers and add distinction to their fleets. The Heritage delivers proven productivity, uptime and value with a look and feel that is like no other truck on the road."
Peterbilt's rich history began in the rugged Northwest logging industry, manufacturing trucks that took on the demanding work with new levels of performance, reliability and durability. Since those early years, the company has grown to produce innovative, industry-defining trucks for most every commercial vehicle market. The Model 567 Heritage pays tribute to Peterbilt's roots, Siver says, by delivering a robust workhorse with a head-turning, customized appearance.
The Model 567 Heritage is configured with a 121-in. BBC (front bumper to back of cab dimension) and set-forward front axle (SFFA) – the industry's most modern SFFA truck – to optimize payloads and weight distribution. It can be spec'd as a day cab or with a 72- or 80-in. sleeper.
Exterior features of the Model 567 Heritage include:
Bright bumper, grille bars, exhaust stacks, mirrors and sun visor;
Chromed air intake bezel and metal hood latches;
Polished rocker panels, quarter-fender closeout panels, fender brace and brackets, battery boxes and fuel tanks; and
Special Heritage badging, uniquely numbered and mounted to the grille and sleeper (when applicable) for the first production trucks.
Inside the cab, the Model 567 Heritage has exclusive features and branding that includes:
Platinum-level Heritage Brown interior with a black dash top and wood-finish trim;
Premium brown leather seats with accent stitching to complement the cab design and embroidered Heritage logo in the headrest; and
Door pads with brown wood trim.
For Model 567 Heritage trucks equipped with a sleeper, wood trim accents continue on the sleeper cabinets and storage compartments. The two-tone sleeper back wall is embroidered with the Heritage logo.
"The Model 567 Heritage takes a place among Peterbilt's most iconic trucks," Siver says. "Through unparalleled performance and distinctive design, it builds upon decades of groundbreaking models and furthers our proud tradition of providing trucks with industry-leading quality and value."
The Model 567 Heritage is available now for order through Peterbilt dealerships with production scheduled for September.