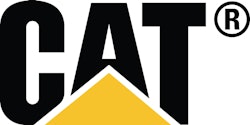 Caterpillar Inc. announces that it is working with Bechtel, Brick and Mortar Ventures and Bradley University to sponsor NASA's latest Centennial Challenge—the 3D-Printed Habitat Challenge. The competition is created to incent America's most talented to come up with innovative ways to design and print a habitat that could be used for deep space exploration, including the agency's journey to Mars, as well as have applications on Earth today.
For more than 90 years, Caterpillar has been building the world's infrastructure, and it plans to develop the world's infrastructure for the next 90 years—whether that's in a great city, a developing village or even beyond our planet.
"As technology evolves, so do our machines. The future of construction will look very different than it does today," says Justin Speichinger, Advanced Engineering Manager for the Caterpillar Excavation Division. "By expanding our horizons and engaging in progressive opportunities like the Centennial Challenge, we are better equipped to develop disruptive technologies to solve our customers' current challenges as well as prepare for our mutual long-term success."
"There's no better way to solve big problems and come up with the next breakthrough than by working together with our customers, such as Bechtel, a true innovator in construction; a forward-thinking, sector-specific venture capital firm such as Brick & Mortar Ventures; our hometown University, Bradley, that is focused on innovation; and of course, NASA," says Eric Reiners, Caterpillar Research Program Manager. "Caterpillar and NASA have collaborated for years, and we are proud to work with NASA on this next great challenge."
The competition is designed in three phases. The first phase, the design competition, was completed in September 2015. The second phase, which just opened, is the structural competition, which focuses on the technologies needed to manufacture structural components from readily available and recyclable materials. The third phase will be the actual building of habitats.
"Innovation in science, technology, engineering and mathematics drove the last 100 years and it will supercharge the next 100," says Bechtel Deputy Chief Innovation Officer David Wilson. "That applies to space exploration missions as well as the projects we build on Earth. We're honored to partner with NASA, Bradley, Caterpillar and Brick and Mortar Ventures in this competition, as we look forward to seeing the 3D printing community discover new solutions for all applications."
The competition will be open to teams from universities, corporations and ordinary citizens—anyone with an idea and the motivation to bring that idea to life. NASA will be offering $1.1 million in prize money in phase two of the competition.
"We are looking forward to seeing some creative solutions," says Darren Bechtel, Founder and Managing Director of Brick & Mortar Ventures. "Brick & Mortar Ventures believes that solution scarcity has contributed to the historic lack of productivity improvement in construction. By collaborating with NASA, Caterpillar and Bechtel, the Brick & Mortar team hopes to support the commercialization of technology developed for construction on the next frontier."
The public will have the chance to follow the competition through social media, and to attend the head-to-head competitions live. In fall 2017, teams will test their structural components and compete for the phase two award at the Caterpillar Edwards Demonstration Center. The entire competition will culminate with the third phase—the On-Site Habitat Competition—also held at Caterpillar's Edwards Demonstration Center in fall 2018. Teams will come together and demonstrate their ability to fabricate full-scale habitats in front of judges and the public.
"This is an exciting opportunity to bring the best ideas in technology to our students and the community," says Bradley University President Gary Roberts. "The challenge provides an unparalleled opportunity for students and faculty to network, create relationships with mentors and explore new ideas as they partner in creating solutions for our world and beyond."