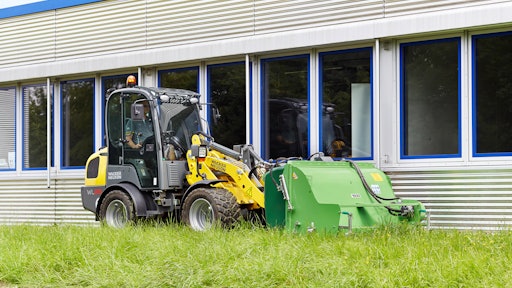 No matter if soil, sand or plants: Wheel loaders are irreplaceable as transportation helpers. With the new WL28 Wacker Neuson proves once again that the compact construction and high load capacity of the machine as well as a high degree of flexibility can be merged without problems.
Wheel loaders are used where a flexible and reliable machine for material transport is needed: in gardening and landscaping, in rental yards, the municipal area or for construction companies. In addition, the machines must be designed so that they can also handle the requirements of confined spaces. Exactly this is one of the strengths of the new wheel loader WL28 by Wacker Neuson. Thanks to its compact dimensions and low operating weight, which allow transport on a conventional car trailer, and a low headroom of less than 2.3 m, most buildings are no problem for it. Customers, who have opted for a cab with foldable driver canopy (EPS) in the configuration of the wheel loader, can even reduce the clearance even more.
Despite its compact size, the wheel loader is a real powerhouse: With a tipping load of 1.9 tonnes, transport goods - for example a pallet full of paving stones with up to eight layers of stone - can be easily transported. Additionally, the loading of construction trucks is no problem due to the overhead loading height of 2.33 m. The optimized parallel guidance and two large lift cylinders provide a powerful load arm.
An important aspect in the development of the new Wacker Neuson wheel loader was visibility. On construction sites, busy operation is commonplace, thus a free field of vision in the work area is essential. To ensure this, the height of the front carriage was kept deliberately low on the WL28. Subsequently, the operator has a great view of the attachments at any time, which significantly facilitates their operation and their replacement.
Another important aspect is the stability of the wheel loader. Thanks to a short wheel base and an articulated pendulum joint, the WL28 not only has a high stability but is also extremely versatile with an oscillating angle of 12 degrees. Tight turning radii are no problem thanks to an articulation angle of 44 degrees. A connectible 100% differential lock ensures that the wheel loader has maximum traction even on difficult surfaces. The result: high propulsive power with low ground impact and that exactly when the circumstances require it.
A modern wheel loader is more than a pure transport unit: Thanks to diverse hydraulic options, the loading machine turns into a real carrier. The new WL28 is well equipped for this as well: A performance hydraulic with up to 58.5 l/min enables the trouble-free operation of hydraulic attachments such as mowers, sweepers, concrete mixing blades or weed broom and thus increases the overall productivity of the vehicle.
A wide range of attachments not only expands the range of applications of the wheel loader, but also increase its efficiency.
One special feature of the Wacker Neuson wheel loader is the tilting cab, as this considerably facilitates service access to hydraulics, hoses and engine and thus ensures a fast and uncomplicated maintenance; this results in shorter downtimes.
With the new WL28 Wacker Neuson thus offers a machine on the market, which combines compactness, versatility, performance, and ease of service in one.