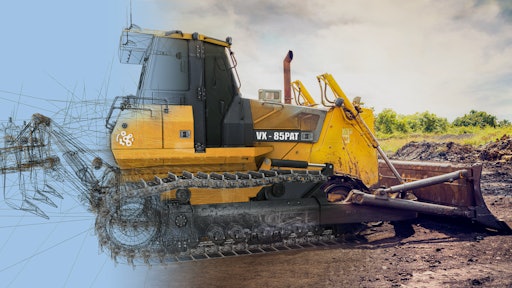 CM Labs Simulations Inc.
Developing smart machines has never been more challenging. The movement toward operator-assistance, autonomous mobility, and control has meant that off-highway equipment has become more sophisticated, a system-of-systems involving mechanical, electrical, fluid, and embedded systems. The way these systems—as a whole machine—act, interact and react to the environment is challenging to predict.
These breakthroughs in control technology have likewise set the tone for a significant shift in the workflow of design engineers. Simulation-enabled design and "digital twins" have moved from optional processes to workflow must-haves.
Further complicating matters is the human connection. With more advanced smart systems and autonomous or remote control, human machine interface (HMI) design is becoming more critical. New features, systems configurations, and operational information can quickly overload operators and therefore, testing with driver-in-the-loop is an essential practice today.
The days of a short period of computer-aided engineering (CAE) preceding the "true" process of physical testing feels anachronistic at best. The simulation and virtual prototyping of complete systems in an operational context are now essential to machine design workflow.
Simulation and digital engineering
As products, along with the processes and technologies to develop them, continue to advance, "simulation"—in several forms—has taken on an expanded and increasingly important role across the design workflow, from concept to deployment.
Therefore, it has become essential to evaluate and validate the reliability and efficiency offered by bleeding-edge features—both quickly and safely.
In particular, interactive virtual prototyping (through systems-level modeling and simulation) has emerged as a critical upstream enabler for those working with—and talking about integrating—the latest, cutting-edge technologies.
Virtual prototyping through worksite systems-level models
Despite the availability of robust mechanical engineering simulation applications, constructing and analyzing models of individual components is extremely disconnected work. For example, when working with complex off-highway mechanical systems such as an excavator or a crane, organizations need to employ specialized groups of simulation and engineering experts.
By moving beyond the component and using a worksite systems-level model to assess complete, representative products operating in their intended environments, engineers can account for those real unknowns of design—the interactions between systems.
Such a high-level evaluation also pairs well with finite element analysis (FEA), providing a base to those conducting component-level simulation, focusing their efforts and avoiding wasting time simulating events outside of the normal range of operation.
"Worksite systems-level modeling is not intended to replace finite element method (FEM)/FEA. It's a tool that allows you to test machine concepts and the behavior of control systems in an operational context," explains Dr. Arnold Free, Chief Innovation Officer, CM Labs. "Model-based systems engineering lets product development confidently proceed in a virtual environment while still allowing interaction with both the design and the human operator—gaining real operational feedback directly from the desktop."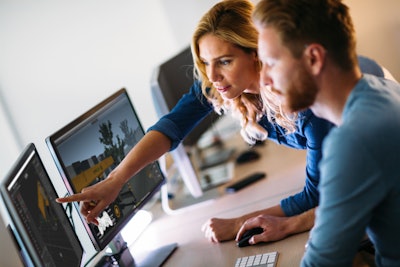 The virtual worksite
The benefits of simulation in the engineering workflow are clear and well established. However, much of this is realized only at the sub-system or component level.
The real test for the complete machine is when the first physical prototype comes together on the proving ground. Discovering system-level issues during physical testing is too late and particularly costly with today's rapidly evolving smart machines. OEMs risk being left behind by competitors that innovate faster.
New design concepts, machine usability and workability, HMI and control-systems testing can now be performed in the virtual world, long before the first prototype is fielded. A cost-effective validated virtual proving ground for smart machine systems testing is essential.
Many engineering companies have explored the use of game-industry technology to build immersive virtual environments. However, they have quickly run into the challenges of aligning with non-engineering workflows and lower simulation fidelity. Often, abandoned projects and wasted effort are the results.
Until recently, a fast, affordable, and robust software that allowed real-time professional engineering dynamics modelling combined with development and visualization of interactive virtual worksites wasn't readily available, leaving design engineers with limited options:
Risk unrecoverable time and costs overrun by entering into physical prototyping without a virtual worksite systems-level prototyping stage
Sacrifice the predictive capabilities of detailed and valid engineering models by utilizing simplistic "gaming" physics-engines
Deploy custom in-house solutions requiring constant tweaking and updates and disconnected workflow and scarce expert resources.
Because none of these options are particularly favorable, design projects are rooted in component level analysis, experience, and traditional methodology. Unfortunately, relying solely on previous design experience is not enough in the new realities of machine control.
The interactive design desktop
In this regard, a software suite like CM Labs' Vortex Studio is a game changer. CM Labs' simulation software for product development teams allows engineers to simulate and visualize equipment operation on the virtual worksite in real time.
Ranging from a single-screen system—like a desktop PC—to a large-scale, immersive simulator, this versatile tool supports product development from proof of concept and virtual prototyping studies, to human-in-the-loop (HIL) control systems testing and human-factors/ergonomics evaluation. The platform can even be used to build immersive simulators using virtual reality (VR) for product marketing and after-sales customer training applications.
"CM Labs is helping to revolutionize the worksite by connecting people, operations, and smart machine design through simulation," says Dr. Free. "It is fundamentally changing how smart machines are prototyped and allows OEMs to build a more predictable design innovation process."
What's different?
CM Labs offers a commercially available solution that combines engineering-grade simulation with advanced in-the-loop (driver/hardware/software) testing, and game-quality advanced immersive visuals—Vortex Studio.
The product development suite delivers the interactivity and visuals expected with game engines while still being tied to reality through validated physical solvers and familiar engineering workflows. This empowers teams to design, test, and refine their mechanical systems interactively on the desktop in close-to-life virtual worksites (or mine sites, farms, forests, battlegrounds, etc.)
Powered by the industry's most sophisticated physics-solvers, the software suite is a game changer for design engineers, setting the bar for high fidelity, real-time simulation of vehicles and ground interaction within the off-highway design industry.
Engineers can simulate machines in direct interaction with their operating environment. This includes the simulation of tires and tracks on soft soil, buckets and other implements digging and pushing soil as well as contact physics – it's a virtual sandbox.
For autonomous and smart machines, the software can simulate sensors and support machine-learning applications for perception and motion planning. This means that lessons are learned virtually at the R&D stage, rather than on a live machine.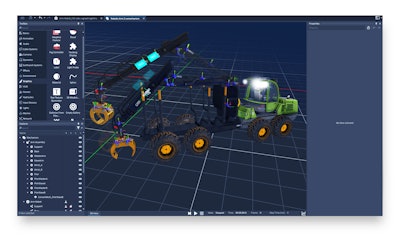 Case study
Based in Houston, TX, Oceaneering International, Inc. is a global player in engineered services and products for the offshore energy industry. While the name implies a marine specialty, Oceaneering prides itself for its ability to "solve the unsolvable" anywhere.
To reduce the physical risks of projects, while accelerating time to market and minimizing development resources and costs, Oceaneering's Digital Innovation Design Team opted to trial the use of Vortex Studio for a tool design project.
The first project saw immediate results.
"By following the Vortex Studio tutorials, our team was able to create an impressive 3D prototype of a new ROV grabber tool in less than two weeks," says Mark Stevens, Digital Innovation Operations Director at Oceaneering. "We now plan to train our new ROV pilots with simulations created in Vortex Studio."
Because Vortex Studio manages all the capabilities needed to support the simulation process from start to finish, Oceaneering doesn't have to integrate and maintain separate solutions at each point.
"We can take on more client projects and contribute to our corporate growth while preparing for the increasingly complex projects of the future."
The bottom line
Digital product development has come a long way in a relatively short period. A process that previously took months can now be accomplished on an engineer's desktop in a fraction of the time.
But products and processes are continually evolving and, to keep pace, critical engineering decisions must be made as early as possible, ideally in real-time, and based on detailed data. Virtual prototyping/proof of concept simulation allows organizations to fully leverage advanced tools, technologies, and processes to meet product, production, and safety targets while satisfying customer demands.
Today, OEMs must innovate faster, and design teams must engage at the system level as well as test on the virtual worksite with drivers and even bring customers in the loop. Vortex Studio combines mechanical vehicle dynamics, soil simulation, cable simulation, and advanced 3D graphics with the desktop tools engineers need to enhance off-highway vehicle designs and validate prototypes on the virtual worksite.
The ramifications of virtual prototyping/simulation reach deep into an organization, extending well beyond the product level directly to the balance sheet. "When effectively implemented, simulation improves—not only the product—but the company itself," says Dr. Free. "The ability to make informed, accurate engineering decisions from the outset gets products to market faster with outstanding quality, durability, and safety improvements. It has a direct impact on the customer experience and the brand itself."