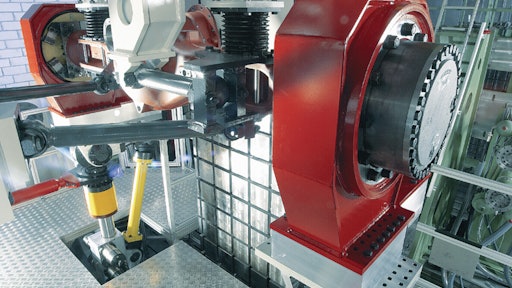 In view of short development times and worldwide pressure on costs, powerful testing systems and procedures have become indispensable. This applies for passenger cars and trucks as well as for agricultural machines. The activities of the Test Services division of ZF Passau GmbH, Passau, Germany, are geared to optimize and secure the functionality of components and systems within the ZF Group and as service provider for external customers.
The Test Services of ZF Passau GmbH bring the road into the lab with systems that simulate the required test conditions with a high level of realism, reproduction and operational efficiency. This decreases development time.
"Thanks to its sophisticated simulation and automation technology, ZF offers a solution for any test requirement," says Josef Thuringer, senior manager test services, ZF Passau. "Most procedures can be used for testing performance, lifetime, operational efficiency, safety and comfort of components and systems."
The range of ZF test services includes functional and component tests, structural, driveline, acoustic, circular course and vehicle measurements.
During functional testing ZF engineers are creating realistic, non-load operational conditions that provide valuable information on unit behavior patterns. Creating steady high temperatures as well as dissipated energy are the key focus of these investigations, with rotations of up to 10,000 rpm. During component testing, individual components are tested in terms of durability and functionality. The main emphasis lies on the testing of steering systems and sealing concepts in completed vehicle axles.
Structural testing is important as the operating behavior of the products is being tested. ZF offers dynamic and static structural tests. Hydropuls test fields, for example, provide information on the lifetime of test units and the required design. Computer-controlled real time fatigue tests and synthetic load spectra can be tested at these facilities. The modular design of the test facilities ensures a high level of flexibility.
Torque loading on axles and transmissions is tested during driveline testing. The control system is capable of simulating realistic conditions as fully automatic operations around the clock. The total system (vehicle, driver and road) can be combined on the test benches in a variety of ways.
Automatic sequences provide repeatable test conditions, ensuring test results can be compared to one another.
Acoustic testing at ZF involves the recording of airborne sound and structure-borne sound, in addition to impact measurements and complex analyses of rotation and operational vibration.
Driverless driving tests are carried out under realistic working conditions in ZF's circular course hall. Measurements create the data base for further testing.
"Reproducibility that is independent of weather conditions, and operating without drivers on the circular course, represent an attractive, cost efficient alternative to cruising tests on the road," says Thuringer. "Bump obstacle testing is in great demand on the circular course."
Structural parts such as the axle housing, steering knuckle, suspensions or steering system components are tested for load-bearing capacity and life expectancy.
The test object is pulled across obstacles of different geometries and arrangements, thereby achieving vertical impact loads. If a product has passed such a stress test, the everyday reliability of the components and the whole system can be assured.
As a service provider in product development, the ZF Test Services division can also work as a competent partner in terms of technical calculation and computer aided engineering (CAE) and product data management (PDM) service. ZF engineers draw on process oriented methods combined with flexibility.
"It is always our objective to reduce development costs, minimize costs and permanently improve quality," says Thuringer.


Companies in this article