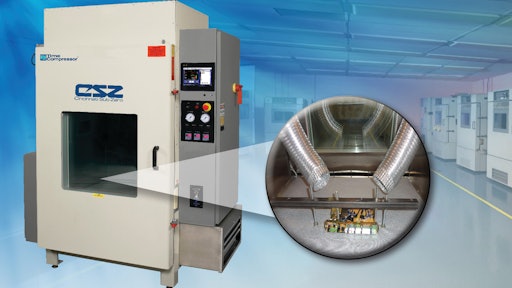 Third-party test facilities are a valuable resource for OEMs and component manufacturers who don't have internal capabilities to analyze, test and certify new designs and prototypes. As product development continues to progress at a rapid pace, due in part to industry initiatives such as the implementation of Tier 4 engines, test facilities have taken the opportunity to update the amount of services they offer. Doing this enables them to provide more testing capabilities so manufacturers can keep up with production while also ensuring they're designing a quality product.
Cold weather testing
Automotive Enviro Testing (AET) is a cold weather testing facility located in Baudette, MN, just three miles from the international border with Canada. While the company originally began as a test facility for the automotive industry, it has broadened its scope and now works with several OEMs in the off-highway industry. Larry Larson, President of AET, says the company's work with off-highway OEMs has picked up in recent years due to the development of Tier 3 and 4 engines.
AET has a 820 acre facility featuring 19 test tracks and three cold cells. Larson says the cold cells enable AET to provide cold weather testing year round. Currently its largest cold cell measures 78 feet long by 23 feet wide by 16.5 feet high. Each cell is capable of reaching -40 C. With the cold cells, a manufacturer can soak a vehicle or component, such as an engine, to a desired temperature and see how it performs. "One of our cold cells is right on our asphalt test track," says Larson. "Clients can do a cold launch from the cell onto a test surface for steering tests."
Because of its location, AET is able to begin outdoor cold weather testing as early as December 1, whether or not there is snow on the ground. "Normally a cold weather facility opens when it gets snow," says Larson. "We open on the first of December because we make our own snow and are assured the low temperatures to make it."
AET spends a lot of time compacting, plowing and grooming the snow on its tracks to guarantee repeatable tests, which is important to customers to ensure they get consistent and accurate test results, says Larson. "[We] do whatever is required to reestablish that track to a repeatable coefficient of friction." This can be difficult during the winter because temperatures tend to fluctuate throughout the day. Temperatures can swing 50 to 60 degrees between the daytime high and nighttime low. There is also the sun to contend with; surfaces absorb the sunlight, known as solar loading, causing a change in the surface temperature which can affect the test results. "There could be a day where it is below freezing, but it's sunny," says Larson, "and those courses are going to have a very different coefficient [of friction] than if it were dark outside."
To help customers get the repeatable tests they need during the winter, AET provides testing 24 hours a day, seven days a week, enabling tests to be performed on the tracks at night, which Larson says most customers prefer. "[There is] no sun loading those surfaces and changing the characteristics of the snow and ice."
AET is currently in the final stages of designing what Larson calls a super cell. Measuring over 112,000 square feet, the super cell will contain two cold cells and a motivation area where snow and ice will be made so vehicles can be tested on surfaces like those found in the winter time. "The building will be extremely sophisticated with a controlled environment and controlled surfaces," says Larson.
This will be an important addition to AET's facility because customers, especially those from the automotive industry, would like to have North American winter driving conditions available year round to test in. Many OEMs go to places like New Zealand and Greenland to test their vehicles during the summer months, which can get expensive and the winter conditions in these other areas are not always the same as those found in North America. Larson says that on any given day, a customer will be able to come to AET and do dry or wet asphalt testing, as well as sand, snow and gravel testing, all on the same day at the same location.
Environmental, shock and vibration testing
Cincinnati Sub-Zero (CSZ) Testing Services, Cincinnati, OH, offers environmental testing—temperature, humidity and pressure—as well as shock and vibration testing of components. Glenn Kruschinski, Test Lab Director at CSZ Testing Services, says the company tests a variety of components for various industries, including those used in the off-highway industry, such as radiators, heat exchangers and lights. Components can be pressurized, heated and cooled, as well as run through cycle tests to evaluate their performance characteristics. If a manufacturer wants to see how a fuel injection system's flow and connections will behave, Kruschinski says CSZ Testing Services can simulate a truck going down the highway by testing the system at a specific vibration level.
As part of its temperature and pressure testing, CSZ Testing Services provides altitude testing from 0 to 100,000 feet above sea level. Kruschinski says this testing is well suited for components which will be shipped via air because the test chamber is designed to simulate a plane ride and the varying temperatures and pressures associated with air travel.
In August of this year CSZ Testing Services acquired the capability to perform HALT and HASS testing (read more at oemoffhighway.com/10770004). Highly Accelerated Life Testing (HALT) is designed to test a component until it fails. A typical HALT test includes cold and hot temperature tests, which run from -100 to 200 C, followed by stepped vibration and combined temperature and vibration testing. The chamber allows six-axis random vibration, enabling manufacturers to put their components through high stress situations to determine if there are any design flaws. "The intent of a HALT test is to find the upper and lower destruct limits of a product," says Kruschinski.
A Highly Accelerated Stress Screening (HASS) test on the other hand, tests for the upper and lower operating limits of a component. "You're not trying to destroy the product," Kruschinski says. He equates the test to an accelerated aging of a product.
While HALT testing is usually done during the design phase of a component, and will completely destroy it, HASS testing is intended to ensure a production run of a component meets the quality requirements set out by the manufacturer. While CSZ Testing Services conducts most testing in house, the HALT and HASS chambers can be rented out, enabling manufacturers to conduct and monitor the testing at their own facilities.
According to Kruschinski, adding more capabilities to a testing facility as CSZ Testing Services has done by acquiring HALT and HASS testing enables it to better serve the market. "The industrial trend is to become a full service testing lab," says Kruschinski. Also, the ability to offer unique, customized testing capabilities is an additional driver for business development. CSZ Testing Services does this by working with customers from the beginning to the completion stages of a project in order to help customers meet their design requirements.
ROPS, FOPS and OPS testing
Designing, testing and manufacturing operator protection products, including cab enclosures, is Custom Products of Litchfield Inc.'s (Custom Products) specialty. The Litchfield, MN-based company works hard to ensure its OEM customers understand and comply with governmental and industry consensus operator protection standards. "We find that many of our customers [don't have] the expertise," says Randy Reinke, President and CEO of Custom Products. "We quickly get into a consultative role where we help them stay compliant in their industry, within our niche of operator protection."
While able to design and manufacture an operator protection device for OEMs, Custom Products also serves as a contract testing facility for OEMs who build their own cabs or roll over protection devices. The company makes its testing facility available to anyone within the off-highway industry that is looking to certify their roll over protection (ROPS), falling object protection (FOPS) or operator protection systems (OPS).
Over the past 40 years, Custom Products has tested off-highway vehicles ranging in weights from 1,000 pounds gross vehicle weight (GVW) up to 500,000 pounds. "Our approach is to work closely with the customer pre-test to make sure they understand the design and physical test implication of the industry consensus standard," says Jim Schmitt, Director of Engineering at Custom Products. "[We] review their design, not necessarily to tell them how to design, but to give them benchmark indications of what might potentially cause a problem or a failure." Doing this enables the company to anticipate how the protective structure will react during the test, and if necessary, have the manufacturer make adjustments to the design in order to improve the probability that the structure will pass the certification test. Schmitt says customers appreciate this approach, especially newcomers to the industry, because it increases the possibility of their success on the first certification attempt.
Physical testing, as opposed to virtual testing, is extremely important in the world of operator protection. Reinke says cab enclosure standards require physical, destructive testing, removing any possibility of performing virtual or simulated tests. However, he says finite element analysis (FEA) can be used early in the design process to generate a computer model that will predict how a structure might deflect under force. This is then verified with physical testing.
"The analysis, when properly administered, can be a reasonably good predictor, but it lacks in several respects," adds Schmitt. As an energy absorbing structure, a ROPS is intended to bend under certain force parameters without breaking or bending too far. Schmitt says given the various materials, fabrication techniques and manufacturing quality that an OEM might use to fabricate the structure, it can be difficult to assign values for these parameters in a predictive model, which is why physical testing is so important.
The type of testing Custom Products performs is dependent on the type of structure and in which industry the cab will be used. For FOPS testing, Schmitt says one method of testing is to drop a 100-lb. steel sphere from a height of 10 feet onto the top of the protective structure. This is intended to simulate a smaller object, such as a hand tool or brick falling onto the structure, as is common in a construction environment.
When a protective structure is being tested, the destructive loads applied to it are cumulative. "As you go from load to load, we're introducing more damage into the structure, says Schmitt. "With each phase of testing, we are not using a new structure; we are using a previously deformed structure."
Reinke says Custom Products has been seeing an increase in the amount of testing it provides over the past couple of years; in 2012 the company had a 50% increase in testing, and anticipates that number will continue to grow. Part of the reason for the growth is Custom Products' recent ISO 17025 accreditation, a standard that dictates the management and quality processes and controls used during various testing methodologies (read more at oemoffhighway.com/10770531). "That has increased our visibility and the demand for our contract testing," Reinke says.
He also notes the implementation of Tier 4 emissions regulations as a factor for the increase in business. As OEMs have developed new emissions control technologies, changes to other parts of the vehicle have been made, including cab enclosures, which requires new testing and certification. "We've observed over the decades that the propensity is that when markets are slow, it's perhaps the opportune time for an OEM to redesign and upgrade, to further differentiate themselves from their competitors," says Schmitt.
Performance, durability testing
GS Engineering Inc., Houghton, MI, provides design, analysis and prototyping services, as well as a range of performance and durability testing programs. Paved surfaces at the facility enable manufacturers to assess vehicle performance in dynamic events such as lane change and braking, while purpose-built off-road tracks such as bump courses and half rounds help to evaluate the ride and shock quality of vehicles and their components.
"If you look at what a vehicle can cover from a paved surface all the way through to an extreme rugged terrain, we support an array of performance testing across these surfaces," says Chris Coxon, Vice President of GS Engineering. "We also do a lot of endurance testing. As companies want to work on mileage accumulation or durability testing of their products, we support that type of work, as well."
Along with its various test courses, GS Engineering also has a tilt table for stability testing and offers virtual testing for vehicles and components. "Simulation [is] conducted in the early stages of a program to initially develop the vehicle and predict its performance through a variety of required maneuvers followed by actual testing of the vehicle through the same array of maneuvers," says Coxon.
Physical testing is still an important part of the design process, Coxon notes, especially for certification of a vehicle or component. However, the amount of physical testing has decreased slightly in the last few years, with virtual testing replacing it, at least in the early development stages of a project.
GS Engineering is able to provide its customers a lot of testing in a short amount of time due to the many testing efficiencies the company has developed over the years. Quick-look data analysis capabilities, for example, enable GS Engineering to provide customers with data immediately after each test run, which allows the customer to make on-the-fly adjustments to vehicle components, says Coxon. By seeing test results real-time, not only are customers able to make immediate adjustments to their vehicles but they can also use the information gained from the test to adjust future planned test runs.
Working with a variety of off-highway manufacturers, including military OEMs, has enabled GS Engineering to gain a wide range of expertise.
While there are many differences between industries, there are also similarities. Due to the need for rapid development of military vehicles, many military OEMs have drawn upon commercial off-highway technologies for their product development. Because of this, many of the tests GS Engineering provides for the military and commercial off-road industries are beginning to overlap. "Many of the purpose-built test courses and terrains we have to test military vehicles are now being utilized for commercial off-highway vehicle development programs as the performance needs of the two industries, particularly in terms of suspension performance and durability, have drawn close parallels," says Coxon.
Companies in this article