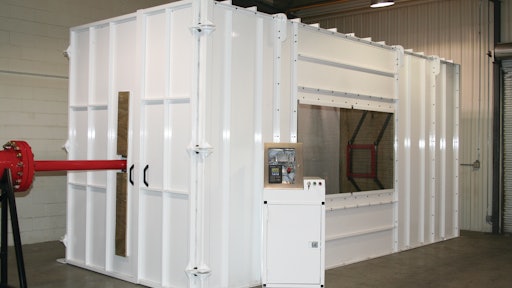 Created by the International Organization for Standardization (ISO), ISO standards are technically a voluntary set of safety parameters that OEMs can choose to comply with or not. On top of being voluntary (though of course widely accepted and suggested best practices to keep operators and equipment property safe) standards are constantly being reevaluated and revised—approximately every five years—to incorporate new knowledge gained in the industry to continually better safety best practices.
There is a huge benefit for OEMs to stay aware of a standard's current status for compliance and liability purposes, as well as to be a part of the development dialogue of relevant standards to know the direction they're heading. This will allow an OEM to better understand the standards and their subtle nuances and exceptions, but also to be ahead of the game when it comes to design manipulations to more easily adhere to standards by the time they are published.
The other reason to dedicate time to know and understand relevant ISO standards is the obvious benefit to the equipment operator…his or her safety while using the equipment. At its most basic of principles, ISO standards exist to protect an operator and the machine with measurable parameters of acceptable use. According to Tim West, Engineering Manager - Corporate Engineering Standards, Deere and Co., Moline, IL, "In general, the goal of standards is first and foremost to protect the operator, the bystander and any property, such as another piece of equipment operating in close proximity to the vehicle. With forestry equipment, we try to identify the significant hazards for intended use, but also consider any foreseeable misuse of the equipment."
For large OEMs like Caterpillar and John Deere, they often have the resources to have a team dedicated to the understanding and development of industry safety standards. Larger corporations may even have teams that develop proprietary standards that supersede industry expectation. Smaller OEMs however, have a more difficult time finding the time or man power to investigate, read, understand and implement all of the relevant standards for a piece of equipment for safety compliancy. That is where external support can come in handy, such as cab testing specialists Custom Products of Litchfield Inc. (company information, 10055257), Litchfield, MN. If a manufacturer is knowledgeable of the standard, Custom Products of Litchfield's position would be to complement its compliance and share an understanding of the standard, especially the parts of the standard that relate to the protection of the operator, which is Custom Products' expertise.
The standards evaluation and revision process is very deliberate, says West, "and by deliberate a lot of people would say slow, but there's a reason. We have a responsibility for ISO standards to be developed with group consensus and complete transparency to the implementer. Every participating country has the opportunity to have input and comment on the standard, regardless of what area within the industry they work."
General standards and their specific counterparts
The recently published ISO 11850 standard, "Machinery for Forestry – General Safety Requirements," specifies the general safety requirements for self-propelled forestry machines, highlighting hazards, hazardous situations and when used as intended and under reasonably foreseeable instances of operational misuse as determined by a manufacturer.
ISO 11850 does not cover specific hazards of individual machines such as those related to attachments. Within the scope of operator protective structures (OPS), there are several types of performance criteria that ISO 11850 alludes to. For example, forestry equipment manufacturers must be aware of ISO 8084 which references the intrusion of a small limb into the operator structure. Custom Products of Litchfield is capable of providing the performance test that proves the cab structure has a certain amount of force resistance, should the operator be traveling through a wooded area and run into a small limb. With respect to 8084, it refers to the frame of the structure as well as the sheet metal or plate, and the glazing in combination. Testing for compliance with ISO 8084 requires the application of a 4,000-pound load through a 90 mm sphere. The sphere cannot protrude through the polycarbonate or dislodge it. When the polycarbonate is tested, the steel panels that support it are tested, as well as door latches and other areas of the cab to validate the entire structure is up to the standard's requirements.
Sometimes referred to as Thrown Object Protection, ISO 11839, "Glazing and Panel Materials used in Operator Enclosures for Protection Against Thrown Sawteeth," is another example of a more specific regulation that falls under the umbrella of the general forestry safety standard ISO 11850—which demonstrates just how overwhelming and complex it can be to stay aware of standards for small or short-staffed manufacturers tasked with designing the safety features into a new piece of equipment. This particular standard focuses specifically on the hazard of thrown saw teeth from the circular cutting blades of forestry feller equipment and the panel materials the object may come in contact with at a specific velocity. By virtue of impact or loosening due to extensive use over time, the teeth (which are meant to be removable for individual replacement) can come loose. On the larger saws, a tooth can weigh up to 800 grams (1.7637 pounds), and with the saw's high rpm, when a saw tooth detaches, it can travel at an extremely high and dangerous speed. The standard was created to give measurable and demonstrable resistance criteria for the polycarbonate used as glazing on a cab window.
The ISO 11839 Thrown Object Protection standard was published March 15 of 2012, and there is still some confusion as to how to best adhere to the guidelines. According to West, "Right now, it's still relatively new, and people are struggling with how to take the first steps to implement it. It's not entirely clear whether the standard should be interpreted as a material qualification or performance standard." As a materials standard, an OEM has no real opportunity to utilize design to factor in contributing components that would help to absorb thrown object energy. Instead, the thickness of the qualified material is about the only parameter that can be adjusted, which can cost a significant amount of money to the OEM.
According to Jim Schmitt, Director of Testing and Regulatory Compliance, Custom Products of Litchfield Inc., the ISO 11839 standard could benefit from being revised as a cab-based standard instead of simply a material-based standard. Just as with ISO 8084 Small Limb Intrusion testing, there may be other vulnerabilities on the operator protective cab structure for a thrown-object to enter beyond just the glazing material.
"Currently, the testing for ISO 11839 requires a 450 mm square specimen be mounted into a rigid frame, at which the appropriate object is thrown at it with its corresponding speed. For example, the larger 800 gram saw tooth requires an impact velocity of about 120 meters per second (268 miles per hour)," explains Schmitt. "If we were to take a cab-based approach, we could put some type of energy absorbing mounting into the polycarbonate to facilitate a potential reduction in its thickness, which by current standards suggests it takes about a 1.25-inch thick panel to meet the requirements. Rigid structures and materials do not lend themselves to good energy absorption, so the more energy that needs to be absorbed, the thicker the panel needs to be. And, the laminated panel is expensive to make, which could make it less likely to be replaced if a scratch occurs in the field, which technically reduces its strength and adherence to the standard's requirements."
Taking on ISO 11839 research and testing
Custom Products of Litchfield has significant historical and technical experience and expertise in qualifying operators in the event of roll-over (ROPS) or falling-objects (FOPS). "We saw it as a natural transition for us to be able to qualify operator protection with respect to thrown objects like saw teeth," says Schmitt. "The foundation of the standard's development and its testing protocol for ISO 11839 was laid by Dr. Robert Rummer, Ph.D., who extensively studied the hazardous exposures to the operator. Custom Products visited with Rummer years ago to take a look at the testing program. After review, we suggested the idea that it may be a better approach to qualify not only the polycarbonate material, but possibly expand or change the standard to include how the material is mounted in a cab."
During their visit, it was also brought to their attention that the standard's research was being funded by the federal government through the USDA Forest Service, and once the research was done and the standard was written, the Forest Service could not commercially provide testing services. "So, we discussed the possibility of Custom Products of Litchfield taking over the program after the research was completed, to which Rummer was open," continues Schmitt. In the end, after the standard was published but before all research was completed, Custom Products took over the research equipment and some of the technology.
Now the company is partnering with industry members to finish the research and to hopefully be able to offer testing services on a commercial basis to people within the mechanized forest harvesting equipment manufacturing circle. "We are an ISO 17025 accredited laboratory. At such point in time where we can facilitate it, we will add the ISO 11839 Thrown Object Protection standard to the scope of our accreditation," Schmitt confirms. Currently, the company is evaluating high speed digital cameras with proper accreditation by a national standard to validate the velocity at which the thrown object will be traveling.
Some of the research yet to be completed, on which Custom Products of Litchfield is working, is the validation of repeatability of the test with respect to reduced temperatures. Current ISO 11839 requires that the outside surface of the polycarbonate be at -25 F while the surface inside the cab be at ambient temperature. "Dr. Rummer discovered that how the external side of the panel is cooled produces a degree of variability as to whether or not the panel shatters upon impact," Schmitt says. "We are researching how serious that finding may be, so beyond cab-based testing for the standard, reduced temperature testing will be interesting to evaluate, as well."
There are also issues with consistency of the saw teeth to consider as well for proper testing standardization. Different machine attachments have varied teeth sizes and shapes for cutting versus grinding versus mulching applications, for example. There are opportunities to expand the test's thrown object criteria to cover a wider selection of possible hazards, which speaks to the very nature of a continually developing standard that is constantly being reevaluated and bettered for evolving conditions.
"We see an opportunity to take this well-written and well-researched standard and make it better," says Schmitt. "We would like to find better ways to demonstrate that we can protect operators from thrown objects to a recognized and repeatable performance criteria without severe design restrictions."
Companies in this article