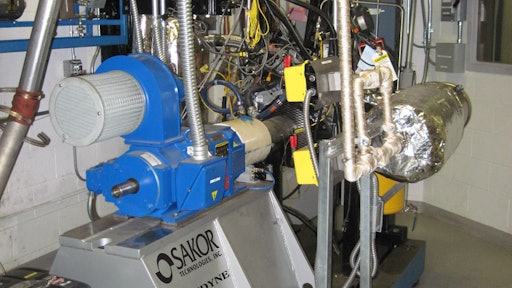 SAKOR Technologies, Inc., a leader in engine and powertrain testing, announces that it has delivered a single-cylinder research engine test cell to the U.S. Department of Energy's National Renewable Energy Laboratory (NREL). The advanced dynamometer test cell will enable NREL to investigate fuel effects on advanced combustion engine strategies.
The test cell is comprised of a 75-horsepower AccuDyne AC dynamometer, optimized for single-cylinder engine testing, which is automated by a DynoLAB PT Engine Test Cell Automation System. The cell also integrates a SEMTECH-DS portable emissions gas analyzer.
The complete integrated system, which serves as an intermediate step between fundamental combustion research and full engine vehicle testing, is ideal for performing advanced emissions testing for small research engines. NREL will be performing studies of long-chain alcohol effects on gasoline blend performance and emissions. Investigations will involve a range of fuel additives, including alcohol and a variety of biofuels. 
"We are very pleased to extend our longstanding relationship with NREL and assist them with their research into alternative fuels and their work in developing environmentally friendly technologies," says Randal Beattie, President of Okemos, Michigan-based SAKOR Technologies, Inc.
In addition to the new cell, SAKOR is currently upgrading NREL's heavy-duty diesel engine test cell with a new 600 Hp AccuDyne AC Motoring Dynamometer optimized for performing heavy-duty diesel transient emissions test cycles.